Mailing Address
CWRU
10900 Euclid Avenue
Cleveland, OH
Allen Memorial Library Building, 101 LC 7025
Interim Director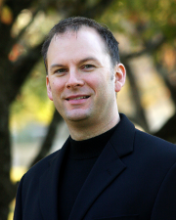 Matthew Garrett, Associate Professor of Music Education, Director of Choirs, and Coordinator of Undergraduate Studies in Music and Music Education, joined the faculty at Case Western Reserve University in 2009. Over the past two years, he has worked closely with the University Center for Innovation in Teaching and Education (UCITE) as Faculty Facilitator for the Learning Fellows program. Most recently, Garrett worked with outgoing Interim Director Sarah de Swart to create a new teacher education initiative with Learning Fellows 2.0.
As Interim Director of UCITE, Garrett will draw upon his background in education and learning pedagogy with more than 20 years of classroom teaching experience to help faculty members explore the art and science of teaching. UCITE will continue to offer the Learning Fellows, Glennan Fellows, and topical lunch-time seminars through the 2017-18 academic year. In addition, UCITE is launching new collaborative initiatives with other University Centers this fall.
Garrett explores the development and utilization of critical thinking skills in music classrooms and LGBTQ+ issues in music education through his research. He has been interviewed regarding his work on developing critical thinking skills for articles in the national music education journal Teaching Music. His strategies for incorporating critical thinking strategies in choral music rehearsal environments were published as part of a music text series from Hal Leonard and McGraw Hill Education, Voices in Concert. 
Originally from South Carolina, Garrett earned undergraduate and graduate degrees in music education from Florida State University. Before joining the Case Western Reserve faculty, he was a music educator in Central Florida and Southeast Massachusetts public schools at the middle and high school levels for more than ten years. He continues to work with students and teachers in public schools across the country, as a clinician and guest conductor.  You can contact him at mgarrett@case.edu.