Living by CWRU Values
Academic integrity gives society faith in the value of CWRU's scholarship, research and more.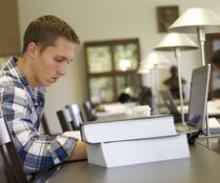 A sound education is built on intellectual honesty. Students at Case Western Reserve University are required to uphold the highest ethical standards of academic conduct. All members of the campus community are responsible for preserving the standards of academic integrity and supporting the practices that promote a fair and just process.
Academic integrity addresses all forms of academic dishonesty, which includes cheating, plagiarism, and misrepresentation. If a faculty member suspects that an undergraduate student has violated standards, the faculty member shall advise the student and the departmental chair and consult with the Dean of Undergraduate Studies about the appropriate course of action.
For more information, please review the Student Code of Conduct and visit the Academic Integrity Board's webpage.