‌Application for Graduation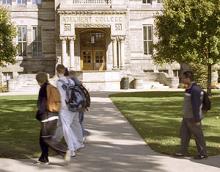 A student who has completed all graduation requirements in fewer than four years has the choice of graduating early or deferring graduation in order to graduate with his or her class.  A student who completes all graduation requirements in four years or more must graduate at that time.  The student must file an on-line application for the degree through the Student Information System by Oct. 1 for January graduation, by Feb. 1 for May graduation, and by June 1 for August graduation.
A student must discharge all financial obligations to Case Western Reserve University to receive a diploma and for the Registrar's Office to release final transcripts.
Graduation Check
Students must ensure that their Academic Requirement reports reflect accurately their progress toward their degrees. All requested corrections and exceptions must be submitted to the Office of Undergraduate Studies at least one semester prior to graduation. Academic Requirement reports are available online through the Student Information System.
Participation in Commencement
Students are eligible to participate in May commencement activities provided that they have completed all degree requirements during that spring semester or the immediately preceding fall semester or summer session, or have an appropriate plan to complete their degree requirements in the upcoming summer session or fall semester. A student may participate in Commencement only once as a bachelor's degree candidate, though exceptions are sometimes made for students receiving a second bachelor's degree at least one year after the first.
Student Access to Records
The academic records of all students are in the Office of Undergraduate Studies, 447 Sears Building. Students may review their files in that office by appointment. A student must sign a request and present his/her ID card at the time of the appointment.
Attendance
Students are expected to attend classes regularly. Each instructor is free to determine the extent to which absences affect the final grades of students but should make the policy regarding attendance known at the start of the course. Instructors should report excessive absences to the Office of Undergraduate Studies. Instructors who judge a student's absences from class to be excessive may drop the student from the course with a grade of F. Instructors taking such action must notify the student's dean in writing.
The standards for promotion are:
To the sophomore class, 27 hours completed
To the junior class, 60 hours completed
To the senior class, 90 hours completed
Academic Grievance Policy
A student who wants to register a complaint about course instruction or evaluation should first bring the matter to the direct attention of the professor or instructor involved. If the matter is not satisfactorily resolved, the student should go to the chair of the academic department in question and seek departmental review. If neither step resolves the complaint, the student may take the matter to the faculty member's college or school dean for final review and decision.
Academic Integrity Policy
See the Academic Integrity Policy in the Student Code of Conduct and academic integrity procedures 
Re-admission from Separation
Students who have been separated because of poor academic performance may petition for readmission after two academic sessions, including the summer session, have elapsed. Students readmitted after being separated for reasons of academic performance will retain all credits and quality points earned before separation, and the cumulative grade point average will be continued, including all grades earned before and after separation. See Academic Standing Regulations for more information.
Re-admission After Voluntary Withdrawal
Students who have voluntarily withdrawn from the university and have not taken courses elsewhere following their withdrawal may petition to re-enroll in any semester.  If the withdrawal was necessary for reasons of health, a statement from the student's physician to the University Health Service may be required as a condition of re-enrollment.  Students who have taken courses elsewhere following withdrawal must provide official transcripts of their work with their request for re-enrollment.
Upon re-enrollment following a voluntary withdrawal, students retain the credit-hours earned and quality points for courses completed prior to withdrawal.  In the first semester of re-enrollment, their academic status is the status in effect at the time of withdrawal, unless that status is changed by action of the Academic Standing Board.