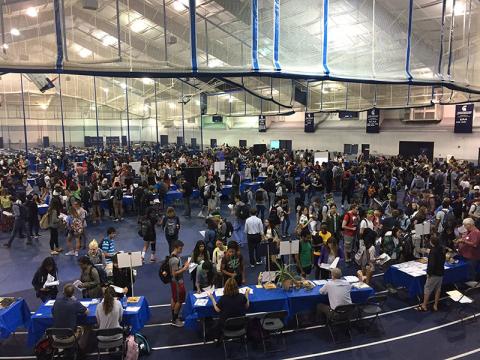 The annual Choices Fair is an opportunity for students to learn about the more than 90 majors and minors the University offers. Faculty representatives from every academic department will be on hand to answer questions.
Attendees will also have a chance to discover some of the extracurricular activities CWRU offers as members from student academic groups, multicultural clubs, and community service organizations will be in attendance. Staff representing opportunities for study abroad, undergraduate research, career services, and more will also be present.
First-year students are expected to attend as part of their SAGES First Seminar. Undeclared upperclass students also are encouraged to attend.
The Choices Fair kicks off a series of information sessions and events hosted by academic departments and offices and student organizations throughout October and November. These events are designed to help connect students with faculty and fellow students in their areas of study.
The 2017 Choices Fair was Friday, Oct. 13.