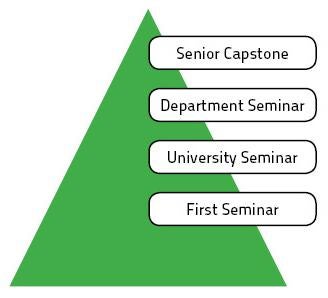 The SAGES Program is, along with the physical education requirement, the common portion of the general education requirements of all undergraduate degree programs. Detailed explanations of the SAGES general education requirements can be found in the General Bulletin and on the SAGES website.‌‌
‌First Seminar: All First Seminars are interdisciplinary courses characterized by intense yet open-ended intellectual inquiry. The goals of First Seminar are to enhance skills such as critical reading, thoughtful analysis, and written and oral communication; to introduce basic information literacy skills; to provide a foundation for ethical decision-making; to encourage a global and multidisciplinary perspective on the learning process; to facilitate faculty-student interactions; and, in the most general sense, to provide a supportive common intellectual experience for first-year students at Case Western Reserve. A student's SAGES First Seminar professor serves as his or her first-year advisor until a major is declared. The three types of First Seminar are Thinking about the Natural World (FSNA), Thinking about the Social World (FSSO), and Thinking about the Symbolic World (FSSY). First Seminars that offer extra writing support are offered as FSCC or FSAE. For more information on this, see SAGES First Seminar Course Selection.
University Seminars: After completion of the First Seminar, students must complete two University Seminars. University Seminars provide continued experience in critical reading, writing, and oral communication as well as information literacy, ethics, and cultural diversity. Each University Seminar explores content determined according to the interests of the faculty. University Seminars must be completed by end of the fourth semester of enrollment. A student's First Seminar and two University Seminars must include a course from each of the three thematic areas: Natural World, Social World, and Symbolic World. Students who complete their First Seminar requirement with FSCC 100, FSCC 110, or FSTS 100 may fulfill their University Seminar requirement by choosing two courses from any two of the three thematic areas.
Writing portfolio: After the completion of the last University Seminar, students must compile a final writing portfolio and submit it to the SAGES office (110 Crawford Hall). The portfolio is due the semester following the student's final University Seminar. The writing portfolio documents a student's progress as a writer over the first three SAGES seminars and provides the University with programmatic feedback that will be used to enhance future seminars.
Departmental Seminar: Students enroll in the Departmental Seminar after completion of University Seminars and the Writing Portfolio. Students ordinarily take this discipline-specific seminar in their third year and often within their major field.
Senior Capstone: As seniors, Case Western Reserve students participate in a one- or two-semester capstone course, culminating in a final written report and a public presentation of their work often at the university-wide celebration of scholarship.
Breadth requirements: All students take additional discipline-specific courses, typically outside their majors, to ensure broad exposure to liberal learning. These courses may be taken throughout a student's undergraduate career. Some degree programs and majors specify that certain courses be taken to fulfill breadth requirements.