Case Western Reserve University offers two types of undergraduate degrees: Bachelor of Arts and Bachelor of Science. Both types of degree comprise several common elements. Detailed explanations of the SAGES general education curricula can be found in this guide and the General Bulletin.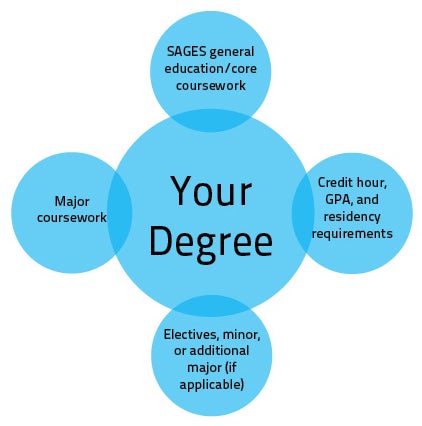 SAGES general education curricula: These courses are designed to develop quantitative, analytical, and communication skills as well as a heightened awareness of human values and institutions. Courses focus on writing competency, the arts and humanities, natural and mathematical sciences, social sciences, and physical education. Many courses used to fulfill college- or school-specific breadth requirements are applicable to all undergraduate degree programs, making possible the movement between different degree programs and majors. Students must also complete two semesters of physical education.
Major(s) requirements: Completion of a major requires 10 or more courses as defined by the department. Case Western Reserve offers more than 60 majors leading to Bachelor of Arts and Bachelor of Science degrees. Students must complete at least one major and, if interested, may pursue more than one major or degree.
Minor requirements: A minor concentration requires no fewer than 15 credit-hours and normally requires no more than 18 credit-hours. Minors are not required. Students have the option of completing a minor in a discipline other than the major. The successful completion of a minor will be indicated on a student's transcript.
Open electives: Courses taken beyond the major and SAGES general education requirements to complete the credit-hours necessary for a degree. These are not required except to meet total credit-hours required for the degree. The amount of space available for open electives varies by program.
Minimum 120-133 total credit-hours: Different majors and degree programs require different total credit-hours for graduation. See the General Bulletin for a complete listing of degree requirements.
Minimum 2.0 cumulative GPA: Some degree programs also require a GPA of at least 2.0 in the major.
Residency requirements: All students must earn a minimum of 60 credit-hours in residence at Case Western Reserve University, of which at least 15 must be earned after the student earns a total of 105 hours.
Degree requirements may be fulfilled through completion of CWRU courses, credit earned through AP or IB examinations, credit earned through CWRU proficiency examinations, and through approved transfer credit.