Robin Jump, M.D., Ph.D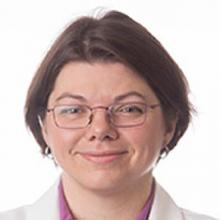 Assistant Professor of Medicine
Division of Infectious Diseases and HIV Medicine 
Focus on Faculty
Antibiotic resistance is a confirmed crisis according to leading health organizations, such as the World Health Organization (WHO) and the Centers for Disease Control and Prevention (CDC). Resistant infectious microbes take an estimated 23,000 lives each year in the United States. To get an appreciation of this sum, imagine the death toll if a wide-body jet airliner were to crash once every week. Worse yet, patients who are hospitalized long term for infectious diseases run the risk of contracting Clostridium difficile infections, which are responsible for another 29,000 deaths annually. 
Despite their microscopic size, infectious microbes have always posed an immense threat to human life, and continuous evolution of microbial genes has rendered many antibiotics ineffective. This means that for some unfortunate patients, infections that were easily treated 20 years ago may now prove fatal.
According to Dr. Robin Jump at the Louis Stokes Cleveland Veterans Affairs (VA) Medical Center, both providers and patients are responsible for smart antibiotic use. Part of the reason antibiotics have failed is because of overprescribing and misprescribing, a practice that matches incorrect treatments to faulty diagnoses. Not all illnesses necessitate antibiotics. Exposing patients to antibiotics when they do not need them puts them at greater risk for acquiring resistant bacteria. Antibiotics, more than ever, are anything but harmless.
Jump's extensive foundation in the field has equipped her well in the crusade against resistant infections. She received her M.D. and Ph.D. from Case Western Reserve University. She completed a residency in internal medicine, as well as a fellowship in infectious diseases, at University Hospitals Case Medical Center. Jump is currently a staff physician and Clinical Research Scholar at the VA, and an assistant professor at the Case School of Medicine. Jump finds her work at the VA immensely rewarding, as she aids a growing population that has served selflessly for the country. The fact that these populations are at risk for infectious diseases makes her efforts especially substantial.
Jump's interest is long-term care (LTC), which includes medical and social services to improve the quality of life for patients with chronic illness or disability, a population especially at risk. In 2009, Jump started an Infectious Disease Consultative Service solely for the VA nursing home. The service was able to reduce antibiotic use by 30% in the first year.
Noting the effectiveness of this service, Jump decided to broaden her horizons. Together with colleagues from other VAs, Jump developed educational programs for VA providers and nursing staff who work in nursing homes. Using pretest/posttest assessments from over 100 participants in over 30 different VA facilities, Jump found that knowledge improved substantially in both the provider and nursing groups.
Jump is currently working to expand education for LTC providers and nursing staff beyond the VA. With her CWRU partnership, the CourseSites modules are accessible by anyone, at any time. Development of interactive computer-based courses for providers will also improve LTC care. In conjunction with University Technology, [U]Tech at CWRU, Jump worked with Sue Shick to offer computer-based, online modules for nurses working in community LTC. The project was released in June 2014, and included six 30-minute online modules. The nursing course is offered through CourseSites and is completely free to the public with an email invitation. Anyone with the link can log on and start learning. The online modules served as an effective learning resource – a convenient tool for educators and those seeking information, able to access it on their own time, at their own pace. Most importantly, they can apply their knowledge to those at risk.
Jump and Shick are working to develop a similar, computer-based training program from LTC providers. They have a grant from the VA to support this work and will start beta-testing their program this fall.
Nationally, the CDC has made great strides in patient education through their Get Smart campaign. Get Smart About Antibiotics Week will fall on November 16 – 22 this year. The purpose of this campaign is to better educate the public of the unperceived dangers of antibiotic overuse. While the CDC and WHO work on national levels, Jump's work with VA staff and providers is an essential connective step in the chain of command. The community is grateful for the efforts of Jump and her team.