Student Resources 
Resources and Information
Subscribe to our Canvas Newsletter!
Here at CWRU, we leave the choice on whether or not to use Canvas up to each instructor. If your instructor has chosen to use Canvas, the following information acts as a great introduction to the system!
1. Login to Canvas
To begin, access Canvas at canvas.case.edu. If you're not logged-in via Single Sign-On, you'll be prompted to log-in with your CWRU ID and password.
2. Find Your Course
The Dashboard is the first page you see when you enter Canvas. This page shows you your courses, what's happening in them, and helps you figure out what to do next. 
Course Cards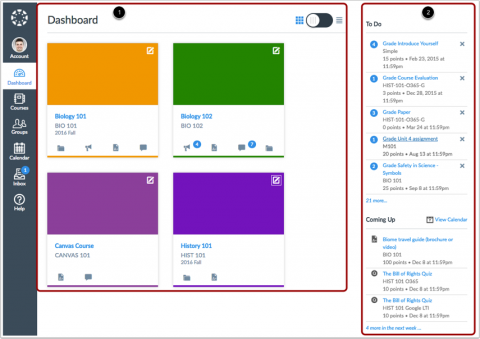 Each course you are enrolled in gets a course card– click on a course card to enter into that course's Canvas site. Don't see a course? Check with your instructor to see if they plan on using Canvas.
The Dashboard will show up to 20 current courses, but you can customize what shows up by changing your course list.
You can change the color of your course cards or add a course nickname by clicking on the pencil icon on each course card. Some courses may include an image for the course behind the color you select.
Each course card shows up to four icons, which represent Announcements, Files, Grades, and Discussions. If your course has those items, a tab will appear on the course card. Click on the icon for each tab to be taken to that page within the course.
If your course has them, a counter will appear for new Announcements and Discussion posts.
Sidebar
The Dashboard sidebar shows your To Do list, any upcoming events, feedback, and grades. Click on any of the items listed to get more details.
Activity Stream
At the top of the page is a toggle button which switches between the Dashboard and Activity Stream. Use this toggle to switch to the Activity Stream, which shows you recent changes to all of your Canvas courses.

3. Navigate a Course Site
To enter into a course, click on its course card on the Dashboard. Alternatively, you can click on the Courses button on the global navigation menu on the left of the Canvas page. 
 Once you're in a course, you can use the following areas to navigate the content: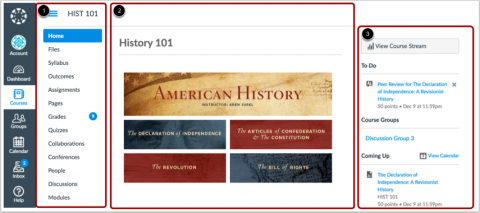 The course navigation menu appears on the left of the page. Use the menu to enter into the various areas of the Canvas course.
The content area appears in the middle of the page. This is where you can see and interact with the content posted in the course.
The sidebar appears on the right of the screen when you first enter a course. This shows you your To Do list, group information, and upcoming events specific to this course.
Need Help?
If you ever need help in Canvas, click on the Help button in the lower left corner of the screen. Alternatively, you can send help requests to the [U]Tech Service Desk.
Contact the Service Desk
Student Guides
Want to read more about a feature in Canvas? Take a look at the Canvas Guides, specifically put together for students!
Go to the Guides