Science Café Cleveland
---
Science Café Cleveland is a lively, informal public forum for the open discussion of current science issues. They are based on the European salon, and there are many such cafés currently active throughout the world. Science Café Cleveland takes place on the second Monday of each month at the Music Box Supper Club, a modern music club with an inviting atmosphere, that overlooks the Cuyahoga River where it enters Lake Erie. Science Café Cleveland is sponsored by the CWRU chapter of Sigma Xi, WCPN ideastream (Cleveland) and the Music Box Supper Club.
---
Upcoming 2019 Science Cafés
---
SELECT CAFÉ TITLE FOR MORE INFORMATION, IF AVAILABLE
February 11, 2019
Stone Age Technology and Life in Ohio 13,500 Years Ago
Metin I. Eren, PhD
Professor of Anthropology, Kent State University
---
March 11, 2019


(TBA)
---
For some of our topics, we've provided a few suggestions for pre-readings in case you want to prime your mind for a cafe. On occasion, you can preview the café by listening to the Sound of Ideas on WCPN ideastream (90.3 FM) the morning of the event. (Links to podcasts of past shows can be found on our list of past cafés; they are a great way to catch up on topics that you may have missed.) If you would like to suggest a topic for a future café or would like to be added to our e-mail list, please send us an e-mail. You can also e-mail us with links to stories or photos of Science Café Cleveland that might be suitable for listing on our web site!
---
LOCATION
---
Science Café Cleveland takes place in the Concert Hall at the Music Box Supper Club, located at 1148 Main Avenue, Cleveland, Ohio, 44113. Music Box Supper Club is located in the same building as Shooters and right near the Improv Comedy Club, across from Windows on the River and the Aquarium. Click here for directions and parking information. Main Avenue and all parking lots are well-plowed and salted in the winter! Come by car, by boat, by bike, or by taxi!
Doors will open at 5:30pm. Presentation and discussion is 7:00–8:00pm. The Music Box Supper Club will host an expanded limited menu before and during the event (view menu here), not to mention a full bar! The venue is fully handicapped-accessible.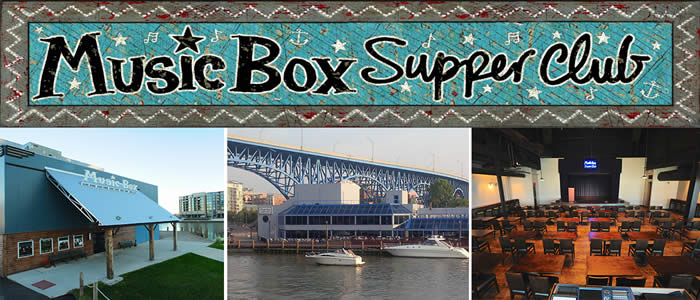 We look forward to seeing Cleveland's science supporters and Science Café regulars the second Monday of each month!
---