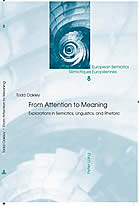 Requirements for admission to the M.A. degree program
Case Western Reserve University has standard criteria for all applicants to graduate programs. These include standard GRE scores, at least three letters of recommendation, official transcripts from degree-granting institutions, and, for all international students, recent TOEFL scores. The admissions process for the M.A. in Cognitive Linguistics would additionally require a statement of purpose and a writing sample. Applicants will be expected to have a formation in one of the areas that contributes to cognitive linguistics, but the history and quality of that formation will need to be judged case-by-case. For example, an applicant may have come to the study of cognitive linguistics after taking an undergraduate degree in cognitive science, computer science, neurobiology, psychology, languages and literature, or formal linguistics, and have acquired through work in industry or self-directed study a familiarity with the elements of cognitive linguistics. Applicants for the degree program will also be expected to have demonstrated an interest in research and the likelihood of being able to complete a research-oriented thesis. We routinely calculate equivalencies of foreign degrees and coursework.

Applying for Admission to the Integrated Graduate Study Program in Cognitive Linguistics

Undergraduates pursuing a B.A. in any major in the university are eligible to pursue the M.A. in Cognitive Linguistics during their final year of study. Interested students should meet with Lynmarie Hamel, Assistant Dean of Undergraduate Studies, to determine their eligibility. In addition the standard eligibility criteria for the Integrated Graduate Study Program, prospective students must also follow the standard admission procedures and requirements described above for the M.A. in Cognitive Linguistics.