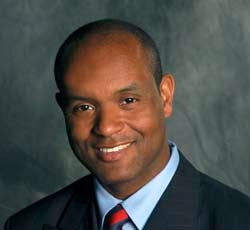 Michael Schoop
---
Samuel M. Savin
It is my privilege to invite the entire Arts and Sciences community to the third annual Samuel M. Savin SAGES Lecture, to be held on Monday, April 7, 4:00 p.m., in Amasa Stone Chapel.
This year's lecture, "Teaching Imagination in the Age of Digital Experience," will be delivered by Michael Schoop, president of Cuyahoga Community College's Metropolitan Campus, who has taught an interdisciplinary SAGES seminar on the history and development of cities.
The College created the Savin lecture to honor Sam's visionary leadership in developing SAGES (the Seminar Approach to General Education and Scholarship). It was during Sam's tenure as dean, in September 2001, that faculty members in the College first proposed an innovative reform of the general education curriculum, and his support was a decisive factor when our faculty approved the SAGES pilot in 2002. The Savin lecture pays tribute to his essential role in inventing what is now a flourishing and nationally distinctive program.
We are very fortunate to have Michael Schoop as this year's Savin lecturer. Dr. Schoop has been president of Cuyahoga Community College's Metropolitan Campus since May 2006. He came to Cleveland from the City Colleges of Chicago, where he served as Vice President of Academic and Student Affairs and chief academic officer at both Harry S. Truman and Olive-Harvey College. Prior to becoming Vice President, Schoop spent five years as Dean of Instruction at Truman College and six years as a writing instructor at the University of Maryland.
Dr. Schoop received his baccalaureate degree from the University of Chicago and both his master's and doctorate from the University of Maryland. He has taught numerous undergraduate courses in writing and composition and has given presentations at regional and national conferences on rhetorical theory, the future of higher education, and the design of learning spaces.
Dr. Schoop continues to teach at both the graduate and undergraduate level. In his most recent courses, he has focused on the intersection between innovation, economic development, and the growth of community colleges and other learning organizations.
I am delighted to announce that Sam Savin, who is now provost and vice president for academic affairs at New College of Florida, will be in attendance on April 7. Please join us to celebrate Sam's contributions to Case Western Reserve University and to hear Dr. Schoop's reflections on the future of higher education.
Cyrus C. Taylor
Dean and Albert A. Michelson Professor in Physics
College of Arts and Sciences