LENS Engineering, Science and Technology
The Man and the Myth
When Adam Savage Came to Sears think[box], He Made an Impression on Campus and Beyond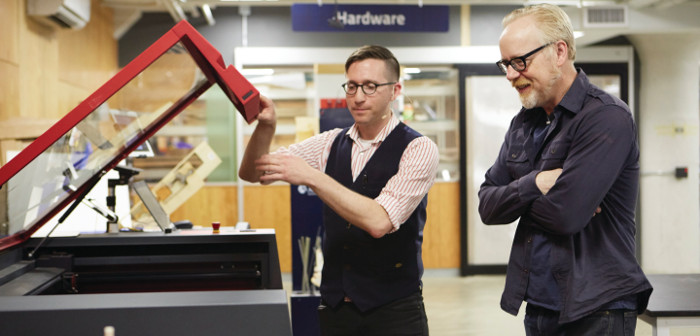 PHOTO: KEVIN KOPANSKI
The Discovery Channel TV series MythBusters, checked out Case Western Reserve's Larry Sears and Sally Zlotnick Sears think[box] in April along with a senior advisor from the White House Office of Science and Technology Policy.

To mark the recent one-year anniversary of the Sears think[box] expansion and move to the Richey Mixon Building, we caught up with Savage by email to learn about his impressions of the university's innovation hub, the maker movement and his own stories of creation.

This Q&A has been edited for length.

What were your impressions of think[box]?
think[box] was amazing. Its philosophy—to lower the threshold for making to nearly nothing, while hiring personnel and designing the space to facilitate rapid prototyping—was illuminating. It's an incredible achievement. Their playbook is worth following. I'm excited that they're sharing it.

Why has the maker movement taken on such importance in this country?
Because we're seeing kids more immersed in their devices, their screens, where the device performs for them, rather than with them. At the same time, the economies of scale have reached the integrated circuit, and programming smart devices and making the devices we have smarter is getting easier—10-year old children can build robots! That's fantastic. When kids make something… ANYTHING… they become involved.

Any recommendations for students or others about becoming makers?
There's no reason not to start now. Brown paper bags and corrugated cardboard boxes were my first making materials. I've seen suits of Iron Man armor made from boxes.

How do you view 3-D technology and its possibilities for makers?
It's still in its infancy, despite the hype. I love the technology. It really is a game-changer in concept. We're still very far from being able to "print everything we need," but we're increasing the complexity available to the average maker. And that's a good thing.

You are a self-described "maker of things." What's something you made that you particularly like?
I just made a 7-foot-tall bear costume for Comic-Con [a convention focused on comics and related art forms]. I haven't worked with fur before and I'm ecstatic at the results. I get a lot out of stretching my maker legs and going outside my comfort zone.