LENS
On the Front Lines of Art
A contemporary exhibition with global appeal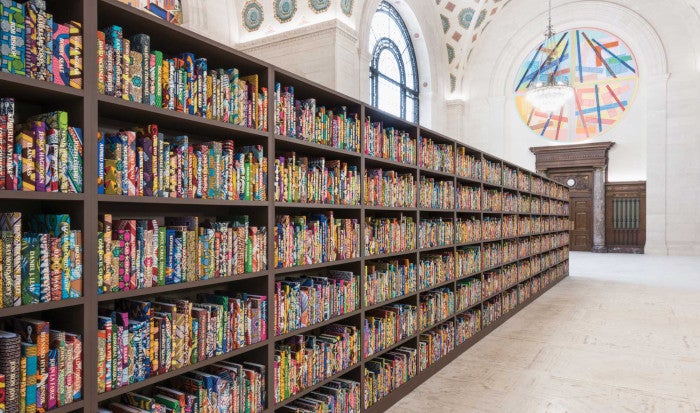 Fred Bidwell had an ambitious vision: create a visually arresting, emotionally compelling, politically urgent exhibition that would draw art lovers and artists from around the globe to Cleveland.
It became a reality this summer. The inaugural FRONT International: Cleveland Triennial for Contemporary Art—whose eight partner institutions include Case Western Reserve—featured exhibits by 114 artists at 28 venues in Cleveland, Akron and Oberlin and ran from mid-July through September.
More than 10,000 visitors came the opening weekend. FRONT also was mentioned more than 14,000 times in social media by mid-August and saw coverage in publications including The New York Times, The Wall Street Journal, Smithsonian Magazine and the Hong Kong Tatler, which highlighted the exhibition in its list of eight must see art shows around the world.
FRONT's theme focused on what it means to live in an American city. Bidwell—an art collector, philanthropist and community leader—also aimed to showcase the region's art institutions and bring contemporary art outdoors and to nontraditional settings.
Artist Tony Tasset's Judy's Hand Pavilion, for example, a 21-foot-tall sculpture mounted on campus in Toby's Plaza, "creates an artistic experience that everyone from a toddler to a senior citizen can appreciate, and with any level of education," Bidwell said. "It really is iconic."
Other FRONT exhibits included Yinka Shonibare's The American Library, a 48-foot-long bookshelf (exhibited at the Cleveland Public Library) with 6,000 books wrapped in African Dutch fabric and stamped with the names of first-, second- or third-generation immigrants to the United States as well as prominent immigration opponents; and Dawoud Bey's Night Coming Tenderly, Black, a series of photographs suspended between pews at St. John's Episcopal Church in Cleveland of nighttime landscapes people escaping slavery might have seen. The church was a final stop on the Underground Railroad before freedom in Canada.