LENS
Engineering Success
New dean brings record of research and leadership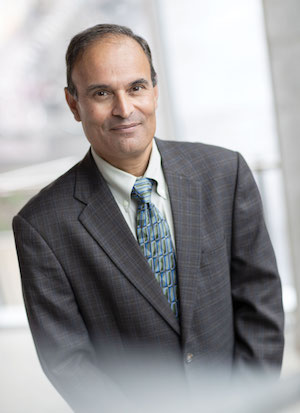 PHOTO: Russell Lee
Venkataramanan "Ragu" Balakrishnan once envisioned a long career as a traditional academic educator-researcher. But over the years, he took on leadership roles with increasing responsibility, developing a humble-but-certain leadership style focused on nurturing the talent and success of others.
"The real credit belongs to the people who make something great, and your job as a leader is to give them the space to excel, grow and succeed," said Balakrishnan, PhD, who became the Charles H. Phipps Dean at the Case School of Engineering at Case Western Reserve in September.
He spent the previous 24 years at Purdue University, the last nine as head of the School of Electrical and Computer Engineering. He also was a professor specializing in system and control theory, associate head of the school and associate dean for research in the College of Engineering.
During Balakrishnan's tenure, the school:
Increased annual research expenditures by 44 percent, to more than $38 million.
Increased undergraduate enrollment by 56 percent, to 1,400, including tripling the number of female undergraduates.
Recruited 34 new faculty members, including eight women, which doubled the number of female professors in the school.
"I'm probably proudest of the faculty I've recruited," he said. "And now I'm thinking about how to attract the very best people to Case Western Reserve."
In an interview before assuming his new post, Balakrishnan said he already was "amazed by the energy and excitement on campus" and what he called a "clear hunger to be even better than we are now."
Balakrishnan moved to the Cleveland area with his 13-year-old son, Ashwin, with whom he said he shares "various nerdy interests."
"I do The New York Times crossword puzzle daily," he said. "I also enjoy the British tradition of 'cryptic crosswords' [in which the clues themselves are also word puzzles]," he said. "My son is more into mathematics—but he's also very good at soccer, tennis, piano and cross country. I exercise daily, too, so we try to have a balanced life."