launch
The Volleyball Team's Celebrated Run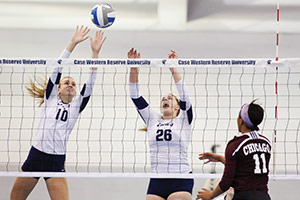 PHOTO: ALEX SLITZ
The 2015 Spartan volleyball team wasn't just good—it was historically great.

Led by Head Coach Karen Farrell and three seniors who were All-University Athletic Association selections—Katie Best, Carolyn Bogart and Haley Kauffman—the team earned its second-ever berth into the 64-team NCAA Division III Championships.

A 3-1 first-round victory over the University of Mary Washington last November marked the Spartans' first postseason win. The team fell in the next round to Juniata College, ranked No. 3 nationally, but ended the season with its most wins (25) since 2000.

"The leadership of our seniors gave us the intangible catalyst for our season," Farrell said. "They just had an urgency."

And the entire team—from the five seniors to an impressive group of first-year players—executed on their 2015 theme: "Each a piece, together complete."