LENS Dispatch
The Power of Diversity
University Programs Enriching the Campus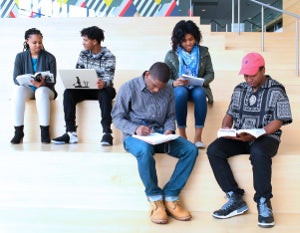 PHOTO: Michael F. McElroy
When the 10 Posse Foundation scholars from New Orleans arrive at Case Western Reserve in August, they will enter a university dedicated to providing programs to diversify the student body.
A demonstrated track record is critical to the success of Posse, a college access and youth-leadership development program that's now on 57 campuses across the country. "We look to partner with institutions that view diversity as essential to educational excellence," said Posse founder and President Deborah Bial, EdD. "President [Barbara R.] Snyder and her team's commitment to inclusion and equity makes Case Western Reserve a great home for Posse Scholars."
Rick Bischoff, the university's vice president for enrollment management, said the Posse program should be a perfect fit.
"Posse is not just about what we can do for these young people, though that's important," Bischoff said. "What I like about Posse is what the Posse students bring to campus—and I hear that from my colleagues. The [scholars] are disproportionately likely to become student leaders. To be a leader doesn't necessarily mean you have a position. It means being the kind of person people turn to."
Posse will join other CWRU programs, such as:
The Envoys Program for students from Cleveland or East Cleveland. Participants are selected during high school and spend three years in research, mentorship and academic programs focused on science, technology, engineering and math.
The Emerging Scholars Program, which provides advising, academic support and networking opportunities to selected undergraduates from the Cleveland area.
The Health Profession Pipeline Program, which was created with funding from the Joan C. Edwards Charitable Foundation. Joan C. Edwards Scholars receive conditional admission to the School of Medicine as well as a full scholarship for their undergraduate and medical-school education. "Many of these kids come from families that are at the poverty line," said Robert Haynie, MD, PhD (GRS '72, chemistry; MED '78), associate dean for student affairs at the medical school.
These programs help attract students from diverse backgrounds to the university and ensure they thrive as graduates, Bischoff said.