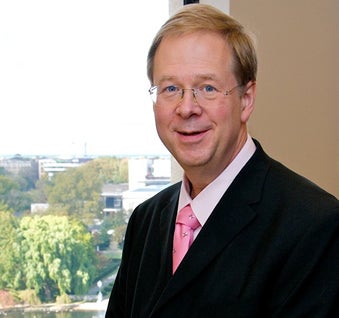 Photo: Daniel Milner
Earlier this fall, the university recognized the continuing legacy of two of its greatest benefactors. While many of our alumni already knew their story, our current students were almost certainly hearing it for the first time.
In 1971, Kent H. Smith and his wife Thelma established a private foundation devoted chiefly to supporting higher education. From the beginning, much of their largesse was directed to Case Western Reserve University.
Kent Smith's ties to the university were both personal and familial. He and his youngest brother, Albert Kelvin Smith, had studied chemical engineering at Case School of Applied Science (CSAS); another brother, Vincent, had attended Western Reserve University's law school. Their father, A. W. Smith, had been a chemistry professor at CSAS and a co-founder of the Dow Chemical Company. Heirs to his entrepreneurial spirit, the three brothers founded the Lubrizol Corporation in 1928. Many years later, Kent Smith served as acting president of Case Institute of Technology (1958-1961) and eventually as an honorary trustee of Case Western Reserve University.
The Kent H. Smith Charitable Trust, as the foundation is now known, has provided vital support to several major initiatives, including the construction of Kelvin Smith Library and the Kent Hale Smith Building. And in October of this year, its trustees announced a $10.5 million matching gift to CWRU for construction of a new university center.
As dean of the college, I have had the privilege of working with foundation trustees Phillip A. Ranney (LLB '61) and William B. La Place. As a result, I am aware of their deep commitment to yet another philanthropic endeavor—one that honors the ethical standard set by Kent Smith and two of his associates.
In 1997, the foundation created and endowed the Elmer G. Beamer-Hubert H. Schneider Professorship in Ethics. Elmer Beamer was Kent Smith's accountant and a leader in establishing ethical standards for the accounting profession. Hubert Schneider was Kent Smith's lawyer and the foundation's first president. Phil Ranney tells me that both men shared a conviction expressed in Lubrizol's mission statement: "Honesty, fairness and ethical behavior are a necessary part of the only sustainable path to a lasting success."
In this issue of art/sci, we celebrate the appointment of Jeremy Bendik-Keymer as our Beamer-Schneider Professor in Ethics. An exceptionally gifted and dedicated teacher, Jeremy will work with colleagues across the university to incorporate ethical concerns into the undergraduate curriculum. As a specialist in environmental ethics, he will also be active in many projects of strategic importance to the university, including the Sustainability Alliance directed by physics professor John Ruhl.
As you will see in his profile (pp. 23-28), Jeremy believes that an education in ethics cannot be confined to the classroom. Students develop character through their engagement with the larger world. By participating in service projects, for instance, they experience the challenges and rewards of translating their ethical ideals into action.
Appropriately, two stories in this issue highlight the civic engagement of students and faculty in the College of Arts and Sciences (see "The Best Example" and "Expanding the Menu"). Their efforts remind me of something Phil Ranney has said about Kent and Thelma Smith: "In their giving, their main theme was helping people to help themselves." I invite you to read about members of our community who are following their enlightened example.
Cyrus C. Taylor
Dean and Albert A. Michelson Professor in Physics