In early January, when some of his journalism students were about to conduct their first interviews of the semester, Jim Sheeler sent them off with a flurry of practical advice. Take careful notes, he cautioned them, in case your digital recorder stops working. Invite people to talk about their experiences in detail: Can you paint a picture of that for me? When they fall silent, give them time to think. When they say something interesting, express your appreciation. "This isn't 60 Minutes," he reminded the class. "You're not trying to put them up against the wall."
Sheeler and the students were meeting off campus, as they would for most of the term. They had taken a university van to Eliza Bryant Village, a complex of senior housing units and medical facilities in Cleveland's Hough neighborhood. Hundreds of elderly people receive services at Eliza Bryant—everything from routine check-ups to rehabilitation therapy to skilled nursing care. Now Sheeler had arranged for his students to talk with some of the residents. He wanted them to learn about people they never would have met otherwise, in a place where everyone was full of stories.
Sheeler had told the students that it might take three or four interviews before the residents opened up to them. But Emily Hoffman '11 and Molly Drake '12 didn't have to wait that long. Later that day, they were sitting at a table in a multipurpose room with Andrew Bailey, who had lived in an Eliza Bryant apartment for the past few years; his wife, Ethel, was a patient in the nursing home. Mr. Bailey was soft-spoken but not at all reticent. The recorder resting on the table, and the tiny microphone clipped to his sweatshirt, didn't seem to make him self-conscious.
He told the students where he grew up, how he met his wife, what he did for a living before his retirement. When he described his last job, operating a gas station and restaurant at the corner of Chester Avenue and 79th Street, the students set aside their prepared questions and asked where he'd learned to cook. His answers were always to the point, but he added details that gave insight into his character. Both he and his wife had been married once before, and together they had raised all nine of the children from their previous unions. In their house, Mr. Bailey said, there was never any talk of stepchildren or stepparents; they were just a family. And when he referred to a son who had served in the military or a daughter who worked at University Hospitals, it was clear that there was no such talk now.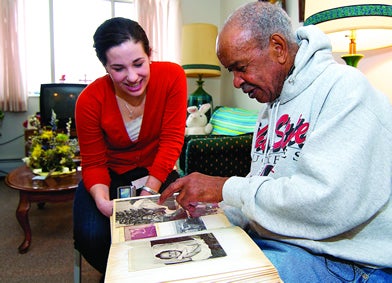 Photo: Daniel Milner
Twenty minutes into the interview, Mr. Bailey invited Sheeler and the students to see his apartment. (Not everyone, he pointed out, could bring in visitors on the spur of the moment and have them find everything in order.) Surrounded by familiar objects, he was more forthcoming than ever. He showed his guests his 103-year-old bedroom set—an inheritance from his wife's great aunt and uncle, who had once been slaves. He brought out a sealed pack of Pall Mall cigarettes with "1999" written in black marker on the cellophane—a memento from the year he quit smoking. He took a manila envelope from the top of his dresser and pulled out a certificate for burial insurance—an investment he'd made when an unexpected windfall came his way. At that time, he had also indulged in some reckless spending, and now he was glad he had never won the lottery. It would have changed him, Mr. Bailey said; he would have forsaken "the original God" and worshipped his riches instead.
On the ride back to campus, Sheeler asked the students what struck them most about the interview. Drake had noticed how Mr. Bailey kept turning the conversation back to his wife. "She is a beautiful person," he'd said, and he would have liked for them to meet her, but she had Alzheimer's now and no longer spoke. Hoffman noted that Mr. Bailey's favorite word was "satisfied," as in, "I am satisfied with the care at Eliza Bryant." ("Good ear," Sheeler told her.) Both students remembered hearing him say that he had counted the footsteps from his apartment to his wife's bedside. By his calculation, he covered a mile a day walking back and forth, since he went to see her every hour or so.
The students planned to write their profiles of Mr. Bailey after several more weeks of interviews. By then, they might know more about him than they did about some of their relatives. But as Sheeler had explained to the class earlier that day, their job as reporters wasn't to present every single fact about someone's life. Rather, it was to "distill that life into a story."
New Worlds of Writing
Writing such stories has long been Sheeler's specialty. During the mid-1990s, he made his reputation by leaving the front-page news to others and composing richly detailed obituaries about people whose names had never been in the paper. In 2006, he won the Pulitzer Prize in feature writing for "Final Salute," a 12,000-word story about the relationships that a casualty notification officer had forged with the families of Marines killed in the Iraq war.
Last fall, Sheeler joined the Department of English as the Shirley Wormser Professor in Journalism and Media Writing. The professorship was created and endowed in 1998 by Shirley Wormser Shapero FSM '40, who foresaw that the 21st century would be characterized by "new worlds of writing." Her gift was a way of ensuring that students in the college would be prepared to enter those worlds.
Sheeler is very much at home with today's new media and integrates them into his courses. When he taught introductory journalism last term, his students analyzed blogs as well as newspapers and magazines. They learned how reporters use Twitter updates to cover breaking news. They also created audio slide shows for the Internet, with photographs they had taken themselves and excerpts from interviews they had recorded.
As English department chair Mary Grimm points out, Sheeler combines a "multimedia outlook" with "the values of a traditional journalist." Both in his own work and in his classes, digital tools are always deployed in the service of solid reporting.
"Jim is very passionate about journalism, teaching and writing," says associate professor Thrity Umrigar, an acclaimed novelist who began her career as a newspaper reporter. "He exudes a kind of joyfulness when he's talking about interviewing his subjects and making their stories come alive on the page. I think he will really motivate students with his passion for storytelling."
She also believes that students will learn essential lessons simply by reading his work. "Jim's writing is so elegant and precise," she explains. "He never seems to overwrite or go for the melodramatic. There's a compressed, controlled quality that is just lovely. I would ask my students to really pay attention to his technique—the telling anecdote that encapsulates the theme, the unforgettable image, the quote that takes your breath away."
Recognizing Lives
When he was still a student himself, Sheeler planned to be a broadcast journalist. He completed internships at CNN in Atlanta and at various television and radio stations before deciding he would be more comfortable at a newspaper. "In the end, I think that broadcast experience helped me develop into a better print reporter, because I was trained to think in terms of scenes and pictures," he remarked in a 2008 interview. "Also, lugging the camera around on my shoulder taught me not to rely on the telephone. I still feel that there's no substitute for meeting people in person and spending the time it takes to immerse myself in the story, no matter the medium."
In 1992, Sheeler landed his first job at The Daily Camera in Boulder, Colorado, where he covered everything from business news to rock concerts. Four years later, he helped found a community paper, the Boulder Planet, where one of his duties was to type in the obituaries that local funeral homes faxed to the newsroom. As he worked on the copy, certain details leapt out at him; for instance, he still remembers reading about a woman who had a career as a "butcher and florist." Naturally, he wanted to learn more. "There were some amazing stories that we had missed," Sheeler says. "But we still had one last chance to recognize those lives."
He began to choose one person each week as the subject of a feature-length obituary. Gradually, a few recurrent themes emerged in his work. For instance, Sheeler loved to write about people who represented a vanishing era in Colorado history—an era of family farms and mining operations and small towns in the middle of nowhere. Yet all of his subjects emerged as distinct individuals. A master gardener whose neighbors still grew poppies from seeds he had carried home from a trip to Alaska. An amateur printer who published her own poetry until she was in her mid-80s, on a letterpress her father had taught her to operate in 1929. A magician whose favorite trick, involving a silk handkerchief and a clock, was to make time disappear.
Sheeler usually spent an entire day talking with his subjects' relatives, friends and co-workers. Like any reporter, he sometimes felt awkward approaching a bereaved family. And yet, he says, "Once the family realized that I really wanted to know the story of the person's life, the awkwardness almost always disappeared." Before he began his interviews, Sheeler explained that he would be writing "a well-rounded story," not a eulogy. It was important, he says, "to include the good and the bad—often there are lessons to be learned from the way that someone overcame (or didn't overcome) the struggles that each of us faces."
In 2000, the Planet went out of business, and Sheeler began writing obituaries for the Denver Post. Soon they were one of the paper's most popular features. "I never complained about having my stories in the back of the newspaper," Sheeler says, "because I knew that most of the front-page stories would be fish wrap in a few days, while the obits would be cut and pasted on refrigerators and scrapbooks and read for generations." Meanwhile, he was gaining the knowledge and experience he would need for his most difficult assignment.
Bringing the War Home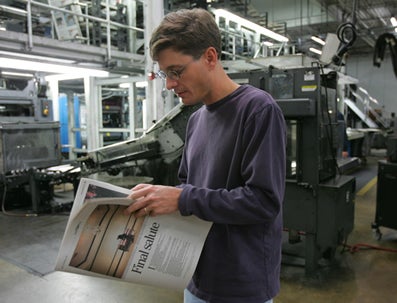 Photo: Todd Heisler
In March 2003, Marine Lance Corporal Thomas J. Slocum became the first Colorado native to die in the Iraq war. A day before the funeral, Sheeler, who was now working for the Rocky Mountain News, drove out to Fort Logan National Cemetery and spoke to a veteran named David Turner, who had just finished digging Slocum's grave. "He was in the same division as me—1st Marines," Turner said. "He's part of the family."
During the next year, Sheeler attended nearly a dozen military funerals. He got to know several of the groundskeepers at Fort Logan; like Turner, they were all veterans, and they all spoke of their responsibility to the dead. He observed the faces of Marines in dress uniform as they kept watch beside a casket or folded the flag that would be presented to a grieving family. He learned that some of these men carried pictures of their friends' funerals inside their caps. None of this fit with Sheeler's mental image of the Marine Corps—the impassive stare on the recruiting posters. And he realized that he was seeing things that most Americans were simply unaware of.
A similar feeling haunted him as he came to know the families of the war dead. In "countless living rooms," he later wrote, "I sat on the floor and played with children who would never see their fathers. I listened to widows read their husbands' last words. In a small northwestern Colorado town, I watched as a little boy the same age as my son ripped the rose boutonniere off his grandfather's lapel and placed it in the casket with his father's body." Some of these experiences made it into his obituaries. But he still hadn't found a way, he felt, to "bring the war home" to his readers.
Then, at the Fort Logan cemetery, Sheeler met Major Steve Beck, who was responsible for notifying the families of Marines killed in action. Delivering this news was only the first of his duties, Sheeler soon learned. Beck tended to the families during the arrival of the casket at the airport, the viewing of the body if a viewing took place, the funeral itself. And for months afterward, he remained involved in their lives. He sat with them as they sorted through the personal effects of their sons and husbands, helped them deal with the military bureaucracy and arranged ceremonies for the posthumous awarding of medals.
Like Sheeler, Beck believed that the country paid too little attention to the sacrifices of these families. So he allowed Sheeler and Rocky Mountain News photographer Todd Heisler to shadow him for a year. The journalists never witnessed the initial knock at the door; they would visit a home only after Beck had obtained the family's permission. But from that point on, they entered into the survivors' ordeal as fully as strangers could. Sheeler told the families that if they ever needed time alone, he and Heisler would disappear. But no one ever asked them to leave.
On Veterans Day, 2005, "Final Salute" appeared as a 24-page insert in the Sunday paper. The following April, Sheeler and Heisler each won a Pulitzer Prize.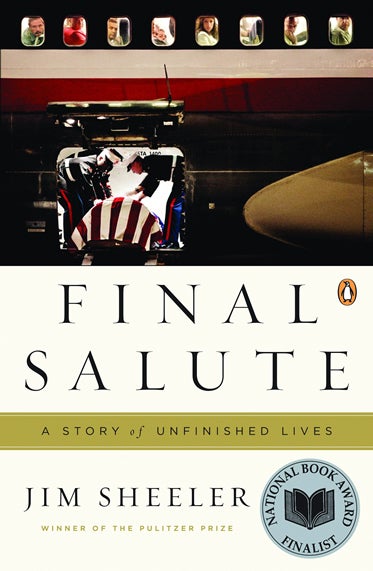 Sheeler invited the families to the newsroom the day the awards were announced. A young widow named Katherine Cathey came with her parents and her four-month-old son. Recalling the night she first met the two journalists, she said that she appreciated their coming to her home and "listening to what I had to say about my husband." Then she added, "They made a lot of sacrifices, too, so that everybody would have a very clear picture of what the families had to go through."
A Better World
After the Pulitzer, Sheeler began hearing from agents and publishers who encouraged him to expand "Final Salute" into a book. At first, he resisted. "Revisiting those stories would mean giving in, emotionally, all over again," he said in a 2008 interview. "These stories hurt, as does telling them. At the same time, I realized that the emotional weight I felt was nothing compared to the loss these families shoulder every day. I asked some of them if I should write the book, and they urged me on."
Sheeler took a leave of absence from the paper. Now, instead of going to the newsroom each morning, he worked alone at a desk in his basement. After a couple of months, he says, "I realized that I needed to step away at times." He found a position as an adjunct professor at the University of Colorado, where he taught a course in advanced reporting.
This was his first stint as a teacher. At first, he says, putting together a syllabus was "pretty intimidating. But it was also fun—and so was the class, from the very first day. I was able to go back and think about what got me into journalism in the first place, what excited me. I looked over all my old stories and the stories that inspired me, and I had the chance to share that with students who were as enthusiastic as I was back then. I fed off that energy when I needed to go back into the basement and write that book."
Final Salute was a finalist for the National Book Award in 2008. By that time, the University of Colorado had created a position for Sheeler as a scholar-in-residence. In one of his classes, students produced stories and multimedia presentations about a local retirement community. It was a precursor to the course he is teaching this spring at Eliza Bryant.
As a newcomer to Cleveland, Sheeler has been learning the city partly through his students' reporting. In one assignment last fall, he asked the students to spend time in places where they would be "out of their element." Reading their stories took him out of his element, too.
Erin Wendell '12 found her way to a Civil War reenactment in Cleveland's Tremont neighborhood. She interviewed a mortgage banker pretending to be an army corporal in the 8th Ohio Volunteer Infantry Regiment, Company B. Initially, she felt a bit strange talking to a man in a "period wool uniform" while muskets fired in the background. But when the banker spoke of his role in "educating the public, being a voice for the guys that aren't around anymore," she came to respect his motivation. "I learned from him that reenactors aren't just playing dress up and hanging onto something that's been over for nearly 150 years," she wrote after finishing her story. "Instead, they are dedicated to studying the period and accurately portraying history so that the public may better understand what the actual soldiers experienced."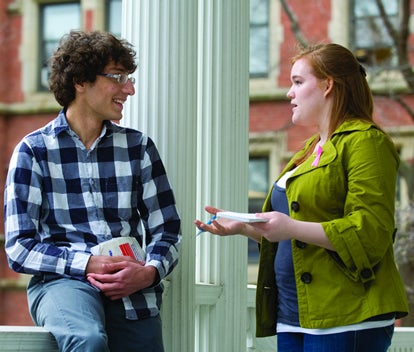 Photo: Mike Sands
Closer to campus, Zak Khan '14 spent an afternoon in the corridors of University Hospitals, shadowing two patient transporters. Unlike some of their colleagues, James Felder III and Renee Peterson make a point of talking with patients and their families, Khan noted. "Both say they are in the job not just to get people from here to there, but to have an impact." Reflecting on his story later, he added, "There are many people you may never even think of who are working hard to make connections and help humanity, all while remaining in the background."
The students who take journalism courses in the College of Arts and Sciences are not necessarily preparing for careers in the news business. They may simply enjoy writing, or wish to gain a better understanding of our media-driven culture. Often, they recognize that improving their skills as researchers, listeners and writers will help them in other professions. For his part, Sheeler is happy to see students in any field sign up for his classes. After all, he explains, "A world with more storytellers, whether they're in journalism or not, is a better world."
Andrew Bailey, who generously shared his stories with Jim Sheeler's students, died unexpectedly on February 28, a few days after he had his picture taken with Emily Hoffman. It was a privilege to meet him, and we offer our condolences to his family.
Many thanks to William Claspy (WRC '88, GRS '93), humanities librarian and coordinator of library instruction at Kelvin Smith Library, who hosts the podcast series Off the Shelf. His October 2010 interview with Jim Sheeler provided some of the quotations in this article.
Published Sources:
Meehan Crist, "2008 National Book Award Nonfiction Finalist Jim Sheeler: Interview," National Book Foundation, 2008

"Five Questions for Jim Sheeler," University of Colorado Faculty and Staff Newsletter, August 6, 2009
Kevin Vaughan, "News Wins 2 Pulitzers," Rocky Mountain News, April 18, 2006
Mark Wolf, "Pulitzer Prize Winner Jim Sheeler on His New Book Obit," Rocky Mountain News, June 26, 2007