This summer, the Alumni Task Force at Case began developing plans for a single, unified alumni organization. The process formally started on July 24, when more than 100 alumni, students, and staff participated in a weekend forum to discuss goals and aspirations for the new organization. The participants came from across the country and were notable for their diversity: there were graduates from every decade since 1950; representatives of 21 key stakeholders, including the school-based alumni associations, undergraduate alumni association, and Case Western Reserve University alumni association; and members from a variety of racial and ethnic backgrounds.
The task force will submit a strategic plan to the university's Board of Trustees in mid-January and expects to announce the structure of the new alumni organization next summer. For more information about the task force, visit www.case.edu/alumni/forum/tf.html.
Virginia "Gini" Nord Barbato, president of the Nord Family Foundation and an alumna of Flora Stone Mather College, has been appointed to the university's Board of Trustees.
Mrs. Barbato received her B.A. in history from Flora Stone Mather College—the undergraduate women's college of Western Reserve University—in 1972. She has previously served on visiting and campaign committees for the College of Arts and Sciences and the Mandel School of Applied Social Sciences. She has also been a member of the Case National Campaign Leadership Group.
In addition, Mrs. Barbato has been a trustee of the Cleveland Museum of Art and serves on the board of the Cleveland Opera. She has been an active volunteer with the Cleveland Orchestra, The Cleveland Museum of Art, and Hawken School. She is also a member of the current class of Leadership Cleveland, a program initiated by the Greater Cleveland Growth Association to build leadership resources within the Greater Cleveland community.
Mrs. Barbato's husband, Randall, is a 1972 alumnus of Western Reserve College and a 1991 alumnus of the Weatherhead School of Management. Her parents, Eric and Jane Nord, are both Case alumni and generous friends of the university. The Barbatos live in Shaker Heights with their three children.

BIOLOGY GRAD SELECTED FOR PRESTIGOUS PROGRAM
Paul Tesar '03 is one of only 11 students nationwide selected since 2001 as a National Institutes of Health-University of Oxford Scholar in Biomedical Sciences. This interdisciplinary program invites outstanding American students to participate in research collaborations involving NIH scientists and Oxford faculty members; the students divide their time between the two institutions and ultimately earn a Doctor of Philosophy degree from Oxford. Tesar, who studied adult stem cells for three years as an undergraduate in the department of biology, will now engage in research on embryonic stem cells. "The Oxford/NIH scholarship is shaping up to be as prominent and important as the Fulbright," said Case President Edward Hundert. "Like the Fulbright, this scholarship experience has diverse and often powerful impacts not only on the scholars themselves, but also on their colleagues, students, the nation and the world."

STUDENTS EARN GOLDWATER SCHOLARSHIPS
Christine Bodner'05 and Jeffrey Kidd '05 have been named as Barry M. Goldwater Scholars for 2005-06. The scholarship program was created by Congress in 1986 to encourage undergraduates with strong academic records and the highest potential to pursue careers in mathematics, the natural sciences, or engineering. Bodner, a native of Castilia, Ohio, is majoring in chemistry with a minor in mathematics; Kidd, a native of Boardman, Ohio, is majoring in biology with minors in mathematics and computer science. The Barry M. Goldwater Scholarship and Excellence in Education Foundation selects up to 300 scholars annually. A total of six Case students have won Goldwater Scholarships over the last five years.

POLITICAL SCIENCE MAJOR SERVES AS DELEGATE
Daniel Gray was one of four delegates representing Ohio's 14th Congressional District at this summer's Democratic National Convention in Boston. Gray, from Willoughby, Ohio, got the idea of serving as a delegate while taking a course on "Elections, Voters and Political Parties" from Alexander Lamis, associate professor of political science. Gray's expenses were covered by an Experiential Learning Fellowship, offered to Case students in the arts, humanities and social sciences. He graduates this December.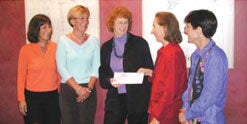 The Governing Board of The Friedman-Klarreich Family Foundation recently presented a gift to WISER (Women in Science and Engineering Roundtable) as an expression of the Foundation's commitment to promoting education and economic equity for women. The funds are designated for WISER activities which prepare students for careers in corporate life. Presenting the check to Heather Morrison, third from left, associate professor of astronomy and co-founder of WISER, is Sue Klarreich, second from right. Klarreich, who earned an M.A. and Ph.D. in education from Case's School of Graduate Studies, is administrator of the Foundation, which she and her four daughters established in 1992. Three of Sue's daughters were able to be in Cleveland for the presentation—from left to right: Kathie Klarreich, Karin Klarreich, and Betsy Kohn. Beth Klarreich Corwin was unable to attend the ceremony.