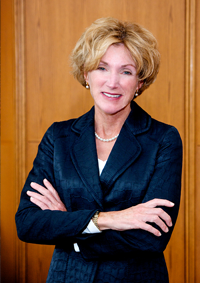 To the Case Western Reserve Community:
The momentum continues. As you will see, ours is an institution of aspirations. No matter what we have achieved in the past, new challenges always await. The people of Case Western Reserve possess the intellect, creativity and talent to offer answers. What's more, they are committed to making a positive difference.
Imagine the legions that would benefit from a dynamic new space for our performing arts programs—especially when that space is The Temple – Tifereth Israel in University Circle. Milton and Tamar Maltz's $12 million lead gift is sparking an extraordinary campaign to make the idea a reality.
Meanwhile, faculty member Jessica Kelley-Moore is steering an effort to increase inner-city residents' access to healthy foods. Her project is one of several initiatives that not only enhances the community, but also offers lessons others can apply nationwide.
Our students demonstrate similar ingenuity and passion. The undergraduates who made a low-cost solar furnace highlight how even the simplest tools can improve the lives of people around the globe.
As impressive as these examples are, they are just a sampling. People across this campus look for the bigger picture every single day. We hope you enjoy learning about how they find it in this, our 2009-2010 annual report.
Barbara R. Snyder, PRESIDENT