| | | |
| --- | --- | --- |
| | "The very fact that Western Reserve does not run true to the common patterns prevalent in the country makes it difficult to explain our organization easily to others." | |
| | -Winfred George Leutner | |
In spite of the complexities, which have only increased since President Leutner's 1938 comment, the staff of the Archives has compiled this summary of the legal entities of Case Western Reserve University and its predecessors. Included are the dates each was established and terminated and their names. A similar summary has been made of the academic entities, the Schools of CWRU.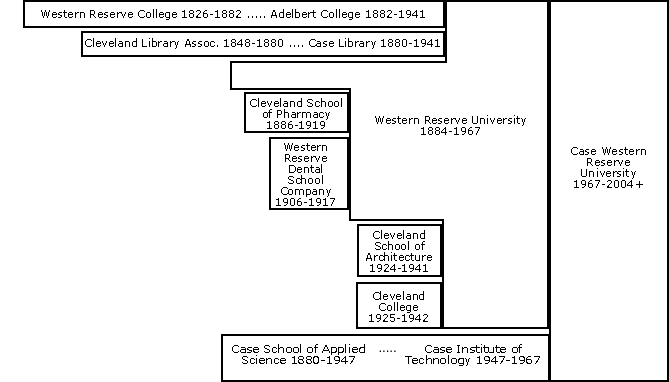 | | |
| --- | --- |
| 1826 | Western Reserve College incorporated. |
| 1848 | Cleveland Library Association incorporated. |
| 1880 | Cleveland Library Association renamed Case Library. |
| 1880 | Case School of Applied Science incorporated. |
| 1882 | Western Reserve College renamed Adelbert College of Western Reserve University. |
| 1884 | Western Reserve University incorporated. |
| 1886 | Cleveland School of Pharmacy incorporated. |
| 1906 | Dental School sold to Western Reserve Dental School Company, a for-profit corporation. |
| 1917 | Dental School re-purchased by Western Reserve University. |
| 1919 | Cleveland School of Pharmacy incorporated into WRU. |
| 1924 | Cleveland School of Architecture incorporated. |
| 1925 | Cleveland College incorporated. |
| 1941 | Adelbert College, Cleveland School of Architecture, and the Case Library consolidated with WRU. |
| 1942 | Cleveland College consolidated with WRU. |
| 1947 | Case School of Applied Science renamed Case Institute of Technology. |
| 1967 | Case Western Reserve University established through merger of Case and WRU. |
This summary was compiled by staff of the Archives from sources in the custody of the Archives.

Sources:
1B Founding Documents, Case Western Reserve University
1DA Publications of the Office of the President, Case Western Reserve University
1DB6 Records of Charles F. Thwing, President, Western Reserve University (1890-1920)
1DB7 Records of Robert Ernest Vinson, President, Western Reserve University (1923-1933)
2JD Records of the Board of Trustees, Adelbert and Western Reserve Colleges (1826-1941)
2KD Records of the Board of Trustees, Western Reserve University (1884-1941)
2KE Records of the Executive Committee, Board of Trustees, Western Reserve University (1884-1941)
2LD Records of the Corporation and Board of Trustees, Western Reserve University (1941-1957)
2N Records of the Corporation and Trustees, Case Western Reserve University (1967- )
8H Records of the Case Library
19BE Records of the Board of Trustees, Case Institute of Technology
61B Founding Documents, Cleveland School of Pharmacy