LENS Arts, Humanities and Social Sciences
A Poet for Our Age
Questions for Dave Lucas, SAGES Fellow and Winner of a 2016 Cleveland Arts Prize Emerging Artist Award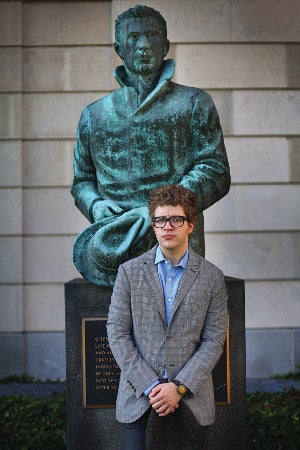 PHOTO: MICHAEL F. McELROY
Why is the statue of poet Hart Crane your favorite place on campus?
I began reading Hart Crane in my early 20s. Crane, at the same age, had already begun The Bridge, his "mystical synthesis of America."

Crane seesawed between his loathed hometown of Cleveland and New York. I was studying poetry in Virginia, longing to return home to Cleveland, to the city I had to leave to come to love.

Years later, I found William McVey's sculpture of Crane, shadowed in an alcove behind the university's Kelvin Smith Library. The figure in the bronze trench coat, hat in hand, does not resemble the vital, frenetic Crane we find in the poems. Yet there it stands, half-noticed for its permanence, like all monuments, like poetry too.

I am now older than Crane ever was. I think I have written four or five poems I believe in. But I believe that the language we speak, and in which we live, could become a kind of alchemy.

Crane's poems linger like spells, the abracadabra through which the poet and reader might, however briefly, become someone else.

Tell us about your class at Case Western Reserve: "Poetry for People Who Hate Poetry."
If you're foolish enough to introduce yourself as a poet at a cocktail party, people sort of look over to the bar and wonder how they can get away from you. What they mostly say is, "Oh, I never really got poetry." And I think they are wrong about that. We do get poetry, in that we think and speak in metaphors constantly, and metaphors make poetry. The class is a way of looking at poetry as being more pervasive than we suspect it is.

How is it more pervasive?
A lot of the things that are popular and would fit any definition of poetry are treated as not being poetry—hip-hop lyrics, for instance. But the rhyme schemes and rhythms in the verses of [rapper] Andre 3000's verse in OutKast's 1998 song "Synthesizer" are as complex as anything you're going to find in a Shakespearean sonnet. It's just the cultural biases we have that have kept those kinds of things out of the anthologies. We still don't entirely trust things that are popular.

When did an interest in poetry start for you?
I think in high school. I was coming to a point in my life when, like most adolescents, I didn't understand myself and I was pretty sure nobody understood me, and, worse yet, that nobody ever could. I listened to a lot of pop music, but at a certain point, even that didn't have what I needed. But some of the poems I was reading did. Too many sources offered too many easy answers. I liked that poems asked questions—and asked them in better ways.

What did it mean to win the Emerging Artist Award?
It's an award that means a great deal, especially because I think of myself as being a Cleveland poet, someone who is not just from Cleveland, but, I hope, of Cleveland.