LENS Dispatch
Live from Cleveland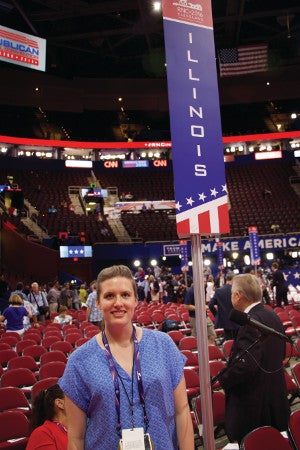 While tens of millions of viewers watched the Republican National Convention on TV or online, six Case Western Reserve students and a recent graduate had front-row seats to history as credentialed journalists writing stories and shooting photos for The McClatchy Co. newspapers in California, Florida, Georgia, Illinois and Washington. Jim Sheeler, the Shirley Wormser Professor of Journalism and Media Writing, organized the project with McClatchy and led the team. Learn more from three of our journalists.






Reports on the GOP Convention
It wasn't until I was sitting in the back of an SUV, somewhere between the Crowne Plaza Airport Hotel and Quicken Loans Arena, that I realized I had no idea where I was going.

I was perfectly safe, but being taken to meet one on one with a top foreign policy advisor to Donald Trump by a delegate to the 2016 Republican National Convention (RNC) is not a standard experience for a 20-year-old.

Eleven months earlier, I had published my first article for The Observer student newspaper. After I published the second one, Professor Jim Sheeler invited me to work for The McClatchy Co. at the RNC. My assignment: writing for the Tri-City Herald of southeastern Washington.

I'm not actually a journalism major—or even an English major. I'm an electrical engineering major and finance minor with investment banking aspirations. But among my many passions, I've always loved politics, and I've been a lifelong news and history addict.

While what I have learned at Case Western Reserve hasn't taught me how to write, it has taught me how to think—how to examine patterns, how to break down systems and analyze their complexities.

I would need all of those skills for this assignment: interviewing Walid Phares, PhD, a native of Lebanon who was advising the Republican nominee on counterterrorism.

The SUV pulled up to a downtown Cleveland Lebanese restaurant. We headed back to a private room, where Phares was finishing a speech to an audience of 15 Trump supporters.

After the audience left, we sat down for the interview.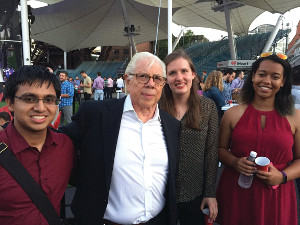 PHOTO: Jim Sheeler
"Donald J. Trump is calling for a complete and total shutdown of Muslims—" I began.

Phares interrupted, waving his hand dismissively. "He's not going to do that."

I pushed back, he countered, and the verbal sparring began as our 20-minute discussion moved to Middle Eastern politics and history, U.S. policy in Israel, the Iranian Revolution, the Lebanese Civil War, the Iran nuclear deal and the political philosophy of classical liberalism, among other topics.

It was one of the most intriguing conversations I've had in my entire life.

While cable news outlets seem to place an emphasis on interviewing people for the entertainment value of arguing with them, I've come to realize that the thing I enjoy most about print journalism is interviewing people to better understand (and ultimately write about) their perspectives. When I pressed Phares, it wasn't to prove him wrong but to see how he would modify or justify his policy suggestions.

This kind of questioning style doesn't have a lot of entertainment value—it often ended with us both in agreement—but it does foster understanding.

And if there's anything I've learned from being right in the middle of one of the most divisive elections in American history, it's that fostering mutual understanding is the most important thing.

—RISHI SOLANKI
Rishi Solanki is a junior from Boston.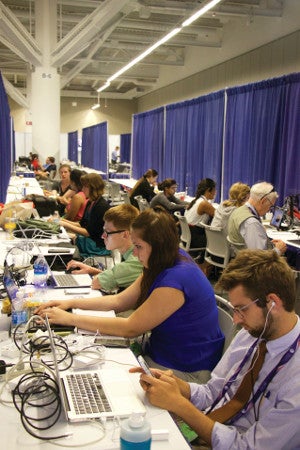 PHOTO: Jim Sheeler
Daily Dispatches
SUNDAY, JULY 17
The afternoon before the Republican National Convention began, a group of us—students from Case Western Reserve and Penn State and our professors—walked into the primary media center.

I was definitely excited and nervous. But I felt really confident, which was only helped by how cool I felt to wave my credentials at security and be let through. Inside, people reporting for The New York Times, The Associated Press, USA Today, Fox News and many other media outlets were getting ready for the week.

It was strange to think I was one of them. That was the crazy part. I belonged with all these people who got to report and work for the most well-known media companies in the country.

—ALEX CLARKE

MONDAY, JULY 18
I was supposed to get a story done by 3 p.m. for The Bellingham Herald in Washington.

While I had credentials to enter the media center, I didn't get my hands on credentials for the arena and the convention itself until 1:45 p.m. I half-ran to the press platform to get a floor pass.

It was wild in there with so many people—people walking around and people doing interviews in the hallway. I just walked onto the floor and quickly found the delegate I needed to interview from the Herald's county. The interview was made so easy by how friendly and open the delegate was; he was energized by seeing so many new 30-something delegates from his state and focused on pushing for unity under Donald Trump. After the interview, I was introduced to State Sen. Don Benton. I remember thinking, "Oh, he probably doesn't want to talk to me." But he actually was excited to talk, and I was the one who had to cut it short.

At the end of the busy day, I felt special; like the song from the musical Hamilton goes, I got to be in "the room where it happens."

—ALEX CLARKE

TUESDAY, JULY 19
At 11:45 a.m., the Secret Services topped me at the X-ray machines as I attempted to enter the media center to write a story for the Belleville News-Democrat in Illinois.

I walked through the X-ray machine and faced the Secret Service agent on the other side. His brown eyes surveyed me critically and I was momentarily terrified. Although he seemed benign, his bulletproof vest sported "Secret Service" in menacing white block letters. "Hey, we should ask her," the strong-jawed agent said to a fellow agent. "She might know."

Instantly, sweat trickled down my back. As a student reporter, I regarded chatting with agents as beyond my pay grade (disclaimer: I wasn't being paid).

The first agent picked up the day's New York Times crossword puzzle. The clue? 11 down: "Children's toy that tests dexterity."

"We're pretty sure it has the word 'ball' in it," he said, showing me their answer, "ballincup," with a lone space leftover.

Relief washed over me; I hadn't violated federal law unknowingly. But I had never completed a crossword puzzle in my life.

"Um, I'm not sure," I said, "but The New York Times booth is adjacent to mine. I can go see if [someone there] knows."

The agent laughed and said he would ask for directions if he couldn't crack the clue later. And I strode into the center unscathed.

—MAUREEN O'REILLY

WEDNESDAY, JULY 20
The sun was beginning to set when I hopped on a shuttle bus from the arena back to the media center. The bus was empty, aside from the driver, the Secret Service agent who sat in the first seat on each bus, a foreign media correspondent and me.

Without an audience, I summoned the courage to ask the agent with salt-and-pepper hair my burning question: "Excuse me," I stammered. "I know this is a bit silly, but I was wondering—does your earpiece sound like, you know, a regular headphone?"

I held up the earbuds plugged into my phone. "Or does it sound like… the voice of God or something?"

The agent laughed and explained that the earpieces agents use sound like an earbud at almost full volume, but over time, an agent will learn to filter the chatter, listening only to what is relevant. Earpiece technology had improved over the course of his career, he said—but he lamented that deafness was an occupational hazard.

—MAUREEN O'REILLY

THURSDAY, JULY 21
By the end of the week, I was exhausted, but I had one more story to do for the Herald. I drove to the hotel where the Washington state delegates were staying. It really hit me how much the delegates come to conventions to bond. The delegate from the Herald's county told me about the restaurants and breweries they went to during the week, and what a good time they had.

Getting to know the delegate helped me realize again why I love journalism. It's getting to know people, letting them speak so many can hear and learning about people who, without journalism, you never would have met.

—ALEX CLARKE

Alex Clarke is a senior majoring in English and psychology and is from Geneva, Ohio.
Maureen O'Reilly (CWR '15) is from Northampton, Massachusetts, and a research technician in pediatric neonatology at University Hospitals' UH Cleveland Medical Center.