LENS Health and Wellness
Cool Operator
Nurse Creates Vest with Ice Packs to Help Surgeons and Others Work in Comfort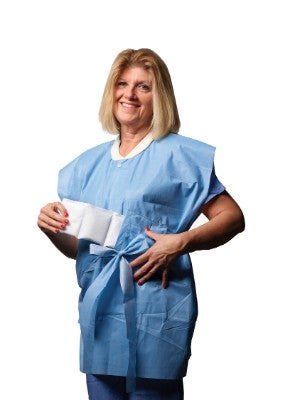 PHOTO: Roger Mastroianni
When the surgeon wasn't angry, he was quiet, intimidating. Operating room nurse Jill Byrne, RN, watched his sweaty misery and caught the brunt of his demands for a blast of cool air.
Then, seven years ago, she hit on a solution: a vest that could be stuffed with ice packs and worn over scrubs and under a stifling plastic surgical gown. She sewed one at home and took her cooling vest to the surgeon.
"Within a couple of weeks, he was singing show tunes" during surgery, she said.
Since then, Byrne, a nurse in the Cleveland Clinic system—and now a PhD student at Case Western Reserve University's Frances Payne Bolton School of Nursing—has made some 500 vests for surgeons, nurses, physician assistants, surgical scrub technicians and others.
She has remodeled the vest several times based on user feedback, and found lightweight stand-ins for the traditional ice packs.
Byrne has worked with Cleveland Clinic Innovations (CCI), the commercialization arm of the hospital system, to seek a patent, which is pending. CCI also is in negotiations to license the vest to a company. In May, Cleveland Clinic honored Byrne with an innovator award.
Byrne is studying the occupational health hazards of heat stress for her doctoral dissertation. She's also finding other uses for the vest.
"My grandson was miserable between innings at his Little League games," she said. "No when gets off the field and he's like, 'Where's my ice?' "