LENS
Academic Adventures
Faculty-led summer abroad programs give students transformative international experiences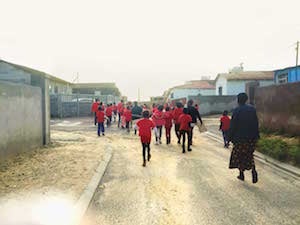 PHOTO: Courtesy of Talia McGowan Cobb
Talia McGowan Cobb spent several days this summer camping in a nature reserve outside Cape Town, South Africa, as part of a Case Western Reserve University graduate-level social work class that brought her together with classmates and South African social workers and child care workers.
They slept in tents, dug their own latrines—and created deeply personal connections.
"We had [two questions] posed to us: 'Who are you, and where did you come from?' " said Cobb. "And that [created] an opportunity for a lot of us to be vulnerable together. Many people cried."
Each year, students such as Cobb travel internationally—often having transformative experiences. This past academic year alone, more than 800 undergraduate and graduate students traveled abroad—a number that includes students in shorter faculty-led programs, full-semester experiences, internships, research trips and even service projects.
Faculty-led international classes such as the one Cobb took happen year-round and are designed to be experiential and distinguished by a narrow topical focus.
"Students are really investigating one topic and looking at it from an international perspective," said Molly Watkins, Case Western Reserve's executive director for international affairs. Students often choose these shorter international courses during semester breaks to have more time for other courses during the academic year or to better align with job schedules.
And they return from studying abroad more confident and committed to academic studies, according to Watkins and research compiled by other universities. We asked five students who participated in faculty-led summer programs to share their experiences.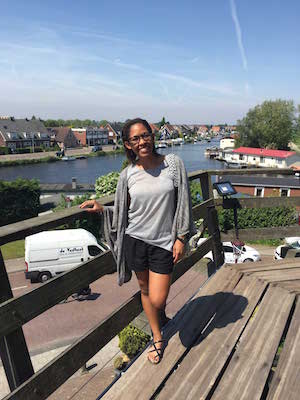 PHOTO: Courtesy of Fayla Junior
Fayla Junior, who completed a master's degree in bioethics in August, spent two weeks in the Netherlands, taking the course "Death, Dying & Euthanasia in the Netherlands & the USA."
"Our day-to-day activities [included] professors coming in, talking about euthanasia and what it means for the community and population—and from different perspectives.
"I really enjoyed hearing from physicians who had actually performed euthanasia and also sat on a regional Ethics Review Committee that reviews each case of euthanasia. We have a lot of opinions—but what about the people who have actually done it? They have seen the life leave someone from their own hand.
"With regards to euthanasia, [the Netherlands is] really small. So how do they make it work for them, and how would that work for the United States? We're very different. "Can we apply what we learn from others to improve the quality of care or policies in the United States? Traveling beyond U.S. borders to examine the ethical practices of another nation is valuable because it gives us another perspective on the issues we face in our country."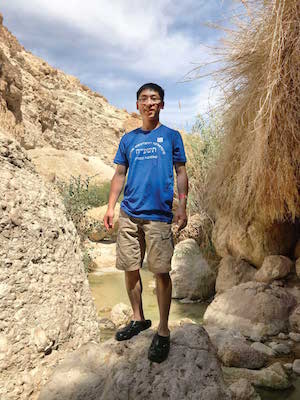 PHOTO: Courtesy of Kieran Gallagher
Victor Xie spent a week in Israel taking "Regional and Urban Economics: The Case of Israel." The sophomore likely will major in finance and economics.
"The days were full of events. One day was all about immigration. Another day was all about startups in Israel, and another day was more about natural and environmental aspects.
"The last day we took a trip to the Dead Sea. … I'm not a good swimmer. I barely know how to tread water. Being able to so easily float in the water was really fun.
"One thing that a tour guide and some of the lecturers emphasized was Israel's focus and emphasis on growth and their ability to innovate. A lot of kids grow up dreaming of owning their own business and becoming entrepreneurs.
"I've started to think more like an entrepreneur. I've always been interested in trying to think outside of the box and innovate. Seeing that motivation in Israel, their mentality, has really inspired me to take after that and incorporate that into the way I think about life."
Alexandra Goldberg, a senior studying civil engineering, spent three weeks in "The Paris Experience" course, exploring the city's diverse culture, cuisine, history and immigrant rich neighborhoods.
"I wasn't able to do a full-semester study abroad and still graduate on time. So I was grateful for the opportunity to travel internationally and explore another country during the May term.
"We visited four different high schools in Paris and got to meet with students and talk about what it's like to live in Paris and about our lives in the U.S.
"We got to meet musicians in their home [who performed] Indian- and African-inspired music. They were probably the nicest people I've ever met.
"We were [staying] about a 20-minute subway ride from the Eiffel Tower, so we were a bit removed from the touristy sections. It was nice to come back at the end of the day and be in a regular neighborhood setting.
"I really got to see how other people lived—and how other people who weren't even from France had assimilated into French culture."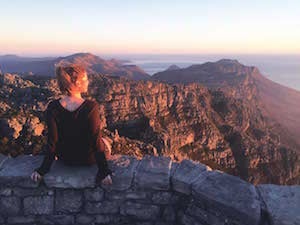 PHOTO: Courtesy of Talia McGowan Cobb
Talia McGowan Cobb spent just over two weeks in and around Cape Town, South Africa, taking "South Africa: Social Justice/Social Work, International Learning Through Community & NGO Internship." A master's student pursuing a dual degree in social work and nonprofit management, she also shadowed an academic coordinator at Yabonga, an after-school program for children and teenagers affected by HIV/AIDS.
"After school, [students] go to the 'community mother,' an older woman who either has a shack in her backyard or opens up her own personal home for these kids.
"Each age group has a gap-year student, a community mother and then a child care worker or social worker. They tutor the kids in academics. They do sports programming. They do an arts and culture day. They discuss sexual health because HIV/AIDS is still a huge concern in the African continent.
"It creates a safety net for these children who are already struggling with either family [members] having HIV or AIDS, or themselves struggling from it.
"I feel so lucky that this happened in my graduate school experience because I did not [study abroad an an] undergrad.
"This definitely fulfilled all of my ideas about [international social work]. I was like, 'Yes, I really want to pursue that.' "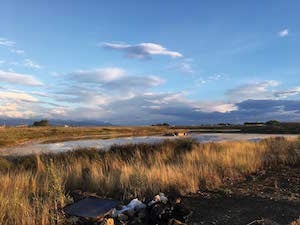 PHOTO: Courtesy of Rio Castro
Rio Castro, a sophomore majoring in cognitive science with a classics minor, spent more than three weeks getting hands-on archaeological dig experience near ancient Corinth in the course "Lechaion Harbor and Land Settlement Project in Greece." The class also traveled to other dig sites as well as Athens.
"Every day, we'd wake up at 5 and work until 1, and then we would explore what was around.
"We're digging this 5-foot trench, and we're having to do it 10 centimeters at a time. [Our group's goal] was to find the edge of a Roman tile floor. It feels very purposeful when you're digging.
"Every time you're in the trench, you get excited. You don't know what you're going to find. We were able to find some cool stuff, like bones and coins.
"During the trip I considered adding a classics major because everybody there was so passionate about what they were doing. And I am still considering it."