features
Engineering an Artistic Vision
Alumna Rina Banerjee's distinctive, mysterious sculptures evoke the perils and promise of globalism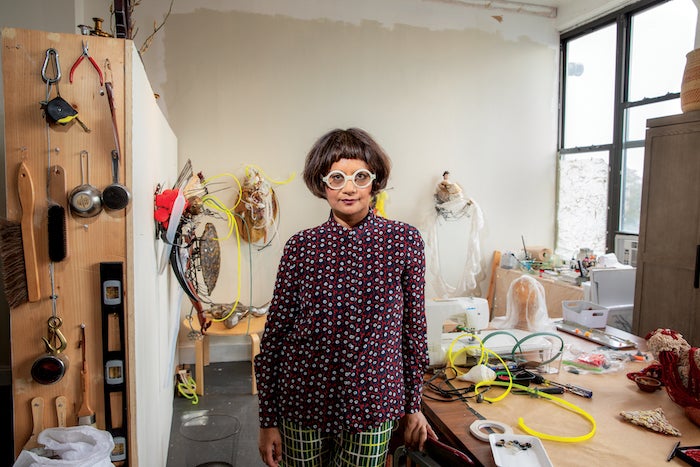 PHOTO: Erin Patrice O'Brien
The sculpture dangling from the museum ceiling resembles a fantastical hot-air balloon. Festooned with black glass tusks, lightbulbs and decorated ostrich eggs, it is suspended above a river of cowrie shells, a border of smooth, black stones, and a shoreline strewn with plastic bottles, red thread and other detritus.
Known as A World Lost, the piece is a summons to environmental awareness and a highlight of the first major United States exhibition of works by internationally known artist Rina Banerjee (CWR '93). The show—a midcareer retrospective—debuted last fall at the Pennsylvania Academy of the Fine Arts (PAFA) in Philadelphia and is being mounted in several cities through July 2021.
The exhibition addresses immigration, climate change, globalism, ethnicity and gender—passions that have animated Banerjee's work for years and reflect her life story. A native of India, she has spent decades in America, exploring what it means to be both an immigrant and a citizen of the world. An engineering alumna of Case Western Reserve University, she infuses her materials and adhesives know-how into the imaginative, intricate works she assembles from objects found around the globe.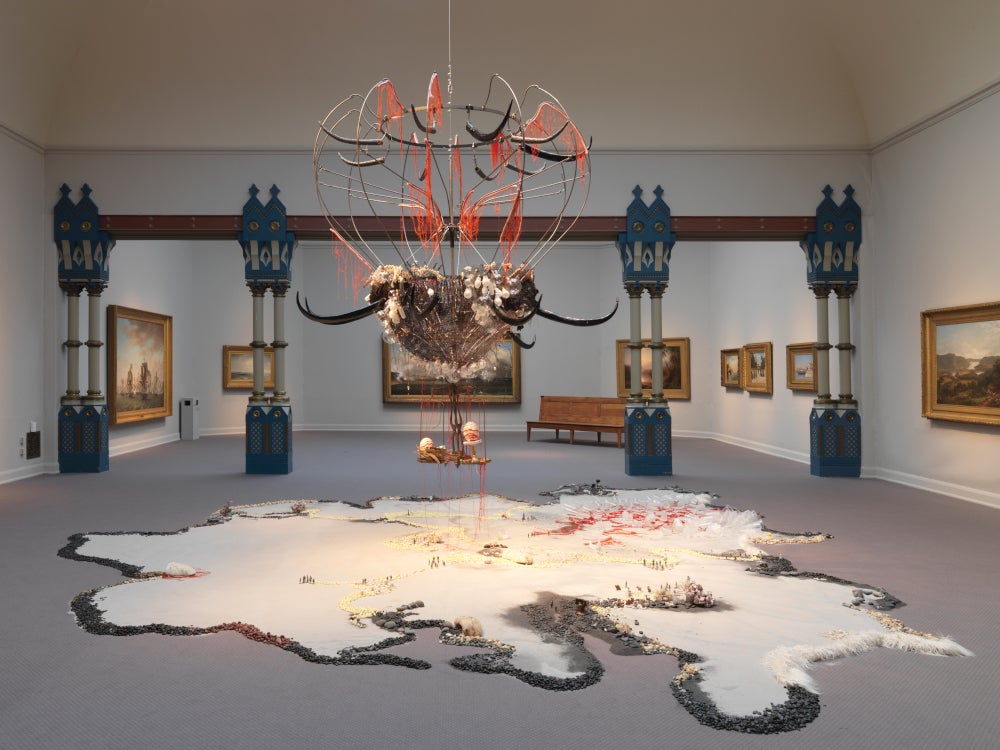 Art by Rina Banerjee; photo courtesy of Pennsylvania Academy of the Fine Arts
A World Lost…* (2013) is an environmental call to action. "There's a tension and a kind of ominous quality about such a large object hovering over the land," Rina Banerjee said. Its title—like many of hers—runs more than 70 words and illuminates the artist's thinking, while creating a parallel poetic narrative that defies clear interpretation:

A World Lost: after the original island appears, a single land mass is fractured, after population migrated, after pollution revealed itself and as cultural locations once separated did merged, after the splitting of Adam and Eve, shiva and shakti of race black and white, of culture East and West, after animals diminished, after the seas' corals did exterminate, after this and at last imagine water evaporated…this after Columbus found it we lost it, imagine this.
During these polarized times when political debate is driven by the types of issues Banerjee takes on, museums have found her artistic meditations particularly resonant, while critics have called them dazzling, exhilarating, menacing and enigmatic.
Banerjee doesn't expect viewers to understand her work in the way she does. But she provides insights in often lengthy, poetic titles. Consider A World Lost, an abbreviation for the entire 70-plus-word title.
"The full title talks about all that went into finding the world, finding each other," Banerjee said during a tour of the exhibition. "In the end, wouldn't it be horrible if, after all the finding and the discovery, we lost all of it?"
Her artistic ambition and scope are reflected in the traveling exhibition's title: Rina Banerjee: Make Me a Summary of the World, taken from the name of a sculpture in the show.
It represents "an impossible call to action, which, nonetheless, Rina attempts again and again in her work," said Jodi Throckmorton, co-curator of the exhibition and PAFA's curator of contemporary art. "Making a true summary of the world isn't possible, but bringing together seemingly disparate or unrelated objects and ideas from around the world can have beautiful and thought-provoking results."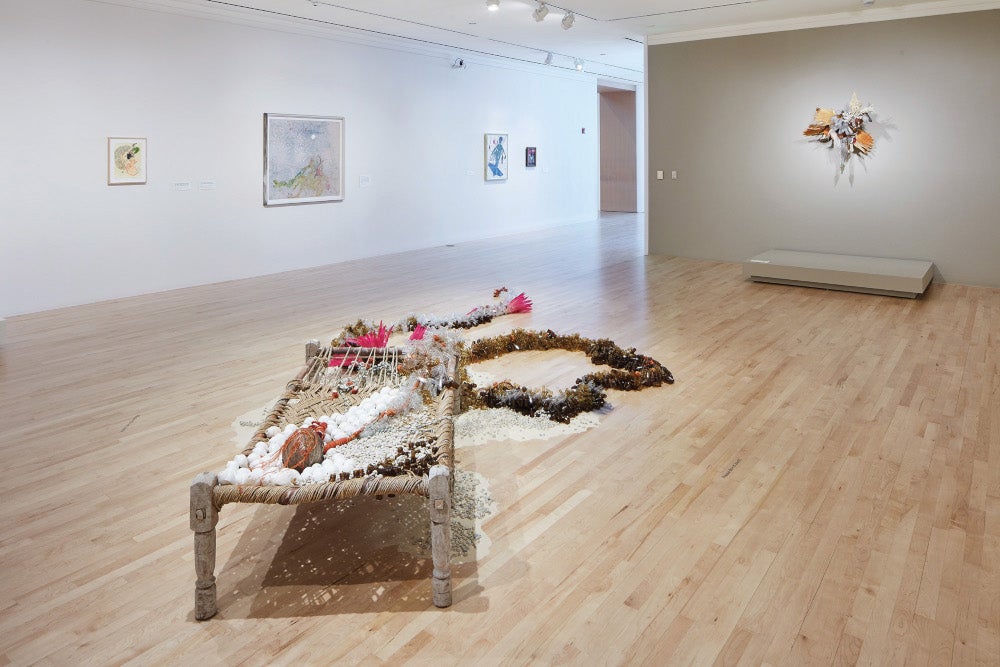 Art by Rina Banerjee;
photo courtesy of San José Museum of Art
With Breath Taking Consumption…* (2008) features a skeletal figure on a jute bed, partially constructed from medicine vials and being consumed by, or consuming, a lobster-like creature. Vials extend from the figure like a deadly glass serpent.

"I was interested in life and death, and how during life you eat, and during death you get eaten," Rina Banerjee said. The installation also is a commentary on environmental consumption, waste and the transport of medicines. The snaking line is "like a wedding trail or a funeral march" that recedes "like a tapering of life, from beginning to end," she said.
Wandering the World
Banerjee's history is defined by a set of migrations.
Born in Kolkata (formerly Calcutta) in 1963, Banerjee, the middle daughter of a homemaker and a civil and nuclear engineer, grew up amid comforts and peril.
Her family was prosperous and creative. "We had paintings on the wall," she recalled. "My dad knew artists." Her parents also taught their three daughters to draw.
But the fear she experienced during a visit to her mother's native Dhaka, now the capital of Bangladesh, continues to inspire her work. In the mid-1960s, violence between Muslims and Hindus created a deadly threat there, and Banerjee remembers hiding with her Hindu family in a cavity in the ground under a goat shed.
Her mother soaked the sari she wore in water and told Rina, then age 3, to suck on it to avoid thirst. "I just remember the color of the sari, and how cold it was in the ground, and the smell of the goat [manure]," Banerjee said. The experience imbued her with a keen sense of the "the danger of the world," the fact that "being alive brings all kinds of challenges and struggles.
The family migrations began in 1967, with a move to England (London, then Manchester). Banerjee isn't certain whether her parents, who have since died, were part of an emigrant wave fleeing what she described as the "chaos" of post-colonial India. But she said the goal was America: "My father had this dream of the U.S. being more liberal, more open."
By 1970, the family was living in New York City. They moved twice during the decade—to Philadelphia and then back to New York for the public schools.
"I liked moving around," Banerjee said. "It allowed me to understand and see more of the world, and that was very exciting as a child."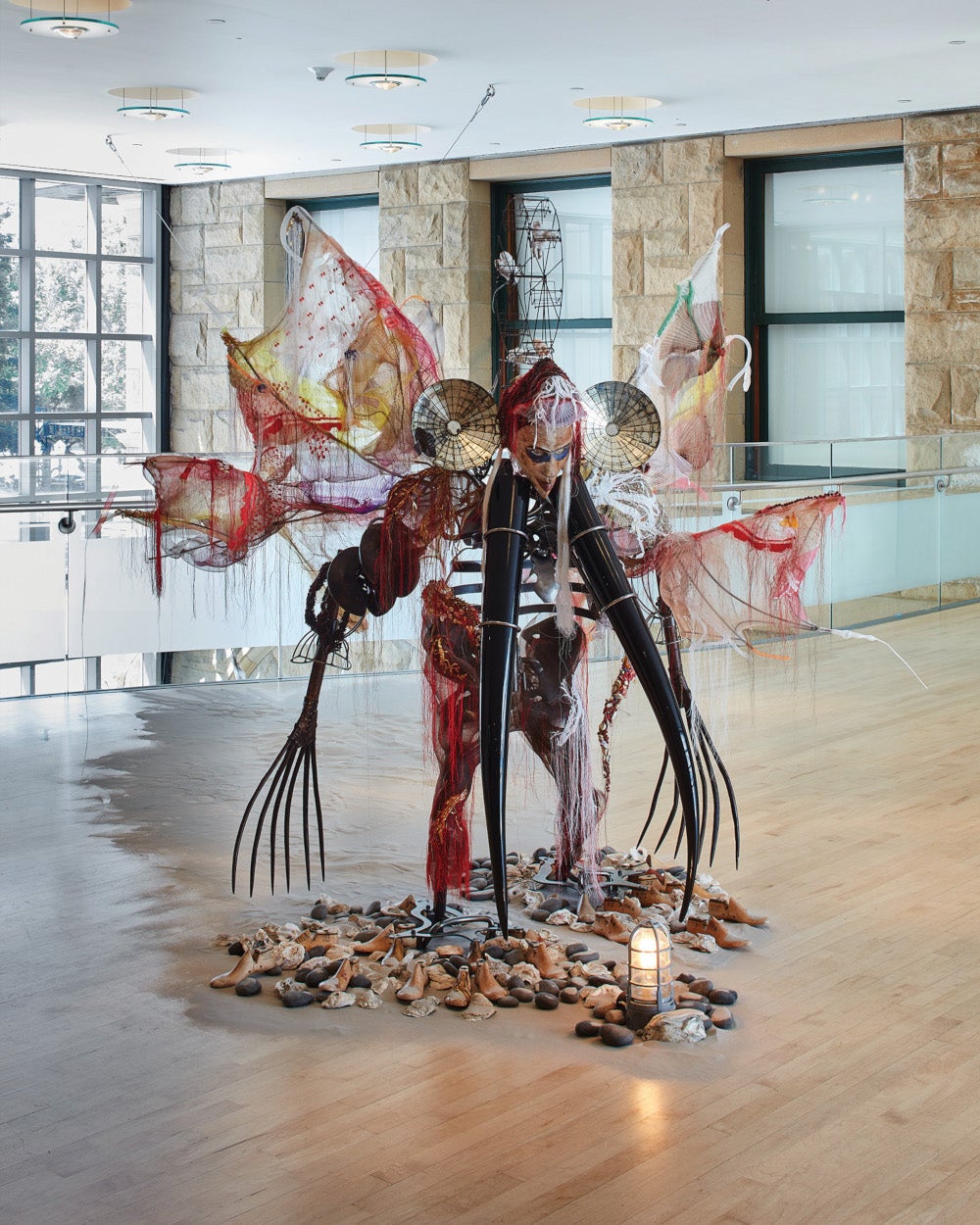 Art by Rina Banerjee;
photo courtesy of San José Museum of Art
Viola, From New Orleans-Ah…* (2017) references America's long struggles with race and ethnicity and was inspired by the story of an African American woman in New Orleans, Viola Ida Lewis, who married an immigrant Bengali man in 1906 and started a textile-import business. The piece's components include black tusks of Murano glass, a Yoruba mask, Indian rakes, oyster and cowrie shells, vintage Kashmir shawls, Korean and Indian silks, mirror sconces and a parachute.
As a teenager, Banerjee became a semifinalist in the prestigious Westinghouse Science Talent Search, and, soon after, Case Western Reserve recruited her. She arrived on campus in 1981.
Her path to a college degree was meandering and difficult. Struggling to cover living expenses and manage her course load, Banerjee switched from premedical studies to polymer engineering, and later detoured for a year to the Cleveland Institute of Art.
Before finishing her degree, Banerjee left for a job in a polymer engineering laboratory at Penn State University, where she also took science courses. The well-paid laboratory job freed her from financial stress, Banerjee said, and helped her do better in school. Twelve years after starting college, Banerjee received her bachelor's degree from CWRU in polymer science and engineering.
She was trying to finish the engineering, knowing inside that art was really calling her. … I think her soul was always going that way," said Anita Maximin, PsyD (WRC '84), a Northeast Ohio clinical psychologist and Banerjee's best friend in college.
Decades later, Banerjee still sees the influence of her education on her work. "Because I have this engineering background from Case Western Reserve, I'm always thinking about science and the history of science—how it's really informed our culture," she said. Banerjee brought that scientific mindset to an art program at Yale University, where she followed an earlier mentor's recommendation to incorporate her history and heritage into her work. Seizing the opportunity to explore, she crossed traditional disciplinary boundaries that divided sculpture from painting by mounting objects and textiles on canvases.
Because I have this engineering background from Case Western Reserve, I'm always thinking about science and the history of science
—
how it's really informed our culture."
—

Rina Banerjee
Banerjee received her Master of Fine Arts degree in 1995 and later returned to New York to pursue an artist's life, supporting herself with odd jobs such as working as an artist's assistant and in an art supply store.
Within two years, Jane Farver, a curator at the Queens Museum who had seen slides of Banerjee's work, invited her to participate in an exhibition titled Out of India: Contemporary Art of the South Asian Diaspora. Farver, in the role of guest curator, also proposed including Banerjee in the Whitney Museum of American Art's 2000 Biennial, a milestone exhibition to highlight top contemporary artists.
It was a career turning point. Banerjee said Farver, who died in 2015, became one of the people in her life "who really clarify what your future could be [and] allow you to dream."
The Whitney exhibition led to solo shows and group exhibitions in the U.S., Europe and Asia. Banerjee snagged her first large-scale solo international exhibition, at the National Museum of Asian Art in Paris, in 2011. In 2013 and 2017, she was invited to show her sculptures and installations at the Venice Biennale, considered the Olympics of the art world. Previewing the 2017 Biennale, Architectural Digest raved about "the richness of her compositions, the dazzling intensity of her colors, the multiplicity of sensations that she kindles."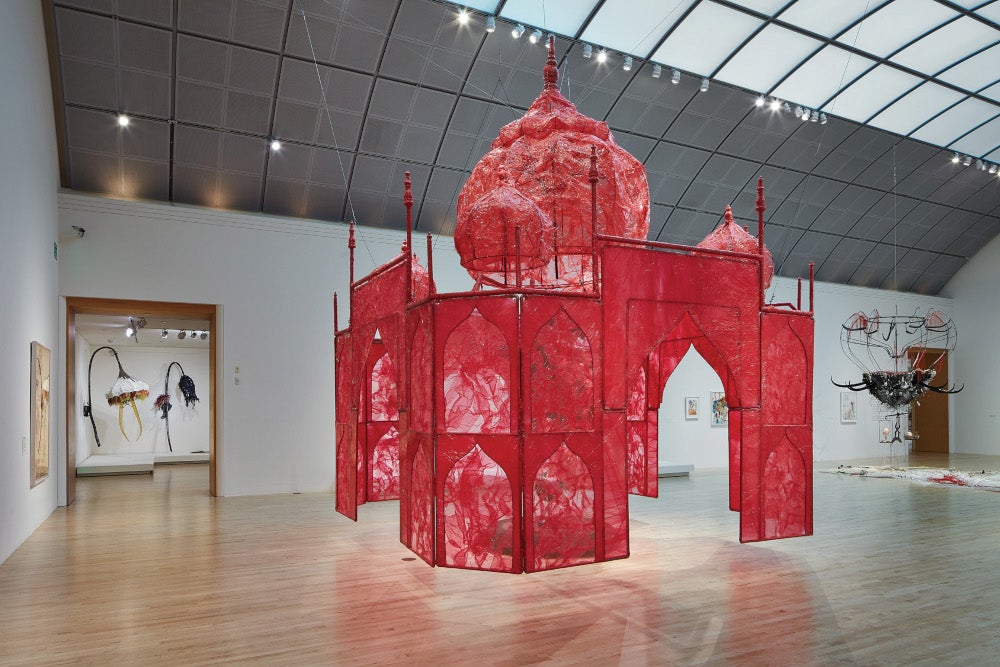 Art by Rina Banerjee;
photo courtesy of San José Museum of Art
Take Me, take me, take me…to the Palace of love (2003) is Rina Banerjee's representation of the Taj Mahal, a mausoleum in Agra, India, built in the mid-1600s as a tomb for a beloved wife of the Mughal emperor, and one of the New Seven Wonders of the World.

"For me, it's really the legend [of the love story] that became the monument rather than the building. The building is too heavy to be transported—but the legend is very lightweight," said Banerjee. That's why she constructed the piece from a portable plastic to create "a non-monumental Taj Mahal." The pink is a reference to the female gender, matrimony and fertility.
The globally conscious artist had arrived on the world stage. "I was very happy to bring my work to visibility in those venues," she said, "but I had a very hard time—even with success."
Banerjee said a great résumé and critical accolades have not helped her surmount ingrained racism, get paid as much as white male artists—or even secure gallery representation in the U.S.
And that struggle has permeated her personal life. Banjeree said that being South Asian and female has often been a lonely experience. "You're made to feel you're not at home wherever you go because of racism and sexism," she said.
A Longing For Home
Earlier this year, when Banerjee returned to tour the PAFA retrospective in Philadelphia, visitors periodically approached her to express their appreciation of her work. Among their favorites was Take me, take me, take me…to the Palace of love, an 18-foot-high pink plastic representation of the Taj Mahal. The 17th-century white mausoleum, built in Agra, India, by a Mughal emperor as a monument for his favorite wife, is both an architectural masterpiece and a symbol of undying love.
Although the Taj Mahal is a tomb, Banerjee said, it speaks to the living and "the human desire to find love, to find home." Her installation evokes a place that is "foreign" and "remote," said Banerjee, yet still connects with Americans. It also seems to embody her own complex identity.
Maximin, who remains a close friend, suspects that some of Banerjee's artwork—including the Taj Mahal piece—reflects the loneliness of her peripatetic childhood. "Sometimes, when you move like that, you don't feel fully anchored," Maximin said. "When she started finding her place with art, that seemed to be her home."
Rina Banerjee: Make Me a Summary of the World, featuring 20 years of Banerjee's sculptures, installations, paintings, drawings and videos, was co-organized by the Pennsylvania Academy of the Fine Arts and the San José Museum of Art, which have both completed their exhibitions. The show travels to the Fowler Museum at the University of California, Los Angeles (Dec. 8, 2019 to May 31, 2020), the Frist Art Museum in Nashville (July 24 to Oct. 25, 2020), and the Nasher Museum of Art at Duke University in Durham, North Carolina (Feb. 18 to July 11, 2021).
— Julia M. Klein
*Titles abbreviated by the artist