features
Captivating Minds
Alumna Tzipor Ulman wasn't an educator when she launched a program to teach science to young students. How'd she succeed?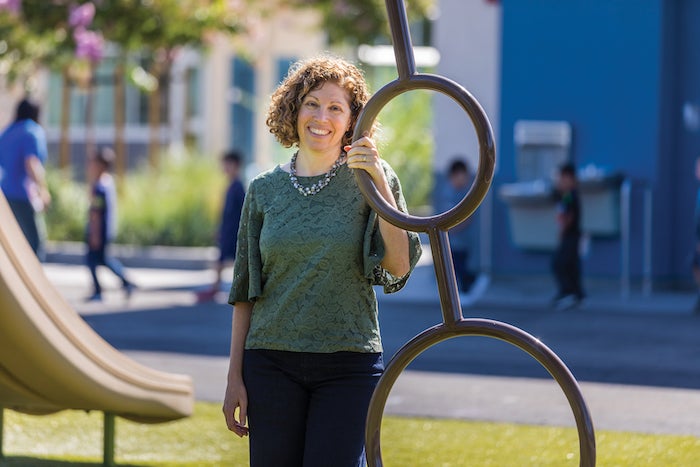 PHOTO: Jason Doiy
You're walking home one day when, suddenly, your keys slip from your hand and fall through a grate in the street. They're not gone forever—you can see them lying in a pile of leaves, discarded receipts and plastic straws—but they're out of reach.
Solutions flash through your pancked mind. Call a locksmith to rekey your house? Call the fire department for help? Sit on the curb and cry?
This problem is among the dozens the nonprofit Science is Elementary (SiE) has posed to 11,000 elementary school students in the San Francisco Bay Area since its founding in 2008. (And if you want to know a good solution for retrieving the keys, keep reading.)
Alumna Tzipor Ulman, PhD (CWR '94), is SiE's founder, and she's on a mission to engage kindergarten through fifth-grade students in science as early as possible with fun and captivating lessons that are relevant in the outside world.
In the process, she's striving to improve how science is taught in public elementary schools.
At the end of the last school year, 85% of students in SiE programs remembered the concepts they were taught at the beginning. That's a promising indicator for a state that, despite its high-tech status, lags behind most others on elementary-school science test results.
And in recent years, Ulman has ratcheted up SiE's impact to pursue nothing short of systemic change. The organization not only teaches science to students, but also trains teachers to be more knowledgeable and confident science educators.
Now SiE's work is being recognized well beyond California. In September, it was tapped for a national initiative to add 100,000 more STEM (science, technology, engineering and mathematics) teachers to classrooms by 2021.
Ulman, who has a PhD in chemistry, didn't set out to become an education change agent. But after seeing how little science was taught in Bay Area elementary schools, especially those with high proportions of low-income students, she felt compelled to act on a grand scale.
"Despite my protestations for years that I am not an entrepreneur, I had to become one to do what I really believed in," she said.
Math and Science Kid
By her own account, Ulman always was a math and science kid, first in Tel Aviv, Israel, then in Rochester, New York, where her family moved before she started eighth grade. She later applied to Case Western Reserve University on the recommendation of her father's colleague who knew she wanted to study chemistry and become a professor.
Ulman threw herself into campus life. She worked in two research labs, one in chemistry and one in statistics; was active in Hillel, an international Jewish campus organization; took part in voter-registration drives; and volunteered with the university's Project STEP-UP, helping area youth with homework and encouraging them to attend college. The latter experience gave Ulman an eye-opening glimpse into inequality in America.
"Many kids were from single-parent homes—you know, mom worked two jobs just to get food on the table," she said.
After graduating with a bachelor's degree in chemistry, she went to Stanford University for a PhD program in theoretical chemistry. But the Project STEP-UP experience stayed with her—as did thank-you notes from her mentees.
The State of Science
Ulman initially wanted to be a professor because it would allow her to conduct research while also guiding the next generation of scientists. But as she progressed through her doctoral studies, she realized research wasn't the career for her. "I wanted to do work where you can see the impact faster," she explained.
She also wanted to spend as much time as possible with her two young sons, born to Ulman and her husband, Dan Rubinstein, during and after the time she pursued her PhD. So after graduating in 2003, she volunteered with Jewish organizations, and worked part time for a business consulting firm and a venture-capital firm.
"Most of our discoveries as humankind have been made because people were curious and challenged the status quo. And most of the biggest problems in our world, our biggest challenges, are going to be solved by science."
—

Tzipor Ulman
In 2008, as she and Rubinstein began exploring where to enroll their eldest son for kindergarten, she was shocked to learn that many Bay Area schools, whether public or private, low income or affluent, didn't teach much science, or teach it well, in the lower elementary grades. This so concerned her that she wondered if she could work for an organization teaching elementary school science. But nobody was doing that work, Ulman said.
The next step for many would have been to volunteer in a classroom and address the problem on a micro scale. Instead, Ulman went macro and launched Science is Elementary. She feared that, without solid and early science education, tomorrow's adults would quickly find themselves on the back foot, particularly because she believes the ability to think scientifically is a critical 21st century skill.
She didn't have to look far for a model of how to teach science in an engaging way. For two years during her doctoral studies, Ulman had served as a teaching assistant in an interdisciplinary undergraduate course for non-science majors at Stanford. Rather than building the syllabus around textbook chapters, the professors framed each day with a question: How are rainbows formed? How do we see colors? How does a pinhole camera work? Only after exploring those questions would students learn the scientific concepts behind them.
"You come to class and you're intrigued," Ulman said. That inquiry-based model was a key inspiration for how she structured SiE.
So why weren't more elementary schools already on this path? Theresa Lambert, a principal in an elementary school south of San Francisco in Mountain View, said that in the not-so-distant past, education in California was explicitly textbook-driven. A more curiosity-driven model is coming back in vogue at some schools, but it's not without challenges.
"Inquiry and hands-on is the most effective way to teach science," Lambert said. "It's just more time-consuming and requires more planning. So unless the school is really systematic and holds teachers accountable, it's easier to kind of regress to just using books." The state's test scores tell a troubling story: In 2015, the most recent year of available data, California did worse in science than 42 other states, with 76% of the state's fourth-graders scoring Basic or Below Basic, compared to 64% of their peers nationwide. The results were even worse for underserved populations.
Once a month, an SiE scientist instructor and a few of the organization's 150 volunteers lead 90 minutes of hands-on science in partner classrooms. The lessons in the 15 participating public elementary schools begin with a story that introduces a real-world problem, like the keys-fall-through-the-grate example.
The students then try to solve the problem through experimentation in small groups, each led by a volunteer, using everyday, easily available items. (In the case of the trapped keys, a magnet tied to a string saves the day.)
At the end, the class reconvenes and discusses what worked and why, with the instructor explaining the science behind the experiment and introducing new vocabulary—such as data, evidence or magnetism—to the students, many of whom are not native English speakers.
"It's so, so valuable for them to just be able to use, learn and be introduced to these concepts and vocabulary," said Kerri Fox, a kindergarten teacher at another school in Mountain View. Fox said her students in recent years have "endlessly" had aha moments during the lessons and that she hears them use the vocabulary they've learned when they play. "They'll build something out of Legos and say: 'Oh, this structure is not stable. We need to reinforce it!' " Fox said. "That's where it's at in kindergarten."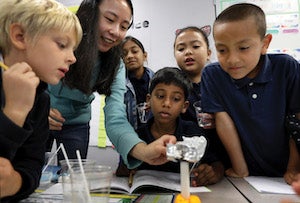 PHOTO: Courtesy of the Mercury News
Closing the Gap
From the start, Ulman has focused on public schools with high percentages of lower-income students—most of whom are students of color and many of whom speak English as a second language. It's her way to help reduce disparities in standardized science test scores and ultimately increase diversity in the country's scientific workforce.
In keeping with Ulman's philosophy that "science is for everyone," SiE charges just $100 per student per year to cover the instructors' time and all the materials needed for the projects, which Lambert considers "an excellent value for the quantity and quality of the training and expertise provided." But if schools can't afford the full amount, donations and grant funding make up the difference.
Ulman also strives to bring in scientists with diverse backgrounds to instruct and serve as role models.
Javier Caravaca, a postdoctoral researcher at University of California, Berkeley, who is originally from Spain, has volunteered with SiE several times. "We need more role models [in science] who are not white males speaking [only] English," he said. With diverse mentors, Caravaca believes, students are more likely to see themselves in the field. "They would say, 'All right, maybe I can be a scientist.' "
Teaching the Teachers
In 2012, a report from WestEd, a nonpartisan, non-profit educational organization in San Francisco, found that just one-third of California elementary educators feel prepared to teach science. The next year, seeking to help create systemic change in schools, Ulman expanded Science is Elementary to offer teacher training. This is now a core focus of its work.
So far, 300 K-5th grade teachers have undergone customized training that is meant to make them more knowledgeable and comfortable teaching science. As with the student-focused program, the results are good: Educators who undergo the two-year training (90 minutes a week for 10 weeks each year) have increased the number of science hours they teach by 50%, and are 90% more confident in their abilities.
"The professional development from SiE was so helpful because it helped teachers to be more comfortable with the science and doing an experiment," Lambert said.
SiE recently received validation for this approach. It was selected in September as one of 41 new programmatic partners by 100Kin10, an initiative launched in 2011 after President Barack Obama called for preparing an additional 100,000 STEM teachers for America's classrooms by 2021. SiE and the other new partners join a network of more than 280 existing 100Kin10 partners to achieve the goal through a range of strategies including elementary-school STEM education and making sure teachers receive professional development during the workday, which SiE already does.
The expanded role elevates the nonprofit within the field of education and might just be the thing that propels SiE to the next stage in its growth.
Ulman is hard at work ironing out the details of what lies ahead for SiE. But she's got a guiding mathematical formula in mind: double the program's size in the next two years, with a particular focus on training teachers. That's where Ulman knows she'll achieve the biggest systemic change in her quest to make science "core and critical" in elementary schools across the Bay Area and, perhaps, beyond.