lens
A Dancer's Odyssey
Gary Galbraith melds art and technology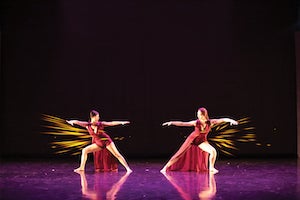 Brad Petot: photo / CWRU Interactive Commons: Hololens Imagery
Gary Galbraith (CIT '86; GRS '88, dance) was the kind of college student he now regularly sees on campus—tech savvy and with an artistic sensibility. After earning his bachelor's in biomedical engineering and a Master of Fine Arts degree, he performed around the globe and became a principal dancer with the famed Martha Graham Dance Co. in New York. He returned to Case Western Reserve in 1999, where he's a professor, the artistic director of dance—and a pioneer in choreographing productions that combine art and technology. His Distant Encounters in 2009 created the illusion that two dancers in different locations were performing onstage together; more recently, his Imagined Odyssey had dancers interacting with holograms. Think recently spoke with Galbraith about his innovative work both on and off the stage.*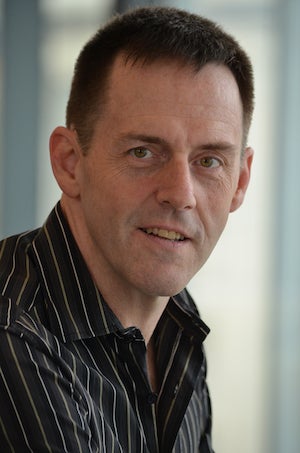 Why did you choose dance over engineering?
I didn't choose dance. I was fortunate enough that dance chose me. I knew it was my calling even as an undergraduate. The pragmatic and analytical processes found in engineering disciplines also have served me well. I can see how to process movement ideas, how the body moves and works, and so on. But it's not one or the other. It's both; it's both sides of the brain working.
Half of the graduate students in your department this year are international. How do they learn about the program?
It's word-of-mouth. A lot of students who come to us from China do so for the American contemporary dance experience. As old as that country is and with its rich cultural history, their history in contemporary dance is not as extensive as ours. There are some folks in China who are the networking gurus. Students will ask them who in America they should talk to, and they're directing them to us. This year, we're also hearing from more students from Africa.
You created the Dancer Wellness Project. What is it?
It's a consortium of over 100 professional dance organizations, universities and medical clinics. Its goal is to promote injury prevention, career longevity and effective training through the implementation of dancer screening, injury surveillance and other data-driven strategies. It's the world's largest multinational, multi-institutional project that uses databases and other online resources, which I created, to support various dancer health initiatives.
You collaborated with the university's Interactive Commons, which makes technology resources, including the Microsoft HoloLens, available across disciplines. In

Imagined Odyssey

, which debuted in 2017, dancers interacted with holograms, but couldn't see them

—

only the audience could, and only with the HoloLens mixed-reality headset. Tell us about that.
When you get people thinking in unusual ways, unusual things tend to happen. When I was introduced to this new technology, I said, 'Oh my gosh, there's so much we can learn from this and do; so many things we can do if we do it right.' Because it will not only inform all the technology, it is really going to challenge our art form in a completely new way.
This year, the university honored you with a Faculty Distinguished Research Award. How is your work research-oriented?
The established definition of research often means making new discoveries or discovering new knowledge. In the arts, we do the same thing, but differently. So, even though CWRU may have a reputation as a 'research institution,' that does not mean it is exclusive of the performing arts. This is the first time [the faculty research honor] has been awarded in the arts. I'm proud of that. It goes back to the science of the arts and the arts of the sciences. It's not one or the other. It's both.
— Angela Townsend
*This conversation was edited for length.