lens
Making Our Mark
10 things that move, excite and inspire us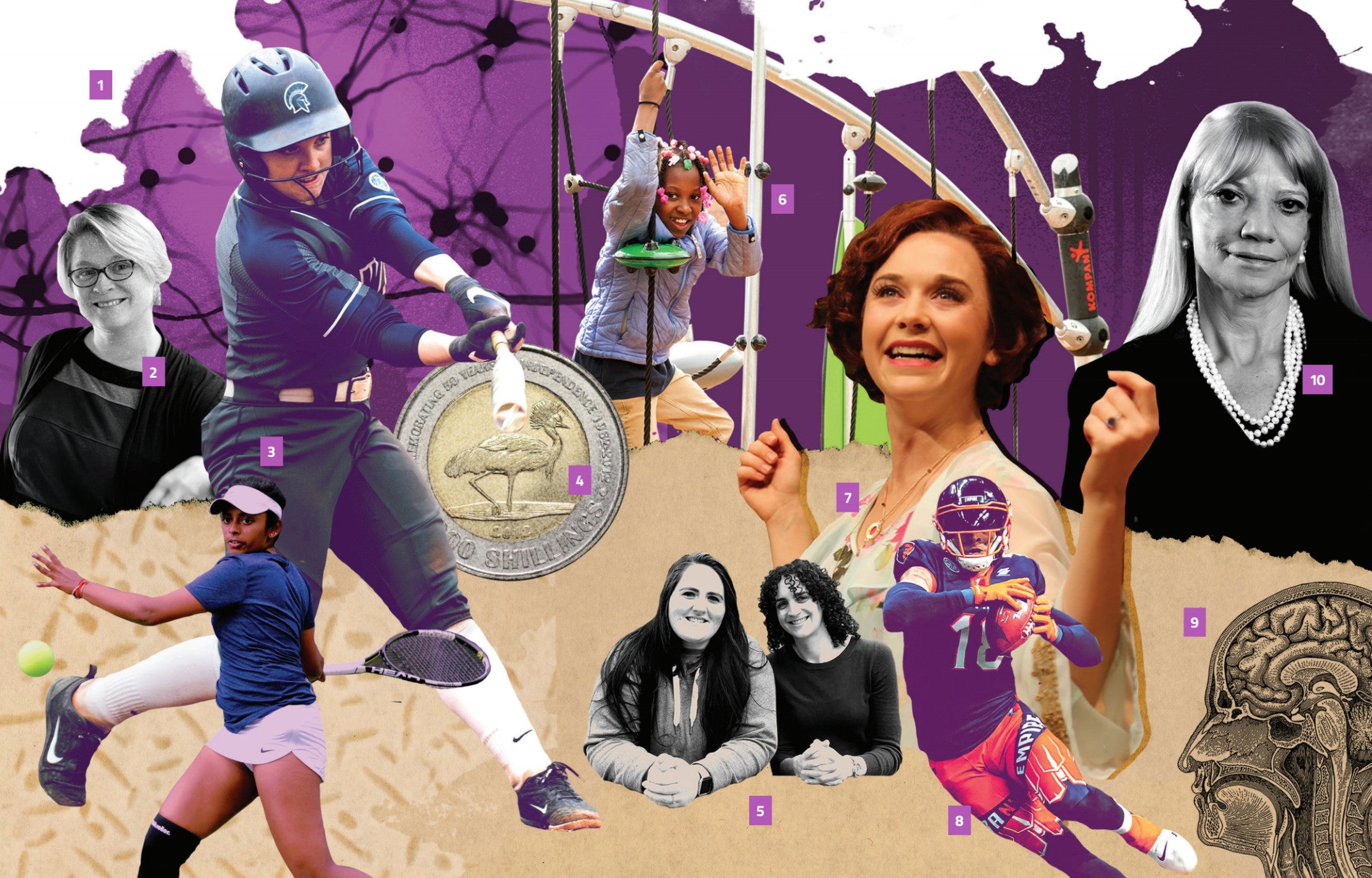 ILLUSTRATION BY ELEANOR SHAKESPEARE
1Seeding Discovery
NervGen Pharma Corp., a Vancouver-based company developing nerve-regenerating technology licensed from Case Western Reserve, raised about $7.5 million (about $10 million in Canadian dollars) from an initial public offering. Jerry Silver, a neurosciences professor, co-invented the technology to help improve locomotion and other functions for people with spinal-cord injuries and other conditions in which scar tissue blocks the regrowth of nerves. Clinical trials are slated to begin next year.
2Material Impact
Jennifer Carter received the Presidential Early Career Award for Scientists and Engineers, the highest honor bestowed by the U.S. government to outstanding scientists and engineers who are beginning their independent research careers. Carter is an assistant professor in the Department of Materials Science and Engineering and largely focuses on the microstructures in certain materials that allow them to succeed or fail at high temperatures.
3Historic Winners
Former Spartans shortstop Nicole Doyle (CWR '19) and tennis player Nithya Kanagasegar (CWR '18) received the prestigious NCAA Postgraduate Scholarship, presented to elite student-athletes who excel academically and athletically and have completed their final year of intercollegiate competition. Both are first-ever awardees in their respective sports at CWRU.
4A Winning Strategy
Roman Sheremeta, an associate professor of economics, is working on a research project in Uganda that's testing ways to encourage people to open bank accounts and save money by using competitiveness as a motivator. Residents in 12 villages will compete against each other for monetary prizes; the more they save, the more likely they are to win. (Read about Sheremeta's course on game theory on page 25.)
5Empowering Action
As students, Jamie Bohunicky (SAS '19) and Kasey Clouse (SAS '19) co-founded the Community Health Initiative to bring social work assistance to residents at 2100 Lakeside, a men's homeless shelter in downtown Cleveland, and augment a program in which students already were providing medical resources. The two graduated, but the initiative will continue to help residents.
6Community Park
CWRU and Cleveland Clinic worked with the community nonprofit Famicos Foundation to build a 28,000-square-foot park that includes playground equipment, a walking trail and green space near the new Health Education Campus, a joint project of the university and the clinic.
7Dramatic Showing
For the second straight year, the Case Western Reserve University/Cleveland Play House Master of Fine Arts program made The Hollywood Reporter's international list of top 25 graduate acting programs, ranking 12th—up six slots from last year.
8Statutes and Scrimmages
Quentin Sims is a second-year student at the School of Law and a wide receiver with the Arena Football League's Albany Empire, which this year captured the championship, defeating the Philadelphia Soul 45-27. Sims played a big part in the victory, with four touchdowns and was named Offensive Player of the Game.
9New Research Center
The National Institute on Aging awarded a $4.23 million grant to establish the Cleveland Alzheimer's Disease Research Center. The new center is part of a national network and brings together top researchers and clinicians from several local institutions, including CWRU.
10International Recognition
Joyce Fitzpatrick, the Elizabeth Brooks Ford Professor of Nursing, received the International Achievement Award from the Florence Nightingale International Foundation and the International Council of Nurses (ICN) at the ICN Congress 2019 in Singapore. The award recognizes her contribution to nursing education.