lens
Flipping the Script
Focus on compassion, not problems, when coaching people to change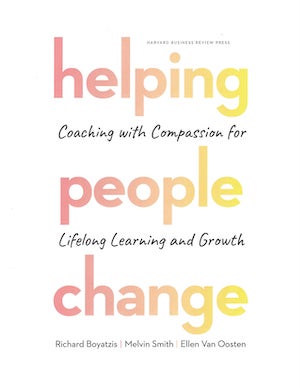 Whether you're a parent, coach, teacher, boss, physician or clergy member, knowing how to guide others to change can be exceptionally difficult.
Now a new book by three professors from Case Western Reserve's Weatherhead School of Management aims to coach the coaches in our lives.
Helping People Change: Coaching with Compassion for Lifelong Learning and Growth (Harvard Business Review Press) is a practical guide, using real-life examples to teach people to inspire positive change in others.
The authors—all longtime experts in organizational behavior, leadership development and coaching—are Richard Boyatzis, PhD, a Distinguished University Professor and the H.R. Horvitz Professor of Family Business; Professor Melvin Smith, PhD; and Associate Professor Ellen Van Oosten, PhD (MGT '94; GRS '13, organizational behavior).
"Most of the time when we try to help someone, we find ourselves telling them what to do," said Boyatzis. "That comes across to the other person as an attempt to fix them." And most people see that as a challenge, rather than encouragement.
To truly nurture change in someone, you must connect to that person's positive vision for their future, the book explains. "When you coach someone to their dreams or their core values, you open up something inside of them, which makes them eager to learn and be more open to other people," Boyatzis said.
The book is based not only on the authors' published research but also on studies done in collaboration with Anthony Jack, PhD, an associate professor of philosophy and a neuroimaging expert. Those studies examine behavior change, hormonal systems and brain activity (using a functional MRI to measure that activity) to identify changes based on whether people were coached with compassion or compliance strategies. In addition, Boyatzis, Smith and Van Oosten have taught a Massive Open Online Course that helped the authors hone the book's messages, exercises and learning points included in each chapter.