lens
Nailing It
Student turns a bad break into a record run and an NCAA championship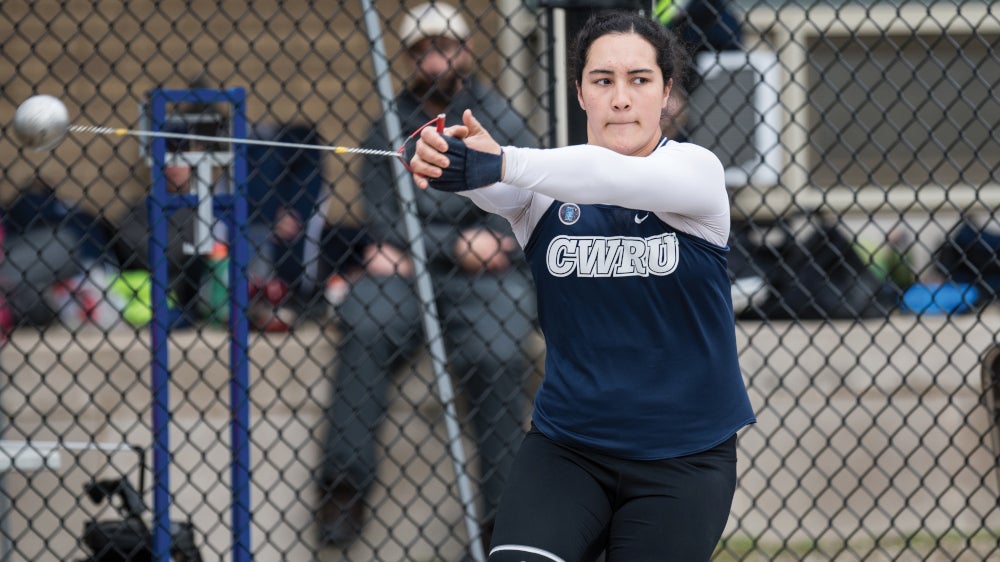 PHOTO: Naji Saker
Cassandra Laios captured the 2019 Division III Women's Outdoor Track and Field hammer throw title in May, becoming the 15th individual NCAA champion in the history of Case Western Reserve athletics.
It was a remarkable turn for an athlete who didn't throw her first hammer until college and spent part of last year on crutches recovering from ankle surgery.
"I've never seen a more unique story," said Eric Schmuhl, the university's head track and field coach.
Laios (CWR '18; GRS '19, engineering and management) came to Case Western Reserve in 2014 to study engineering and compete in swimming and track and field. When a chronic hip injury ended her time in the pool, she focused instead on the shot put, discus and hammer throw.
But in the winter of 2018—during Laios' senior year—she lost her balance competing in a weight throw, which is the indoor equivalent of the hammer throw. She fell and broke her ankle. The injury required an operation to insert a plate and several screws.
"We didn't know what would happen next," said Schmuhl. "Cassandra had a full year of eligibility left, but there was no telling how or if she would return. Then there was the emotional repair that might be needed."
Laios navigated campus on a knee scooter, then crutches, debating what to do.
"I really had doubts," she said. "Could I get back to where I was, or would the injury prevent that? I decided to stay in school and study for a Master of Engineering and Management" degree.
That also gave her another year to compete in track and field.
Rocco Mitolo, the assistant coach for throwing events, played a major role in Laios' comeback and subsequent championship.
"He was the perfect coach for the perfect athlete," Schmuhl said. "Rocco is very patient, and Cassandra was detail-minded. She was obsessed with ending her career right. She's an engineer. They don't like leaving anything unfinished."
The athlete and coach shared a bond. He was a Division III All-American in the outdoor shot put at John Carroll University.
"We would sit and talk and break things down," Mitolo said. "Cassandra is hyper-analytical and would not allow herself to not understand things. She was very capable, but nothing was guaranteed. Every day started at zero."
And, quite often, with a song.
"I'm a big Disney fan," said Laios. "Whenever I would get anxious or frustrated because things weren't going well, I'd sing. Rocco would join in. But we [mostly] sang songs from animated Disney movies," including "Friend Like Me" from Aladdin.
Laios' decision to extend her time at Case Western Reserve resulted in a record-setting farewell campaign.
Things really worked out," said Laios, now an electrical engineer at Lockheed Martin Corp. in Owego, New York. "I'm glad I stayed. I didn't expect to win the championship, which made it even more exciting to do so."
SPORTS BRIEFS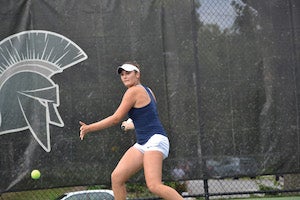 Sophomore Madeleine Paolucci became the first All-American singles player in the history of the CWRU women's tennis team, reaching the round of 16 of the NCAA Division III Individual Championships. She previously earned All-America honors for doubles in both the spring and fall of 2018, becoming the first multiple-time All-American in program history.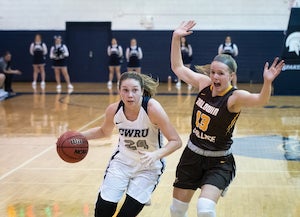 CWRU's women's basketball team finished the 2018–19 season with a 15–10 record, marking the second-most wins in a season in program history. Graduate student Kara Hageman (CWR '18) and senior Hillary Hellmann (CWR '19), shown above at left, were named to the All University Athletic Association First Team.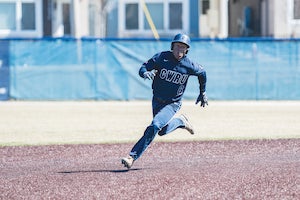 The CWRU baseball team qualified for the NCAA Division III Regionals for the fifth time in program history, finishing with a 24–15 record. It marked the 10th-consecutive winning season for the Spartans.