lens
Rebuilding a Face and a Life
Dental professors lead reconstructive surgery on Taliban gunfire victim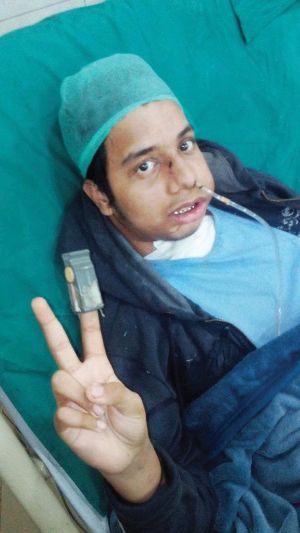 PHOTO: Courtesy of Talha Ali
Talha Ali was laughing with friends in his high school auditorium in Peshawar, Pakistan, when seven gunmen affiliated with the local Taliban stormed in and began firing.
One man shot Ali at pointblank range, crushing the lower half of his face and ripping away bone and teeth. Other bullets struck the 16-year-old twice in the chest and once in the back. "The pain was unimaginable," Ali said.
The attack six years ago left 150 people dead—134 of them students. Ali's life changed forever. The promising student, consistently at the top of his class, spent years undergoing a series of surgeries in Peshawar, Dubai and New York City. He even wore a surgical mask in public to hide his face as he tried to put his body—and his life— back together.
That journey neared its culmination at the Case Western Reserve School of Dental Medicine Dental Clinic. Faculty members completed Ali's oral rehabilitation in two surgeries made more complicated because the gunfire had destroyed so much bone structure.
In January, dental faculty plan to meet with Ali again about a possible surgery to reduce facial scarring.
"What [Ali] went through was traumatic," said Faisal A. Quereshy, MD, DDS (MED '97), a professor and director of the school's residency program in the Department of Oral and Maxillofacial Surgery, who led the surgeries in Cleveland.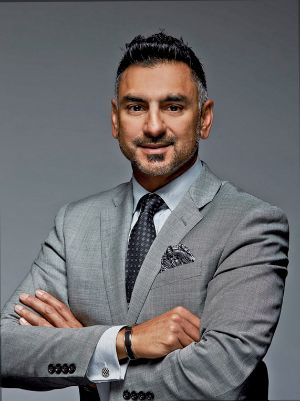 "I feel fortunate to be part of this process of giving this young man his smile and his confidence back."
Fady Faddoul, DDS (DEN '88, '93), a professor and chair of the school's Department of Comprehensive Care, also was part of the team.
During the first procedure, conducted at the dental school's clinic, Quereshy and his colleagues removed unsalvageable broken teeth and used bone grafts to rebuild about 40% of Ali's upper jaw. Faddoul provided a dental prosthesis as a temporary replacement for the missing teeth. Ali mostly recovered in Chicago, where he has family.
Ten months later, he returned for a second surgery conducted at University Hospitals Suburban Health Center outside Cleveland. There, the team attached eight new teeth, half the number contained in the upper jaw, using specialized implants anchored elsewhere in his mouth, including in a cheekbone.
It's work Quereshy knows well. He's long been drawn to rebuilding the mouth and jaws for form and function, and estimates he's completed 10,000 surgeries during the last 20 years, including facial reconstructions.
Quereshy—whose mother is a physician from Pakistan— learned about Ali's ordeal from members of Khyber Medical College Alumni Association of North America, which raised funds to help cover Ali's costs, including travel, lodging, daily living expenses while in the United States and hospital fees, Quereshy said. The medical college is in Peshawar.
"I have always been a courageous person. I have been through many challenges in life and all of them have made me stronger."
—

Talha Ali
Quereshy said he, Faddoul and the dental school didn't charge Ali. Others waived or reduced their fees, including the implant company and the lab that made the prosthetic teeth.
Ali didn't pay for the surgeries. "We all wanted to help and do the right thing," Quereshy said.
"Dr. Quereshy and Dr. Faddoul are the best of the best," said Ali from his home in Northwest Pakistan. "They showed me so much care."
Now 22, Ali said that while the hardships of his experience have been challenging, he kept fighting "through all odds" and believes he survived to "create a change and be a hope for the hopeless, and inspire and serve humanity…"
And he aims to be the productive person he once was. "I'd been a great student," he said. "It's this pause that my life has taken that has been the hardest. I'll get back to it."
Ali wants to attend college in the United States, possibly at the university's Weatherhead School of Management, and be educated in a safe environment without any fear. "I am mentally and emotionally strong," he said. "Under no circumstances will you find me giving up—I just don't give up."