connect
Engineering Success
A journey from law and manufacturing to railroads and insurance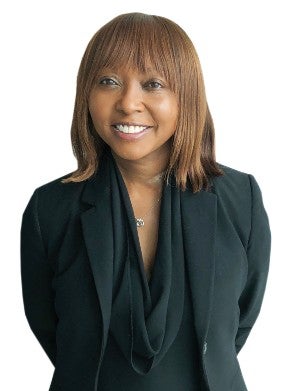 In September, Rhonda Ferguson, JD (LAW '94), joined The Allstate Corp., a company with a household name and the iconic "you're in good hands" slogan. She's now executive vice president and chief legal officer. "It was an incredible opportunity," Ferguson said. "Just like Union Pacific was and FirstEnergy was." Indeed, Ferguson brims with gratitude for the jobs she's held, the lasting friendships she's maintained with old colleagues and the sponsors who paved the way and put her in a position to help lift others.
"I'm very relationship driven," she said. Ferguson previously was an executive vice president and chief legal officer of the Union Pacific railroad company; held high-level positions at FirstEnergy Corp. and Ferro Corp.; and was a litigation partner at the BakerHostetler law firm. She and her husband, Clayton Ferguson (CWR '93; GRS '95, computer engineering)—an Eaton Corp. vice president—met at Case Western Reserve University and married at Amasa Stone Chapel on campus. They have two children, Kristen and Clayton. A self-described "student for life," Ferguson picked up a sport to learn during the pandemic that even surprised her family.
"I love mechanics. I enjoy complexity. I like solving problems that help people."
You earned a bachelor's in industrial engineering from Northwestern University. Why engineering?
I love mechanics. I enjoy complexity. I like solving problems that help people. There was a natural progression to law because I help solve and prevent potential problems and innovate, and that's what engineers do.
You've risen to top positions in what are generally considered male-dominated environments. Did you face challenges as a woman along the way?
I never viewed them as challenges. I guess I viewed them as opportunities. I had a phenomenal support system. My parents were always encouraging me and my siblings to pursue STEM [science, technology, engineering and mathematics] careers before it was even called STEM.We weren't really focused on gender balance or lack of balance.
What are some things you've thought about or done during the pandemic?
It's made me more appreciative of how much we need to support each other. Patience, humility, grace, empathy are all really amplified during this time for me, and that's what leadership is about … I'm learning how to skateboard and practice every day. It looks cool and I don't see many people my age doing it.
In 2019,

Black Enterprise

magazine named you one of the most powerful Black women in corporate America. What was your reaction? What did your kids think?
It was a very humbling experience. I remember gazing at articles in that publication at the Northwestern library when I was a freshman in 1987 and being inspired by the men and women featured. My kids were underwhelmed—they just see me as mom, and I actually love that.
What were life lessons you took from the School of Law?
There are not just two sides to any story; there are myriad sides. I learned the importance of active listening and empathy. I think that having the ability to view situations or issues from many different and sometimes diametrically opposing perspectives provides profound insight.
You were the first in your family to graduate from college. How has that shaped you?
My parents are my personal heroes and are, by far, two of the wisest, hardworking and most gracious people I know. They made incredible sacrifices to provide for our family, and my siblings and I are forever grateful for that. They stressed education, a strong work ethic and faith. I have an obligation to pay it forward, and I relish being a mentor, particularly to first-generation students. No one ever accomplishes anything alone.