connect
Exploring the Emotional Challenges of Extended Space Travel
Alumnus fulfills dream during 45-day NASA simulation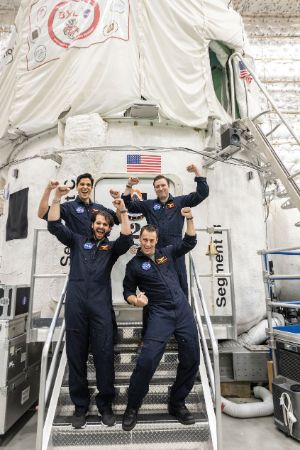 PHOTO: Courtesy of NASA
Bob Ferguson (GRS '02, engineering) and three other travelers entered a 636-square-foot, three-story habitat one Friday to complete a six-week mission: Travel from Earth to a lunar orbital gateway platform, continue on to Phobos—the largest Martian moon—and then back.
In reality, the foursome never left Johnson Space Center in Houston. The 2019 simulated mission was part of NASA's Human Exploration Research Analog (HERA) program, which relies on volunteer recruits to help the space agency run on-ground mission simulations to study the effects of isolation and confinement and better understand the types of personalities that work best when actual extended space travel occurs.
For Ferguson, it was the fulfillment of a lifelong dream. One of his earliest memories is of walking around the Smithsonian National Air and Space Museum in Washington, D.C., and coming upon an orbital laboratory spacecraft. Just 3 years old at the time, Ferguson was floored that people lived in this thing while it circled the Earth.
And while Ferguson eventually pursued a science and engineering career in the private sector, his fascination with space travel stuck. When he came across the HERA project, he figured this was his chance.
The application process was rigorous, with a battery of tests both physical and psychological, as well as on-site interviews.
Once selected, Ferguson still needed clearance from two very important parties for the weeks-long commitment: his employers at Vernay Laboratories in Atlanta, where he is vice president of global research and development; and his wife, Holly. The conversation with Holly was harder, but she understood his lifelong passion. "And I knew if there was any way he could make a valuable contribution to the study of space flight, he should jump at the opportunity," she said.
So after two weeks of training, Ferguson and his fellow crew members started their mission. The 16-hour days were heavily regimented with a daily playbook of tasks—everything from hardware testing to flight simulations—and ironically, Ferguson realizes in retrospect that the experience was"training"for working remotely and living with a sense of confinement in the midst of the pandemic.
For him the best parts of the mission were: the people, including top-notch NASA scientists and engineers; the lessons about optimizing team performance; and the opportunity to "hopefully provide valuable data to guide future decisions about human exploration on longer space missions."
While the habitat's occupants faced challenges you might expect when four strangers work together in a high-stress, confined environment, Ferguson said, the mission was a success in part because crew members respected and cared for each other.
For him, the hardest part wasn't interpersonal conflict, dehydrated food or the working-and-living space. It was the internal challenge. "I really wanted to perform at a high level," he said. "I wanted to make sure that the data was captured in a way that would be useful."
The time away from his wife and other family was also difficult, though somewhat allayed by 30-minute phone calls every Saturday—one week with Holly, the next with his parents. "There were a few 'Houston, we have a problem' items I would have to bring to his attention," Holly noted, including news during week one that a tree had crashed on their patio during a storm.
When the 45 days ended, the crew exited to cheers from an audience of friends and family. The experience "was super cool," Ferguson said. "You know, as a scientist, I'm sure I could come up with some more descriptive scientific terms, but man, I'm telling you what—there's no other way to put it."