features
Gut Instincts
Mahmoud Ghannoum's knack for seeing unexpected microscopic connections led to groundbreaking medical research. Even more dramatic was the human connection that changed his life forever.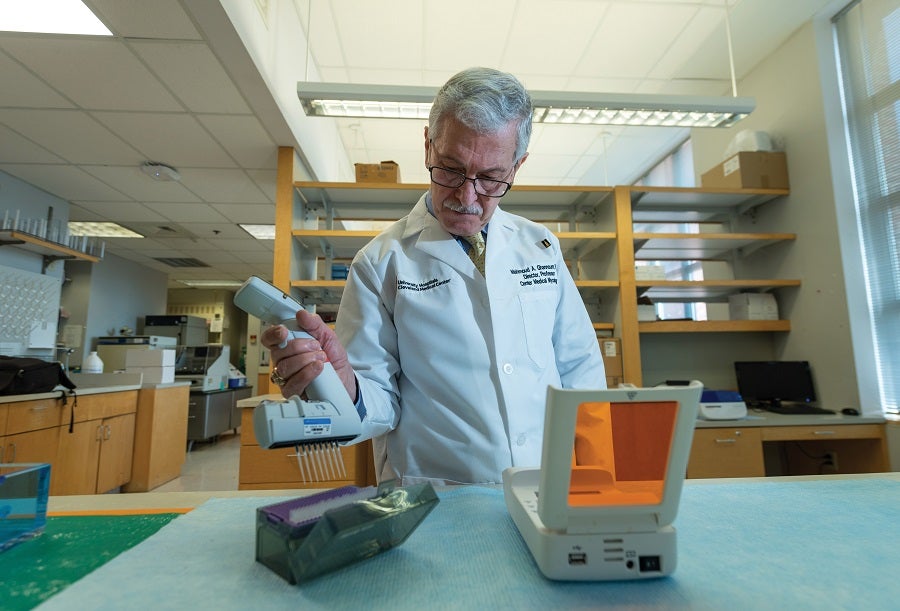 PHOTO: Matt Shiffler
About a decade ago, Mahmoud Ghannoum received a call from a physician in Italy who wanted to thank the researcher for helping to save a baby's life.
The clinician and his colleagues had been stumped. Why had their tiny heart patient developed an infection after they placed a catheter in his chest to deliver medicine and nutrition?
Then someone pointed them to a paper Ghannoum had co-authored, describing a common fungus that could dwell in a hospital catheter and lead to potentially deadly infections. Even more important, the paper revealed that certain antifungal agents had successfully attacked the intruder. The doctors used one of those identified agents, and the baby recovered.
"I am learning in my life that much of what we do—whether it be work or just living our lives—becomes interconnected," said Ghannoum, PhD (MGT'04), an internationally renowned professor at Case Western Reserve University's School of Medicine and the inaugural Marti D. and Jeffrey S. Davis Family Master Clinician in Cancer Innovation at University Hospitals.
Indeed. Ghannoum's life has taken remarkable turns because of interconnections that—whether forged by fate, a stranger's kindness or the researcher's scientific ingenuity—have led to transformative results.
Born in Lebanon to parents who could not read or write, Ghannoum secured a University of California research position in 1991 after a travel agent he'd randomly met gave him $80 and a ticket to pursue his dream.
Years later, when other researchers labeled bacteria as a key culprit in many infections and ailments, Ghannoum recognized the critical connection between bacteria and fungi. That work led Ghannoum to make significant inroads into the causes and possible treatments of Crohn's disease, HIV, psoriasis, breast cancer, and other ailments.
More recently, Ghannoum, director of both the Center for Medical Mycology and the Integrated Microbiome Core facility—joint initiatives of Case Western Reserve University (CWRU) andUH ClevelandMedical Center— has studied how factors like diet, sleep, exercise and stress can affect our fungal-bacterial balance. This balance, in turn, affects our immune system and the development or prevention of health problems.
"What he is doing is putting in the time and work on a subject that has been neglected, and what he is finding will have staying power," said Charis Eng,MD, PhD, professor and vice chair of the medical school's Department of Genetics and Genome Sciences, and inaugural chair of Cleveland Clinic's Genomic Medicine Institute and director of Cleveland Clinic's Center for Personalized Genetic Healthcare. "He is saving lives right now, as well as in the future."
The Trailblazer Who Almost Wasn't One
Thirty years ago, Ghannoum was a University of Kuwait professor traveling to Washington, D.C., to speak at a conference. He carried a borrowed suit and an urgent need to find a job in the United States.
Saddam Hussein's Iraqi forces had recently decimated Kuwait. Ghannoum's wife and three children were staying in a dorm room in England, waiting for news. Once at the conference, however, Ghannoum learned that the people best able to help him would be at a different conference, the following week.
Because the Iraqis had frozen bank assets, Ghannoum had no money; he was surviving on hotel apples. He realized he had one chance: change his travel plans.
But when he walked into a random travel agency, the agent said he could lose his job for making the requested ticket change. After Ghannoum explained his plight, the agent not only delayed the return trip but also included a side trip to Milwaukee, where Ghannoum could stay with a friend. The agent even pulled $80 from his wallet and gave it to the stranger.
Ghannoum attended the second conference and landed a position at the University of California, Los Angeles.
While Ghannoum didn't have a chance to say "thank you"—the agency closed the year after his visit—he never stopped wondering about the man whose kindness changed his life.
Life-Changing Research Began By Chance
Ghannoum was born in southwest Beirut in 1950, one of seven children and lived in a lower-middle-class community. A strong student, Ghannoum snagged a scholarship to study chemistry and biology at American University of Beirut, then pursued a doctorate at England's Loughborough University of Technology. His adviser urged him to research why some rabbits treated with antibiotics to kill bacteria eventually developed the fungal infection candidiasis. "At first I thought I'd do that and then move on to something else," said Ghannoum. "… I've been exploring it for 46 years now."
Within the human body is the microbiome, a community of millions of microorganisms that has an abundance of bacteria and a relatively sparse amount of fungi. Both can be good and bad for human health—think probiotics and pneumonia for bacteria, and penicillin and athletes' foot for fungi.
For years, bacteria got most of the attention, while fungi were dismissed as sideline players.
But Ghannoum continued his fungal research. In 2010, he coined the term mycobiome to describe the body's community of fungi, and his research team began demonstrating its impact on everything from weight gain to digestive ailments. He understood the seemingly contradictory roles bacteria and fungi play—for example, that they could be allies and adversaries.
"What he and just a few others in the [fungal research] community are doing is figuring out that the body is a whole ecosystem, and there are plenty of microbes in us that make up that ecosystem," said Duncan Kuhn, MD, a Boston-based pulmonologist and infectious disease physician who did research with Ghannoum about 15 years ago.
Dubbed the "fun guy" for his work on fungi, Ghannoum has published more than 400 papers and produced research that's been cited by other scientists more than 20,000 times.
In the last 30 years, he also has received more than $50 million in National Institutes of Health grants.
Two discoveries that may be his most important so far: that fungi can exacerbate Crohn's disease, and that bacteria and fungi work together in the gastrointestinal tract to form a thick film or "biofilm" that serves as a protective layer, at various times shielding good bacteria and bad bacteria.
More recently, Ghannoum has spun his research into the general marketplace. He and his older son, Afif, JD (CWR '02, LAW '05), founded BIOHM Health, a company that produces probiotic supplements and microbiome tests to help individuals achieve and maintain a fungal and bacterial balance in the digestive system. They also created drmicrobiome.com, and the elder Ghannoum published the book Total Gut Balance (Countryman Press) with writer Eve Adamson about healthy lifestyles and eating basedona "mycobiome" diet.
"I never expect us to discover some fungal supplement pill that will cure all of your problems," he said. "But we are getting closer to improving well-being and, in order to do that, we must get people to think a little differently about how diet and exercise and mental approaches to problems are all connected."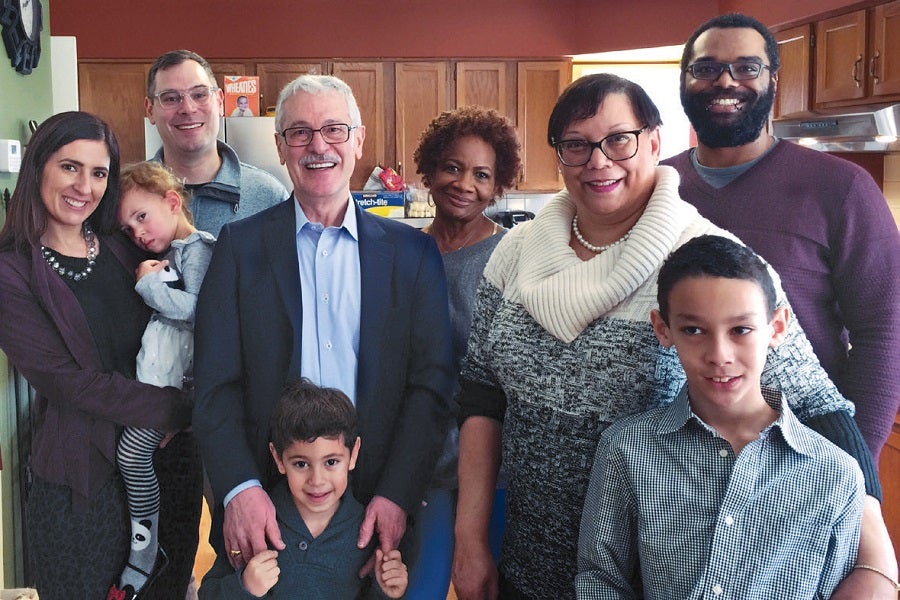 PHOTO: Ted Sikora
The Guardian Angel
In September 2019, Afif Ghannoum decided to try to find the travel agent who changed his dad's life. "Everyone has a family story, and this was ours," he said. "I had to see if I could get details."
He launched a Facebook quest, using the sparse details his dad remembered: The man was African American, worked at a downtown Washington, D.C., travel agency in 1990 and had likely been in his 30s.
A Washington Post columnist wrote about the search. Living in Leesburg, Virginia, Elaine Dorsey saw the article and felt chills. She knew the agent was her husband. She remembered that night in 1990, when a nervous Jimmy, fearing he might lose his job, told her he changed the plane ticket and gave the stranger $80.
But she couldn't share the new and unimaginable twist in the story with Jimmy. He had died about seven months before the Facebook post.
The two families connected and, in December 2019, Ghannoum; Afif; Afif's wife, Lisa, JD (LAW '06); and their two children traveled to the Dorsey home. The families shared hugs and tears as Post columnist Petula Dvorak and a CWRU videographer captured the moment. (See the university's video at bit.ly/gut-instincts.)
"Before meeting them, I knew people helped me," Ghannoum said. "This strengthened that feeling. 'Pay it forward' is really important for us, and it makes that more real."
During the gathering, Ghannoum told Elaine Dorsey that his family had committed $25,000 to start a scholarship fund at Case Western Reserve University in Jimmy's name to help undergraduates.
"It blew me away," said Dorsey, that one gesture from her husband changed so many lives. "I want my grandkids and great-grandkids and other children in our family, I want them to know what their grandpa did," she said, noting in another twist of fate that she and Jimmy grew up in Cleveland.
Ghannoum knows Jimmy Dorsey's decision to help him is connected to his ability to help others with his fungi research—including an Italian baby. Now, Ghannoum hopes the scholarship in Dorsey's name will help CWRU students graduate and, in turn, help others in the future.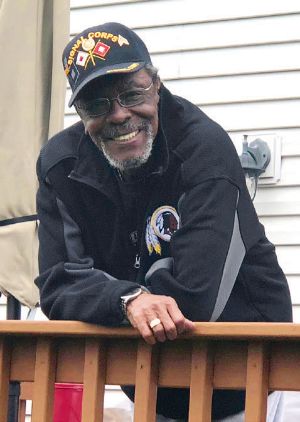 Courtesy of Elaine Dorsey
In 1990, Jimmy Dorsey helped change Mahmoud Ghannoum's life with an act of kindness. They were strangers and never met again. Last year, Ghannoum and his family decided to establish what's now the James Dorsey Memorial Scholarship at Case Western Reserve University. To contribute to the fund, visit giving.cwru.edu/dorsey