features
From Basement Dreams to a $540 Million Deal
Four alumni upended an antiquated, tedious staple of commerce
—

and even added some pizazz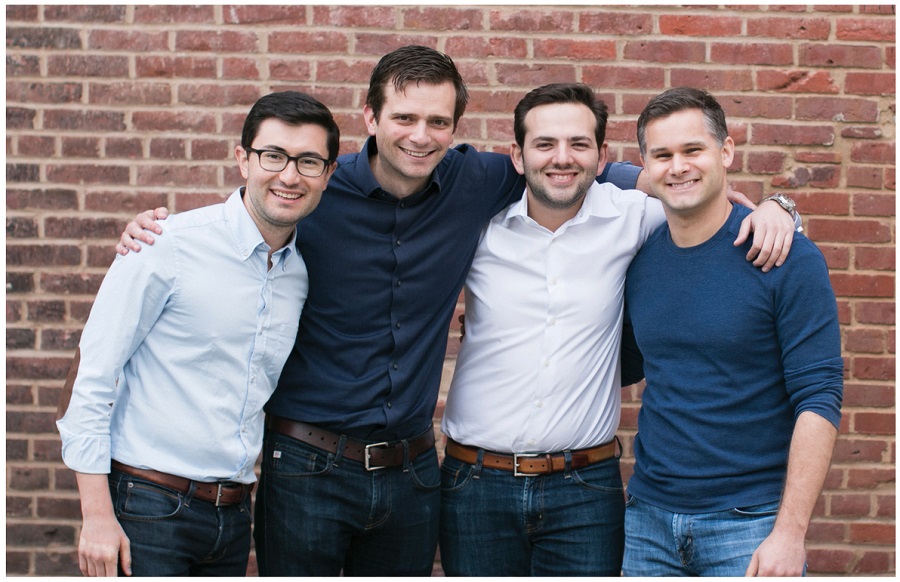 PHOTO: Courtesy of Scout RFP, a Workday company
In 2014, four Case Western Reserve University alumni routinely gathered at one of their homes, sitting on the floor of the sparsely furnished Cleveland-area basement, eating Rascal House pizza and exploring their entrepreneurial ideas on a wall-length whiteboard.
Five years later, Scout RFP, the company that emerged from those brainstorming sessions to modernize the procurement process—as well as from the founders' exuberant customer focus and unwavering persistence—sold for $540 million.
By then, Scout was a San Francisco-based international venture with a who's who of customers, including Netflix, Levi's, Hulu, Intuit and Best Buy.
The buyer, Workday Inc., gained not only Scout but its founders, who stayed to continue building business they love. Their mission: to make commerce work faster, better and easier with products that streamline the sourcing and procurement of goods and services.
"For us," said Stan Garber (CWR '07), Scout's founding president, "it's an enormous opportunity to take Scout to a much bigger audience." His co-founders who had brainstormed with Garber in his basement were Alex Yakubovich (CWR '07), Andrew Durlak (CWR '07) and Chris Crane (CWR '08).
The four friends created a stunning success story. It's one partly rooted in their experience at Case Western Reserve University, where an ever-growing entrepreneurial ecosystem helped educate, mentor and connect creators to funders whose advice and investments were crucial for turning visions into reality.
It was at the university where Garber's and Yakubovich's budding entrepreneurial spirits flourished with the help of an early version of that ecosystem. During high school, they and another friend, Oleg Fridman (CW R '07)—all immigrants from the former Soviet Union—formed a web design and development firm. Once on campus, they parlayed that experience into a second venture called ONOSYS, which began with a simple aim: make pizza-ordering easier.
As early entrants into the online food-ordering world, they eventually gained a national presence. They also had catalytic assistance from campus connections and advisers who later played a part in Scout's launch. The university "had a tremendous impact on our future," said Garber, who has returned to campus several times to describe their journey.
"The Scout RFP founders are inspiring our current students to take the leap and try to start their own business," said Michael Goldberg, an associate professor at the Weatherhead School of Management and executive director of the university's Veale Institute for Entrepreneurship. (Read about Goldberg and the institute)
Learning the Language of Business
Garber and Yakubovich arrived separately in the United States at age 6, knowing only a few rudimentary words of English.
Entrepreneurial pursuits were difficult to pursue in the years when Garber's native Moldova was a tiny former Soviet republic, and in Moscow, where Yakubovich was born. Their families' prospects for a new life came in the early 1990s, when they gained refugee status and became part of a wave of Jewish immigrants from the former Soviet Union who settled in Cleveland's eastern suburbs.
"I still remember my parents packing up frying pans and pillows," Yakubovich said. "I didn't know where we were going, but, even as a 6-year-old, I thought we should reconsider if they don't have frying pans and pillows."
Yakubovich's parents were in electrical trades in Russia. When they arrived in Ohio, they took what work they could find, including in the construction and restaurant industries.
Yakubovich learned about business during high school, working at a McDonald's restaurant, doing clerical work, caddying and cleaning pool furniture.
Even as students at Case Western Reserve University, Stan Garber and Alex Yakubovich showed a keen ability to discern a problem and devise a solution to make commerce work faster and better. They also were immigrants who knew what it was like to take a risk
—
and they weren't averse.
Garber's parents ran a clothing manufacturing company in Moldova. After the family moved to Mayfield Heights, Ohio, his father opened an upholstery business. By elementary school, Stan Garber was selling nail polish door-to-door that he procured from a family friend who worked in the cosmetics industry. "I got a few hundred bottles and had kids help me sell them," he recalled.
Garber and Yakubovich met at Mayfield High School, where they launched a Future Business Leaders of America club chapter. They seized on opportunities in ways they never could have in their homelands, trading stocks on a teacher's computer during lunch period. They earned and lost several hundred dollars, but, more importantly, they learned the vagaries of business.
For them, starting a business felt like the pinnacle of the American Dream, even more than owning a home.
They enrolled at Case Western Reserve University because it was close to home and had a strong academic reputation.
"My parents told me I could be anything, as long as it was a doctor, a lawyer or an engineer," Yakubovich said. He chose mechanical engineering because he wanted to be an entrepreneur, which he expected would require a knowledge of technology. Garber pursued a finance degree from Weatherhead School of Management.
Fixing a Problem the Entrepreneurial Way
In 2005, Garber, Yakubovich and Fridman were full-time students and expanding their web design and development business when one client, the Rascal House restaurant in University Circle, approached them about developing an online system for ordering pizza. "Most folks weren't even thinking about online ordering for food at that point," Garber said.
But these undergraduates were.
While the university's entrepreneurial ecosystem wasn't as wide or deep as it is today, campus mentors provided key assistance at nearly every step.
The university provided what Garber said may have been one of its first incubator spaces: an office where they could hold customer meetings. One administrator critiqued their business presentations, while others provided connections that helped open doors to potential customers. The university brand "was great within the community," Garber said.
When ONOSYS was about to raise its first round of venture capital, Garber contacted Scott Fine, his entrepreneurial finance professor. "'I'm negotiating for my own company; can we get together?'" Fine recalled Garber asking him.
"Usually, that doesn't happen for a few years until after students graduate, and they come back and say, 'Hey, now I really need to talk about this stuff,'" Fine said. "Stan was worrying about it even as a college senior."
Their big break came when Bob Sopko, now director of the CWRU LaunchNet entrepreneurship program, connected the three founders to Lee Zapis, who leads a local venture capital firm. "I liked them the moment I met them. … I thought they had a lot of potential," said the founder of Zapis Capital Group, who invested $500,000 in the venture just days after the trio graduated from college in 2007.
ONOSYS took off and, in 2012, the online marketplace LivingSocial bought it for $18 million. The three founders stayed more than two years. By 2013, ONOSYS was supplying online-ordering software to 50 major chains, including Panera Bread, Papa John's and Applebee's.
Basement Dreams
In 2014, Scout RFP's founders began what they've called a "simple and noble" cause: create an online cloud-based platform that stripped out the "agony" that beset both buyers and suppliers of goods and services—something Garber and Yakubovich knew all too well from navigating cumbersome and antiquated request for proposal (RFP) processes at ONOSYS.
By then, the four Scout founders had come together. In addition to Garber and Yakubovich, who became president and CEO respectively, they included Durlak, whose financial acumen led him to a bachelor's in management from Weatherhead School, and Crane, whose talents were in product design. Durlak and Crane became vice presidents of operations and design respectively.
They initially focused on learning the procurement business. "I think Stan said they weren't going to start designing the product until they'd spoken to at least 200 procurement professionals," recalled Zapis, an early Scout investor, "and I bet they talked to more."
Crane led that design work. "I did mechanical engineering at Case [Western Reserve] and, to me, that's the art of taking big problems and making them small enough that you understand how to solve them," he said. "I don't see any difference between mechanical-engineering problems I solve versus software problems."
The founders knew sourcing and procurement were critical processes ripe for a 21st-century reboot. "We thought that we could be the ones to bring that about, but it was really, really hard," Durlak said. "There was a lot of rejection in the early days."
Scout contacted one potential customer 40 times just to demonstrate its product. "We eventually got them [as a customer]," Durlak said, "but that was the level of effort that you had to go through sometimes to get just even one."
The founders persevered with a singular, even obsessive, dedication to customer service, flying to meetings with business executives whenever they could to bring a "white-glove mindset" to interactions, and proving their credibility on smaller projects that later led to larger ones.
The headquarters moved to San Francisco in 2015, and Scout began growing quickly, gaining users and expanding its products to help customers with a broader range of sourcing and procurement needs.
By mid-2017, investors had plowed more than $27 million into Scout. In 2018, the company was named one of the Forbes Cloud 100 Rising Stars for its rapid growth. And in early 2019, Scout announced it had raised $33 million more from existing investors and new ones, including Workday Ventures, an arm of Workday, Inc., a business-software company.
Scout "created $100 millionworthof value every year for five years," Zapis said. "It's pretty phenomenal."
The founders also have brought a joyful attitude to what they do, whether in blog posts, their annual "Spark" conference that in February drew 800 attendeesfrom more than 500 companies, or in how they disrupted what's been a staid but critical business function. "
We're passionate about making sexy tools for purchasing and procurement," Yakubovich told Crain's Cleveland Business in 2017.
Customer accolades have poured in. VSP Global, a Sacramento, California-based eye-care insurance leader that serves nearly 90 million members around the world, is among the happy users.
Scout's "transparent, easy-to-use technology solution and great customer service helped ease [changes in spending behavior] by magnifying VSP's areas for improvement and amplifying savings," said Greg Tennyson, VSP's chief procurement officer.
And, during the pandemic, Scout has continued to do well overall, with customers drawn to its money-saving software, Garber said.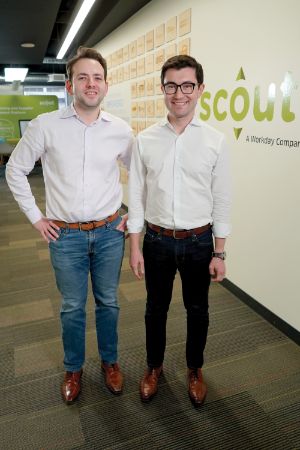 PHOTO: Ted Sikora
A New Chapter and High Expectations
Scout's founders weren't looking to sell. But Workday won them over with its similar values and the opportunity to develop their products on a broader canvas. When the deal closed, Scout had about 160 employees, 250 customers and nearly 300,000 users in more than 150 countries. "Workday's footprint is just colossal," Garbersaid. "They have 3,000-plus global customers."
Success hasn't altered the lifestyles of Garber or Yakubovich, who are now Workday vice presidents. Both are married and each has a young son and daughter. They remain best friends and recently moved from living in bordering apartment buildings to houses one block apart.
Garber still drives the 2011 Acura RDX he bought in Cleveland, and has no plans to trade it in.
Yakubovich, who used to walk 10 minutes from his apartment to work, bought a Prius. "Of course, we were happy about the financial outcome" of the sale, he said referring to himself and his wife, "but we were really happy before. … I think we're going to keep things pretty simple."
He's not so far removed from the child who watched his parents risk a fresh start in a new country, or the teenager who learned about business and upward mobility from a Greek immigrant who owned the McDonald's franchise where he worked. Or the novice entrepreneur who learned early to obsess over customers and face the stress of possibly running out of money.
And so, this is not a time to kick back but a time to power forward amid high expectations.
Garber and Yakubovich are determined to keep coming through—for their wives, who moved partway across the country for what Garber called "a big leap of faith" and many others who depend on them and their Scout compatriots.
Entrepreneurs who want to do their best at every stage will be "pretty much stressed out at every stage, including this one," Yakubovich said. "We genuinely care about making sure that … we're wildly successful for Workday, for our employees and [for our customers] because all through the years we really gave them our word and our assurance that they would be well taken care of."