connect
Preventing Risky Behavior
How one alumna's vision is helping change young lives in Central America and beyond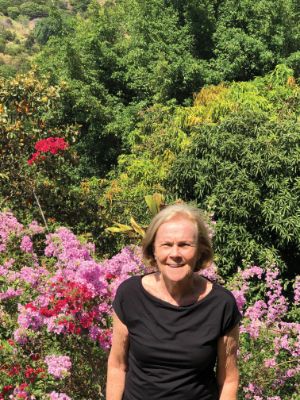 Growing up in Costa Rica, Cathy Strachan Lindenberg, DrPH, RN (NUR '66) knew teens suffering from income and health disparities, and entangled in violence, risky sexual behavior, and alcohol and drug abuse.
After an international career in public health and faculty positions at several universities, Lindenberg returned to her roots and pursued her passion for helping adolescents make healthy choices.
In 2004, she founded TeenSmart International, a nonprofit based in Costa Rica that provides free coaching as well as online health-information resources, education, and referral services for at-risk youth—all aimed at empowering them to make smart, healthy lifestyle choices and steer away from risky behaviors. Since 2010, the organization has reached more than 75,000 young people, mostly in Central American countries but also in 12 other countries, where Spanish-speaking youth access its resources online.
"We've found that kids who take our Internet courses consistently report better communication with their parents, less depression, fewer suicidal thoughts, greater seat-belt use, fewer fights [and] less weapon carrying," she said. "Among sexually active teens, there's greater condom use."
As the daughter and granddaughter of Presbyterian missionaries, Lindenberg grew up in Costa Rica with a worldview based on social justice. "When you're raised in an environment where you see disparities firsthand, you acquire a very strong base of 'universal values,' like the importance of giving and serving others," she said.
Lindenberg earned her bachelor's degree in nursing from the Case Western Reserve University Frances Payne Bolton School of Nursing where, she said, her core values were strengthened as she honed real-world skills.
"My experience at Case [Western Reserve] promoted a real sense of self-confidence," she said. "We were taught to think critically and problem-solve based on knowledge and core principles, not just memorize procedures. Those skills have helped me more than anything else throughout my professional career."
Lindenberg also earned a combined master's degree in public health and nursing at Yale University and a doctorate in public health at Johns Hopkins University. She then spent seven years working for the World Health Organization throughout Central and South America. That's when she met her husband, Marc Lindenberg. They eventually moved to the United States, where she was on the faculty of several nursing schools.
After her husband died in 2002, she returned to Costa Rica, where she is known as Cathy Strachan, to start TeenSmart International with a grant from a family friend. Since then, the organization has expanded and partners with dozens of middle and high schools to make health-promotion resources available in school computer labs and directly to youth via their cellphones, home computers and tablets.
"There are lots of things outside of one's control in life," she said. "But what's in one's control are the responses we choose. Our goal with TeenSmart is to develop a philosophy of self-care, personal leadership and self-determination in kids everywhere."
To learn more about TeenSmart International, visit teensmart.org.