lens
Saving Grace
Art historian Elizabeth Bolman spent two decades conserving the interior of an Egyptian church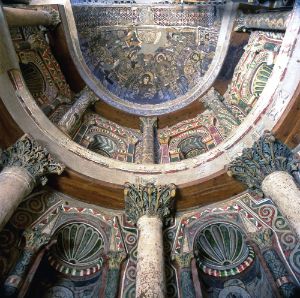 PHOTO: Courtesy of American Research Center in Egypt/Photograph by Arnaldo Vescovo
The first time Elizabeth Bolman, PhD, saw the interior of the church in Egypt's Red Monastery, the walls were covered in soot, grime and oil from liturgical rites, and even had wasp nests. Still, she was transfixed, and during the next 20 years directed conservation of the paintings covering the church's walls. She also oversaw the creation of a virtual-reality tour and laser scan of the church's interior, and wrote about her work in the book The Red Monastery Church: Beauty and Asceticism in Upper Egypt, which she also edited. Now the Elsie B. Smith Professor in the Liberal Arts and chair of the Department of Art History and Art at Case Western Reserve University, Bolman said that when she first walked into the church, "I had this total body feeling of being mesmerized. I also had a feeling of dread that this church was going to take over my life," she said, "and it did."*
Why is the Red Monastery church so important?
It's a Christian church in a monastery that dates back to the late fifth century near the Upper Egyptian city of Sohag. In that era, paint was the most common method for adding color to architecture. In almost all other buildings from that period, most of the paint has been destroyed. The Red Monastery church has the best-preserved painted monumental interior from the Greek, Roman and early Byzantine worlds, with a sanctuary that soars 45 feet to the ceiling and brightly colored original paint covering about 80% of the interior.
How did the colors in the paintings remain so vivid?
When I started seeing these colors being brought to life, I worried that people would think we repainted them. We did not repaint! The paintings were made with tempera that was mixed with some kind of animal protein or a sap, and encaustic [paint that is made by mixing pigments with melted wax]. Encaustic helps the colors endure. The layers of soot also served a protective function.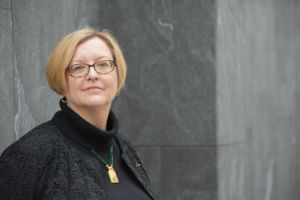 One of your favorite paintings in the church is the

Nursing Mother of God

, showing the Virgin Mary on a throne nursing Jesus. What draws you to it?
This is an enigmatic subject. What did it mean, and why was it painted numerous times in monastic cells and churches? After much research, my answer is that the image is not about warm and fuzzy mother-and-child bonding. It's about the transferal of divine food from heaven to the young Christ child and, by implication, [to] the Christian faithful, in the form of the Eucharist.
What was significant about the digital preservation work you did on the church?
Virtually no digital documentation of Egyptian Christian churches has been done.The historic church at the Red Monastery is under threat from rising groundwater and termites, and will likely not survive another 100 years. Documenting it is of vital importance. The most important digital project undertaken on site was laser-scanning the church. We now have millions of data points that can be used to generate images and replicas. I'm very excited to use the scans in a trailblazing project I'm working on with the university's Interactive Commons team for a course in the spring. We're creating a HoloLens mixed-reality tour of the Red Monastery. It will give students an unparalleled experience of feeling like they are actually walking inside a remote church, without leaving the classroom.
The United States Agency for International Development funded the Red Monastery Project, which was a collaboration among the Coptic Orthodox Church, the Egyptian Ministry of Antiquities, and the American Research Center in Egypt, which with Yale University Press, also published Elizabeth Bolman's book on the project.
*This conversation was edited for length.