lens
Seeking Change; Taking Action
Student leaders advocating for a more diverse and inclusive campus
The killing of George Floyd in May didn't begin the racial reckoning in American society. But it has led individuals, communities and institutions to listen more intently to people of color for whom frustrations, obstacles, exclusion and inequity have long been in the foreground. In that spirit, Think asked four student leaders to reflect on how to continue to foster a more inclusive, diverse and welcoming campus community.
The following conversations were edited for length.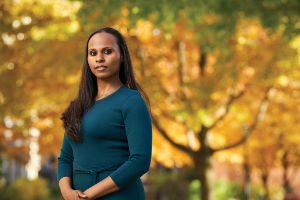 PHOTO: Roger Mastroianni
Erica Johnson, a PhD candidate in organizational behavior and a licensed social worker, is director of diversity and inclusion for the Graduate Student Council. She's also a member of the executive board of the recently created "For a Better CWRU: A Student-Led Task Force." She researches the pervasiveness of racial trauma and its impact on mental health and opportunities for advancement.
"More student diversity is needed because Latinx, Black and indigenous students are extremely underrepresented, especially at the graduate level. Furthermore, increased representation at the doctoral level is critical so that research can center on marginalized communities and challenge dominant narratives.
"Such research is often called 'me-search' because we are investigating aspects of our lived experiences.
"In my work with the Graduate Student Council, I am ensuring that a culture of diversity, equity, inclusion and social justice is embedded throughout our initiatives.
"I also have been facilitating panel sessions on racial trauma and how it not only impacts people of color across the lifespan, but also intergenerationally and across multiple life domains, such as in academia and in the workplace.
"Through my doctoral research on the long-term trajectory of trauma among people of color and its impact in organizations, my hope is to give a voice to the most vulnerable."
PHOTO: Roger Mastroianni
Fatima Rahman, a senior earning a bachelor's in international studies and a master's in nonprofit management, is on the executive board of For a Better CWRU and president of the Undergraduate Diversity Collaborative (UDC). A recipient of Deferred Action for Childhood Arrivals (DACA), Rahman advocates for other undocumented and DACA students. With UDC, she pitched the idea for a campus lending library to provide laptops and other technology to students who cannot afford them.
"I am low income. I didn't have a laptop in the fall of my freshman year. That was such a struggle. I could rent a laptop for three hours at a time, but only use it within KSL [Kelvin Smith Library]. As students, we need this resource for class; I need it for my student leadership meetings.
"After four months of research, UDC submitted a proposal that was accepted. The Office of Student Affairs purchased 20 laptops and 50 graphing calculators and 50 iClickers. Lending started during the last academic year.
"I gained a lot of skills and I feel like I'm equipped for the real world, but doing the [research] work for this initiative shouldn't have all fallen on students.
"I am tremendously honored to have helped spearhead this. One of my main goals as a student leader has always been to push more initiatives and resources to help students overcome similar challenges to what I have faced."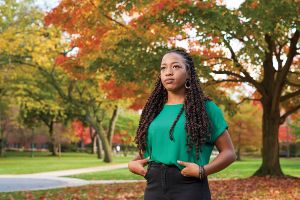 PHOTO: Roger Mastroianni
Adiah Bailey is a senior majoring in economics and international studies, and president of the Black Student Union. In June, she and other campus leaders gave university officials a detailed proposal for standing in solidarity with the Black community on campus and in Cleveland. It was integrated into the work of the For a Better CWRU task force.
"My experience is not as uncommon as it may seem—there are just so few Black women going into economics. I experience being alone in classes, having to look for mentors and support. I felt like that perspective needed to be heard. That's why I was happy to write [the proposal] with my peers.
"Some of my experiences on campus were less than kind; some were amazing. How do we expand the amazing experiences?
"Black students make up only 6% of undergraduate and graduate students combined. We need to broaden our recruiting networks to get diverse students.
"We want a [student of color working as a] recruiter in the admissions office. We might have insight about where students are who we might recruit. We talked about that during the meeting [with university leaders. Admissions officials who were there] were very, very welcoming of the idea."
"As a campus community, we [also] need to make sure that we are fostering trust and helping the surrounding community grow and prosper, just as we want to foster those things on this university campus."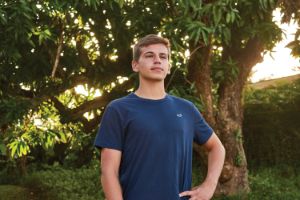 PHOTO: Nicole Polish
Juan Pablo Garcia, a sophomore majoring in biomedical engineering, is vice president for civic engagement at La Alianza, a Latinx student organization.
"The [student body] is 7% to 8% Latinx, but the faculty is only 2%. I would like the university to keep working on increasing the recruitment and retention rate of faculty who identify as Latinx and of Latinx students and offering more classes that reflect the Latinx culture.
"That is a long-term goal. Some things that I believe are important to do right now are providing more financial support for the Alianza Latina/ Latino Alliance faculty and staff group; expanding the L&iacutederes Avanzando [Leaders Moving Forward] program at CWRU, which supports first-generation Latinx students in their first and second years; and recognizing outstanding Latinx students [both incoming and current] with scholarships and fellowships.
"Case Western Reserve University has a really good standing in Cleveland, but we would like to see more students go out into the community to volunteer or bring their expertise to organizations or programs. At La Alianza, we want to focus on this. That is why we have done panels with Esperanza, HOLA Ohio and the InterReligious Task Force on Central America, including workshops on staying politically active, knowing Latinx history and the importance of voting."