features
It Takes a Team
How persistence and collaboration turned a scientific discovery into a startup that sold for $55 million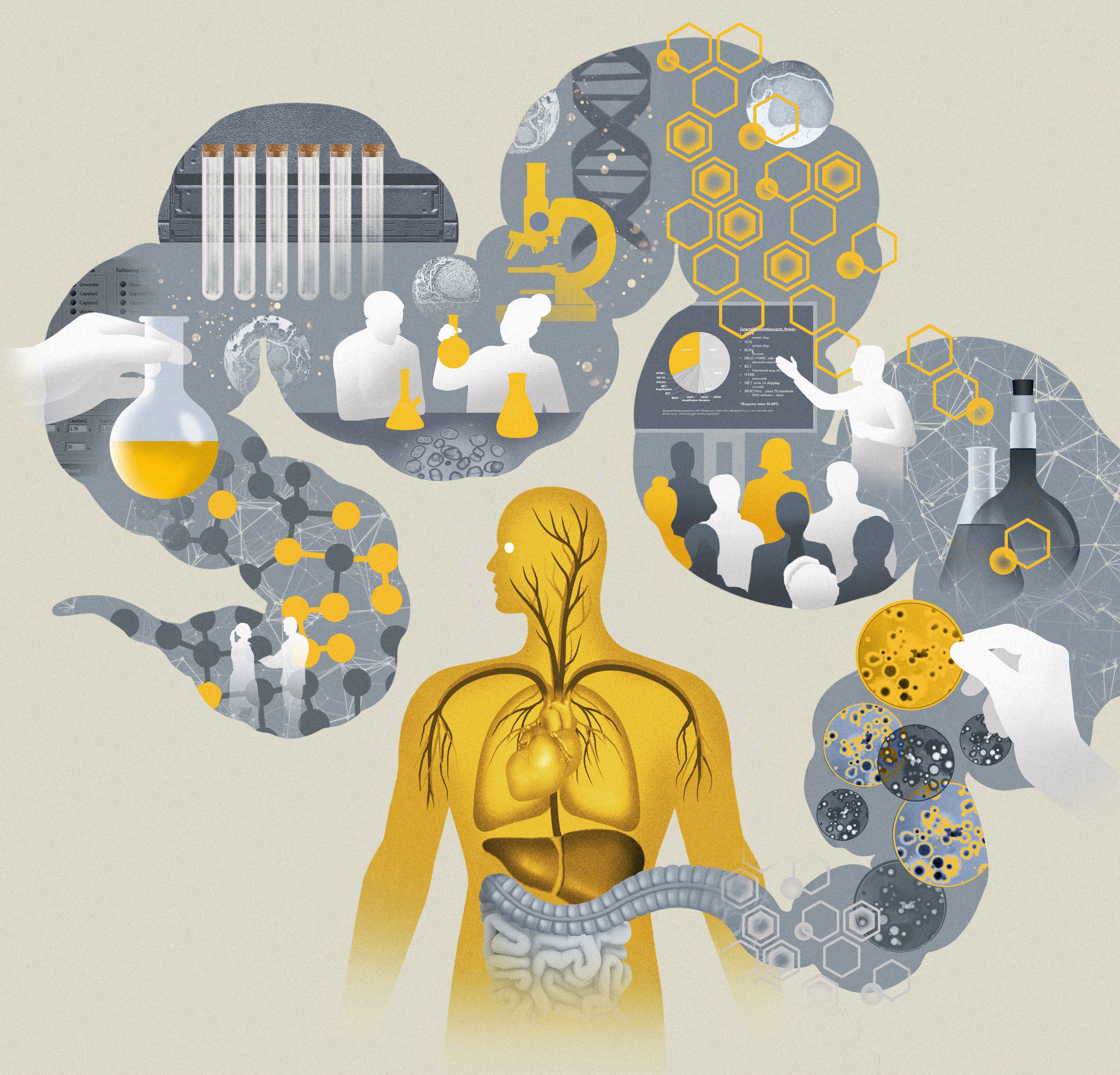 IMAGE: Stuart Briers
In his quest to cure colon cancer, Sanford "Sandy" Markowitz, MD, PhD, made a discovery outside his research area that was remarkable: He found a way to make healthy cells grow.
It began with a cancer breakthrough in 2004, when the Case Western Reserve University scientist and his team identified 15-PGDH, a gene that could stop the growth of tumors in the colon. Excited, they pushed further to see whether the enzyme the gene produced might not only stop cancer but also prevent the disease. That's when things got interesting.
They studied cancer-free patients, expecting to find abundant levels of the protective enzyme. Instead, they found that many had little of it in their colons. This made the researchers wonder: Was there an unknown benefit to low levels?
Further laboratory research revealed that eliminating the enzyme protected the colon from forming ulcers and healed any existing ones.
"We realized we had turned over a rock and found a diamond," said Markowitz, a Distinguished University Professor, the Markowitz-Ingalls Professor of Cancer Genetics, a researcher at the Case Comprehensive Cancer Center and a medical oncologist at University Hospitals. "We knew right away we were onto something exciting."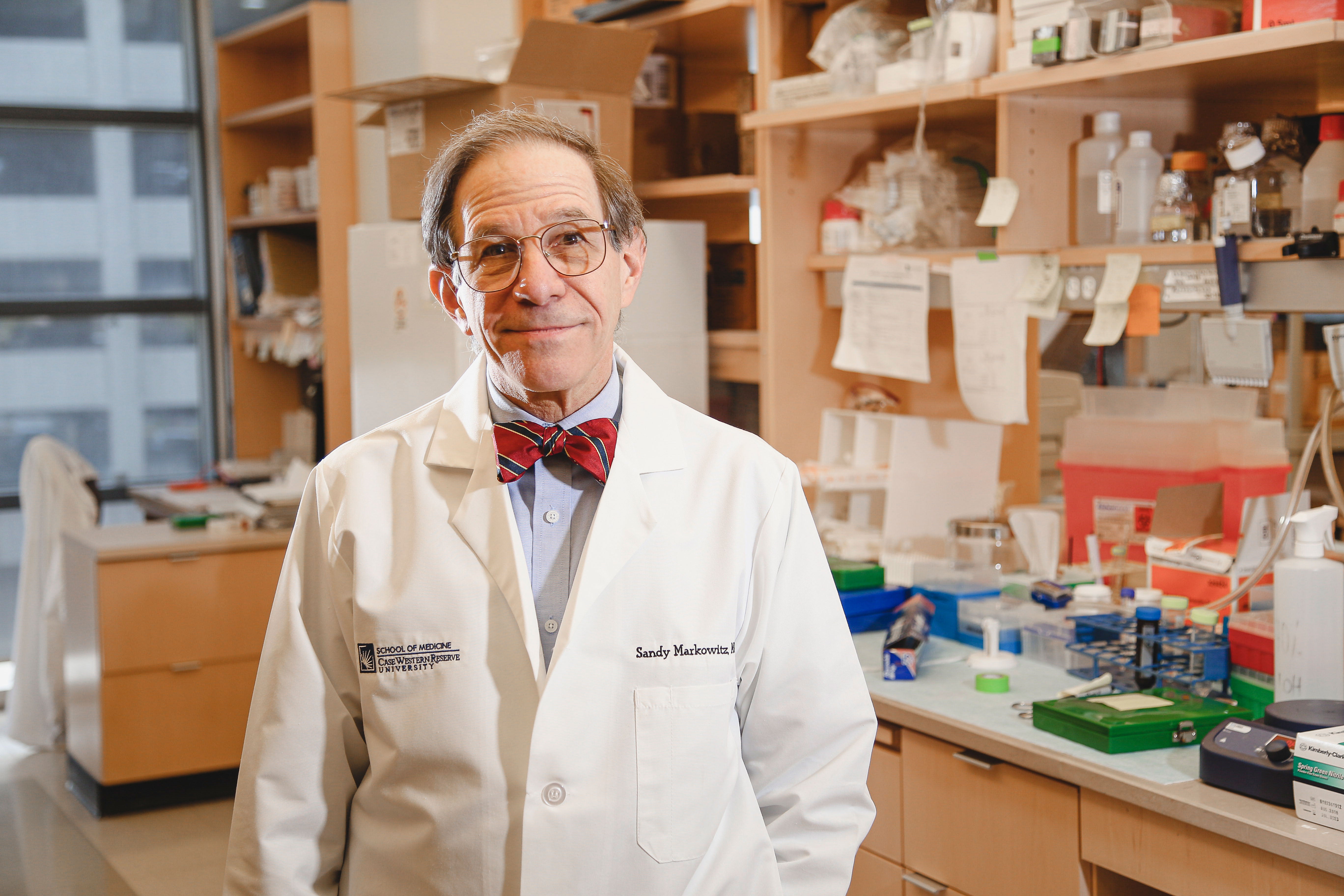 Photo: David Petkiewicz/cleveland.com, ©2019 cleveland.com
By thinking beyond their cancer-fighting mission, Markowitz's team had found a possible way to treat other diseases—all by manipulating the same gene.
That discovery led to the invention of what Markowitz said is the first drug that can turn off 15-PGDH, and to the 2017 launch of Rodeo Therapeutics, a startup based on the research.
The young company sold in March to biopharmaceutical giant Amgen Inc. for a $55 million initial payment, with the potential to reach $721 million if the drug proves successful in human clinical trials and later in the marketplace.
A $25 billion international company, Amgen has the experience, track record and financial heft to develop and bring new drugs to the marketplace. If the Rodeo vision comes to pass, these will one day include 15—PGDH inhibitor medications able to repair tissue damaged by colitis, liver disease and idiopathic pulmonary fibrosis—a fatal lung disease for which there is no cure—and speed the creation of new blood cells following bone-marrow transplants.
How one question was propelled from lab discovery to acquisition by a major pharmaceutical company is a story of creativity, persistence and collaboration. The team includes scientists who apply their knowledge to finding answers that benefit humankind; university commercialization professionals who move medical breakthroughs closer to patients; partners such as University Hospitals and its Harrington Discovery Institute, which guide and support physician-scientists; and venture capitalists who know promising science when they see it.
Pursuing the Potential
Markowitz's vision was bold. Stan Gerson, MD, a research colleague and now dean of the university's School of Medicine, understood its significance.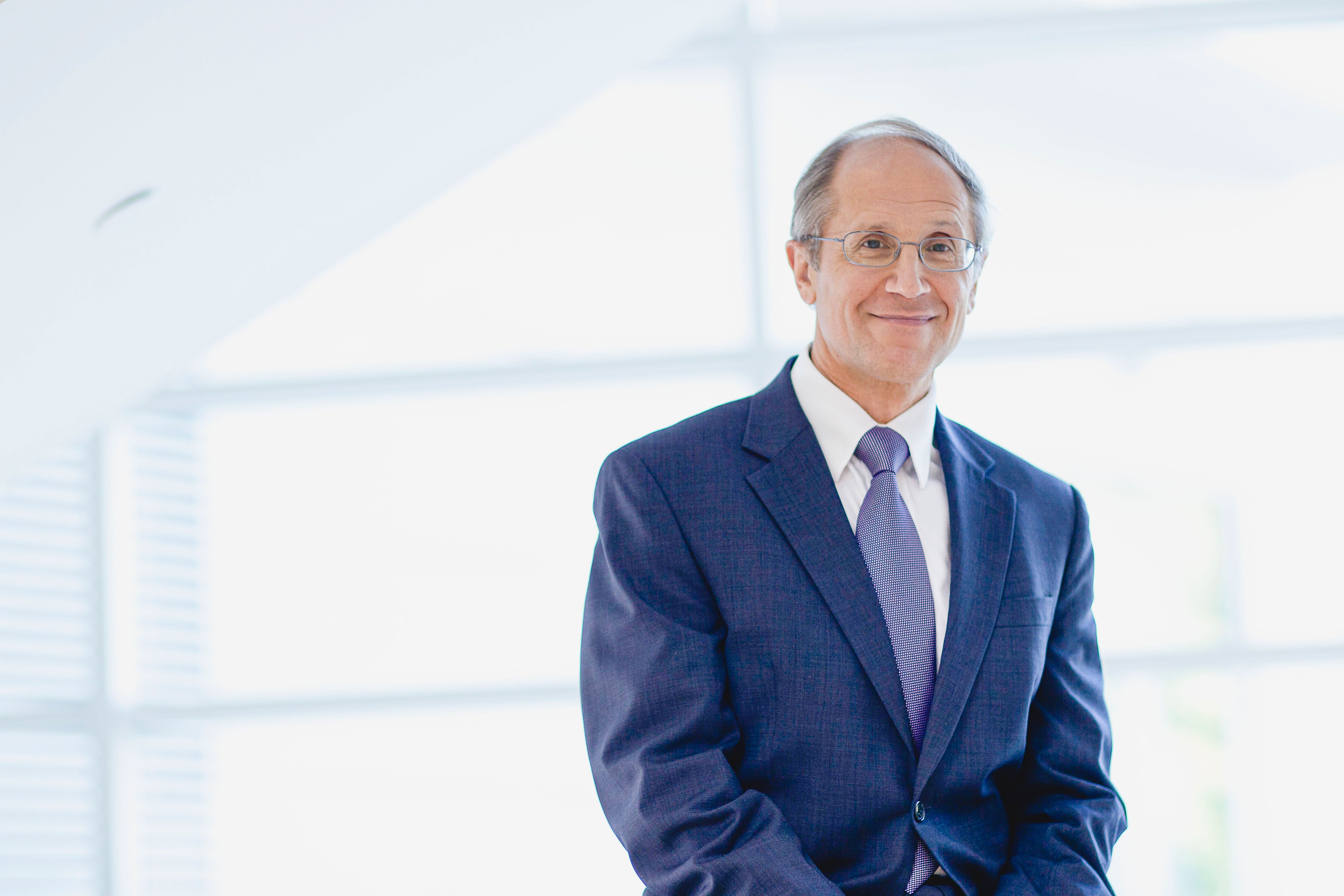 "The concept that switching off an enzyme could improve tissue regeneration was a breakthrough in fundamental biology—one that could create a platform to study dozens of different diseases," said Gerson, who has led the cancer center for 17 years, is founding director of the medical school's National Center for Regenerative Medicine, a Distinguished University Professor and the Asa and Patricia Shiverick– Jane B. Shiverick (Tripp) Professor of Hematological Oncology.
Markowitz was several years into his research when he began collaborating first with James K.V. Willson, MD—a former colleague who had moved to the University of Texas (UT) Southwestern Medical Center—and later with Gerson.
It was quite a team.
Markowitz has led research that has transformed understanding of the genetics of gastrointestinal cancers. His laboratory discovered two key colon cancer tumor suppressor genes, and he was part of the team that sequenced the first complete cancer coding genome. His more than 30 patents include the creation of the first commercial DNA-based stool test for colon cancer and a technology that combines a swallowable cell-sampling device with DNA biomarkers to detect Barrett's esophagus, a condition that is a known cancer risk.
Gerson possesses extensive expertise in stem-cell research and drug development, including therapies promoting tissue and DNA repair. He holds 15 patents that have led to two cancer drugs, one cell therapy (using mesenchymal stem cells), and one gene-therapy agent and that have been licensed to three companies, all of whom are pursuing clinical trials.
Willson, former director of the Case Comprehensive Cancer Center, had worked for years alongside Markowitz and was part of the team that discovered the tumor-suppressing genes. Willson later moved to UT Southwestern to serve as head of its cancer center, where he had access to the Dallas-based university's large chemical library—an essential resource for medicinal research.
An Influential Enzyme
The remarkable results Markowitz's team first observed in 2004 arose from discovering the role of the 15-PGDH gene in producing an enzyme that suppresses tumor growth. When active, the gene stops new stem cells from forming by lowering levels of a molecule called PGE2. When the gene is switched off, PGE2 levels rise, and damaged tissues regenerate and grow.
The idea of developing a medicine that could suppress 15-PGDH and promote healing captivated Markowitz and Willson. So in 2009, the two partnered to find a molecule that could serve as the start of a new drug.
Armed with a procedure they developed to show when a molecule bonded with the 15-PGDH enzyme, Markowitz research associate Yongyou Zhang, PhD, traveled to Dallas to work with UT Southwestern chemists Bruce Posner, PhD, and Joseph Ready, PhD. The three scoured the university's collection of 230,000 chemicals, using Zhang's test to identify which one best targeted 15-PGDH.
"We just rolled the dice to see if we could find something," Markowitz said.
Later that year, they identified the small molecule SW033291 as their most promising candidate, and Ready and Markowitz worked to refine it for use in laboratory research.
Faster Healing
Once Markowitz's team developed their drug prototype, they revisited their colon ulcer research and found that ulcers rapidly healed in mice injected with SW033291.
Other laboratory studies showed that the druglike molecule doubled the growth rate of new liver tissue following surgery. Moreover, the Markowitz and Gerson teams found that the drug helped rebuild normal blood counts six days faster after bone-marrow transplants.
"What we found in the bone marrow was replicated in many other tissues," Gerson said, which suggested opportunities to potentially treat a range of diseases.
In further laboratory studies, Gerson and Markowitz also showed that when used to promote tissue regeneration, the 15-PGDH inhibitor was safe and didn't produce side effects.
Eventually, the time came for the collaborators to conduct the next level of studies—and that required more funding.
The Harrington Investment
Fortunately, the timing was perfect. In 2012, University Hospitals created the Harrington Discovery Institute, aimed at helping physician-scientists translate their research into solutions that could benefit patients. That same year, Markowitz applied to the institute's inaugural grant competition and received a two-year award for $100,000.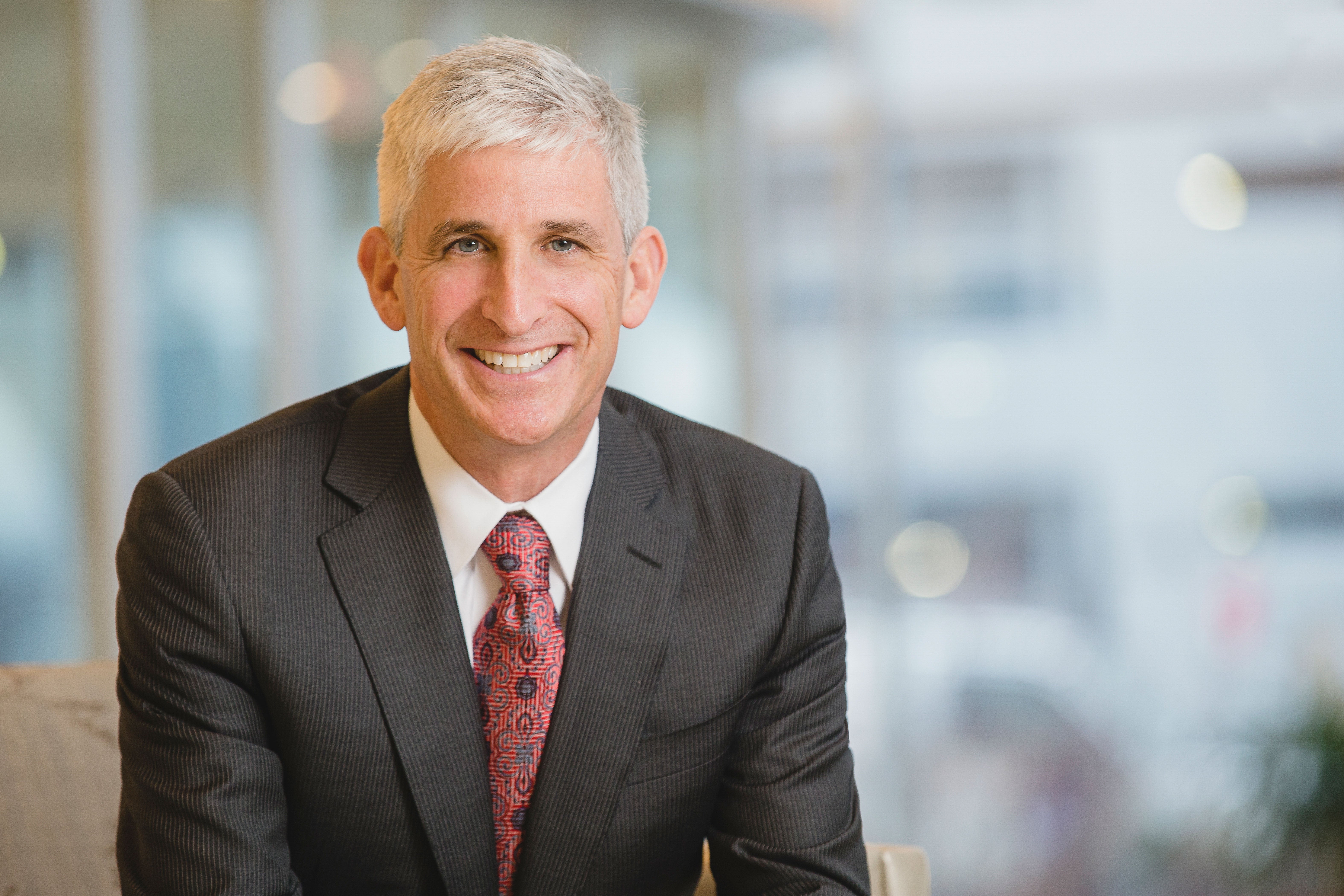 Photo: Courtesy of University Hospitals
"His project fit perfectly with the institute's mission," said Daniel I. Simon, MD, University Hospitals' president of academic and external affairs and a CWRU professor of medicine. "Sandy had a great idea, but he needed more preclinical development. Basically, the institute said, 'We can help you with the two things you need—money and expertise.'"
The grant award came with a team of pharmaceutical industry experts, who mentored the collaborators, helping them navigate the drug-development journey and attract additional investment.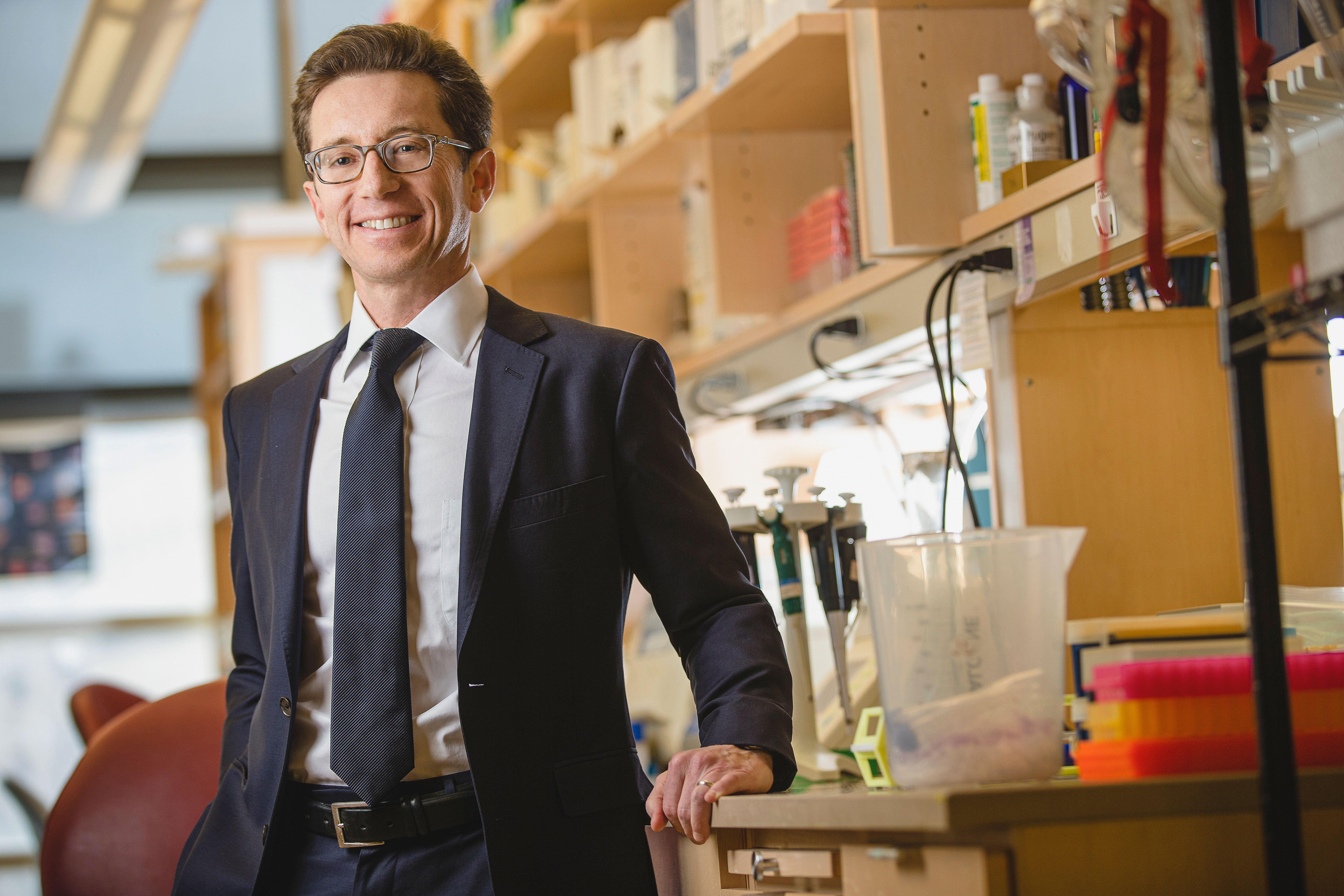 Photo: Courtesy of Harrington Discovery Institute
"We helped Sandy and his team get their ideas to a place where they represented sufficient value to investors so they had the potential to impact human health," said Jonathan S. Stamler, MD, the institute's president, the Robert S. and Sylvia K. Reitman Family Foundation Distinguished Professor of Cardiovascular Innovation and a professor of medicine and biochemistry at the medical school.
The Translation Team
Two years later, Markowitz presented their results to the CWRU medical school's Council for Advancing Human Health, a group of industry experts who advise Vice Dean for Research Mark Chance, PhD, about the commercial potential of faculty research.
"When Sandy went before [the council], he had a drug-like molecule and a proof-of-concept in animal models," said Chance, also the Charles W. and Iona A. Mathias Professor of Cancer Research, who lent his scientific expertise to the project. "But would the molecule work in humans? We didn't know."
So Chance, Bill Harte, PhD, chief translation officer at the medical school, and Michael Haag (GRS '11, biology), executive director of the university's Technology Transfer Office, pitched the project to a variety of biopharmaceutical companies. "We went to one after another and got a heck of a lot of 'no's,'" Chance said.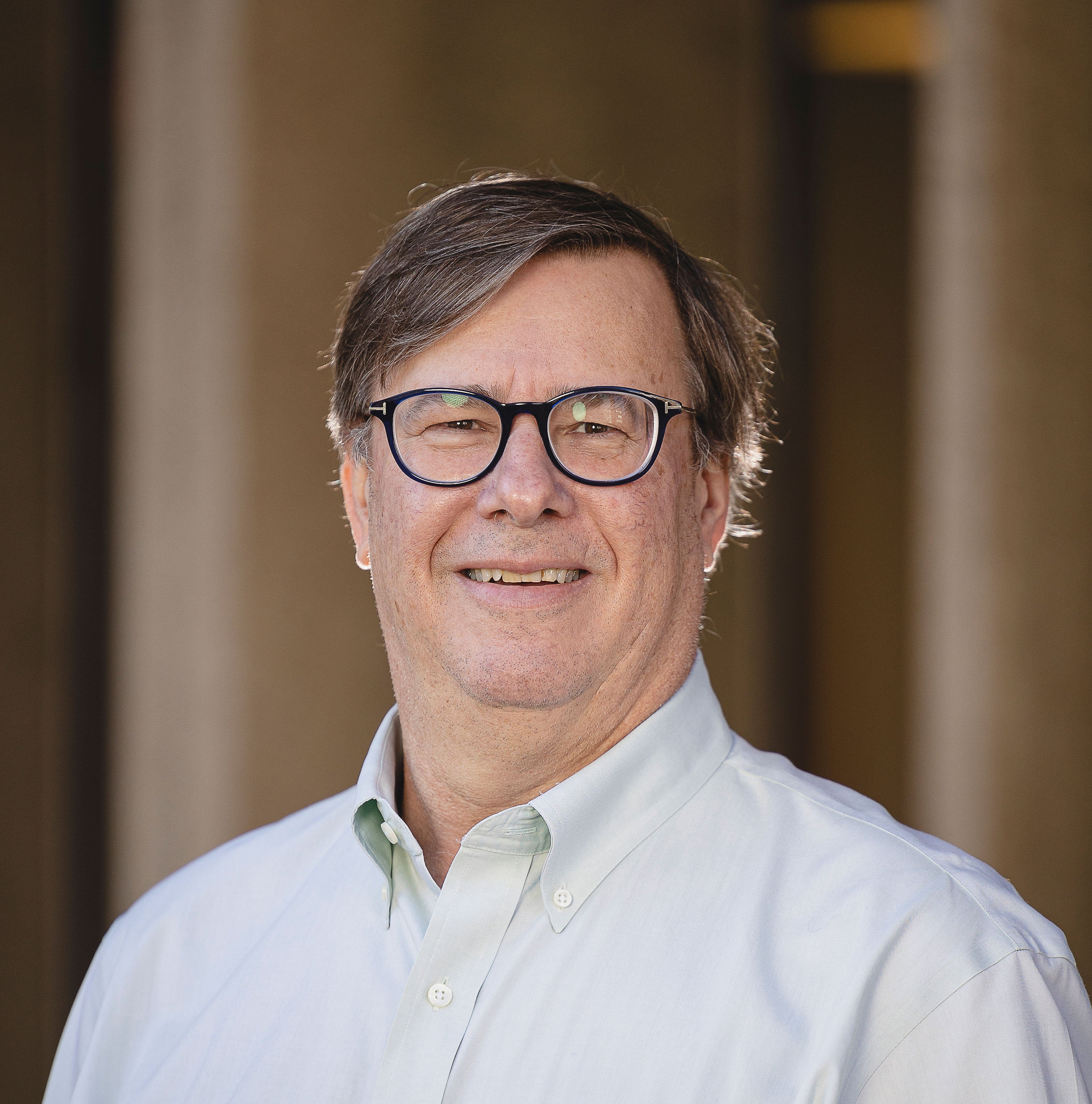 Photo: Matt Shiffler
Then, in 2015, Markowitz and his collaborators published their findings in the journal Science. The article drew global attention and led to negotiations with a possible partner. But at the last minute, the company dropped out.
"We were all taken aback," said Haag. "But as disappointed as we were, we regrouped and renewed our efforts."
In early 2016, the translation team presented the project data to a Johnson & Johnson group that included a biologist from Frankfurt, Germany, and a chemist from New Jersey.
The room seemed charged with promise.
"Then, the chemist said, 'This molecule could go all the way,'" Chance recalled. "I knew we were going to get a deal."
Johnson & Johnson recommended the team contact Accelerator Life Science Partners, a venture-capital firm in which it had invested.
On to Rodeo
Working with the Accelerator firm, Markowitz, Gerson and Ready launched Rodeo Therapeutics as the scientific founders, further developing the technology and moving it forward. Rodeo was funded by $14 million from investors, including major pharmaceutical companies: Eli Lilly & Co., AbbVie and Johnson & Johnson. CWRU and the original scientific team participated through stock and royalty rights received when Rodeo licensed the underlying patents.
The founders chose the "Rodeo" moniker to reflect the "western" in the names of the three co-founders' home universities: Case Western Reserve and UT Southwestern.
"The work at Rodeo was like what we had done before but on steroids, because now we had much more capital on the table," said Markowitz.
Working with the original team, Rodeo developed more drug-like molecules that could be given orally and with even higher therapeutic potency. And last year it created a pill form of the drug.
Finally, the firm was in position to hand off its drug development to a major player—one that could potentially take the technology to human patients.
Amgen's acquisition included rights to the patents of Markowitz, Gerson and Ready, plus rights to related technology developed by Markowitz and Derek Taylor, PhD, a professor of both pharmacology and biochemistry at the medical school.
"Rodeo's 15-PGDH program is a strong strategic fit with Amgen's inflammation portfolio and efforts to develop first-in-class therapeutics for patients," the company said in a March press release announcing the purchase.
Many steps remain before the drug can move into clinical trials, including reviews by the U.S. Food and Drug Administration and hospital institutional review boards. It's not clear how long the process will take.
"We're all going to be holding our breath until we see the first patient get the first pill," said Markowitz, who is serving as a consultant to Amgen. "Until then, we don't know if this biology will translate to humans. But I believe it will."
Researchers' Technology Leads to $70 Million Initial Public Offering
Even as Case Western Reserve's Sanford Markowitz, MD, PhD, worked to develop a drug to make healthy cells grow, he co-led development of technology underlying an esophageal cancer test. In October, Lucid Diagnostics Inc., the company producing those tests, completed a $70 million initial public offering (IPO) on the Nasdaq Global Market. At the IPO price, the company's estimated value would be $467 million.

A subsidiary of New York-based PAVmed Inc., Lucid Diagnostics licensed the EsoCheck and EsoGuard technology through Case Western Reserve's Technology Transfer Office in 2018.

EsoCheck is a swallowable cell-sampling device that, with its accompanying EsoGuard DNA test, can detect both esophageal cancer and Barrett's esophagus, a precancerous condition that puts people at high risk for esophageal cancer, the sixth-most common cause of cancer deaths worldwide.

The underlying technology for both was invented by the team of Markowitz, the Markowitz-Ingalls Professor of Cancer Genetics at the School of Medicine and an oncologist at University Hospitals (UH); Amitabh Chak, MD, a professor of medicine at the medical school and Brown Master Clinician at UH Cleveland Medical Center; and Joseph Willis, MD, a professor of pathology at the school and pathology vice-chair for translational research at UH.