lens
Painting with a Robotic Touch
Innovation could make roadway maintenance safer and less costly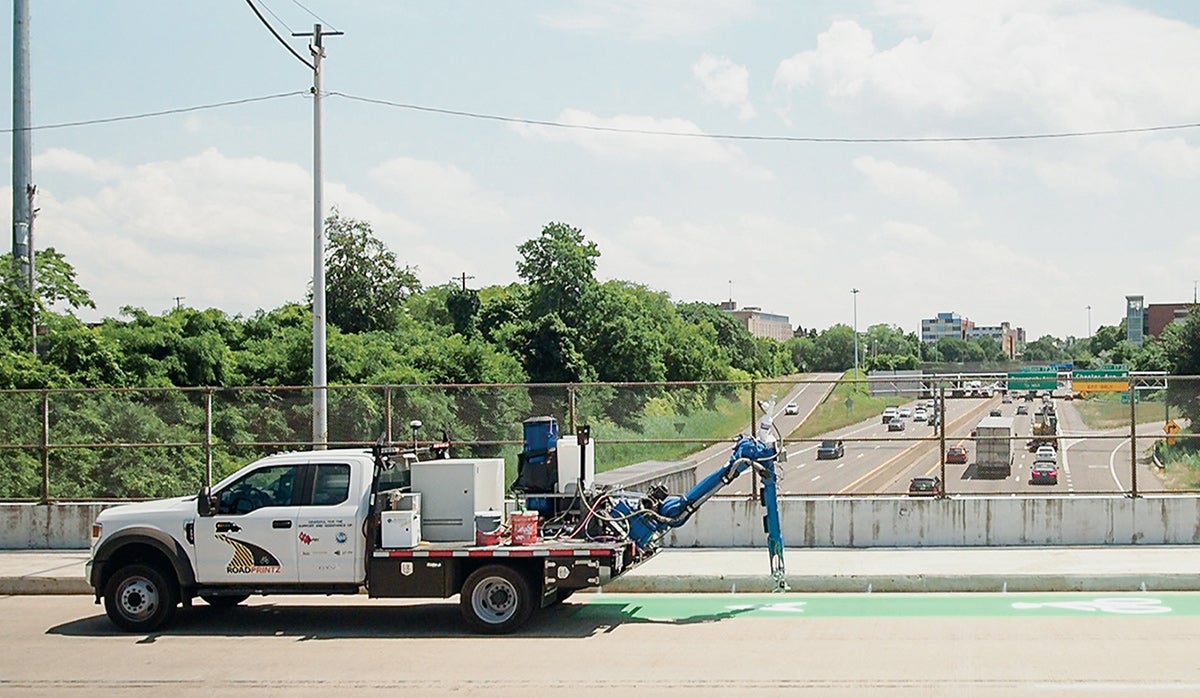 Photo: Blue Heron Productions
Turn arrows, bike lanes and crosswalks are all critical parts of road infrastructure, yet creating those lines and symbols can be expensive for communities—and dangerous for the small teams of workers painting with stencils within feet of passing traffic.
Wyatt Newman, PhD, has a solution for both problems. In 2019, the Case Western Reserve engineering professor co-founded RoadPrintz with his partner, Sam Bell, to build an operator-driven, truck-mounted mobile robotic pavement-marking system.
Earlier this year, the National Science Foundation awarded the company a $1 million grant for continued development. RoadPrintz is now producing systems for testing by specialty pavement-marking companies. CWRU owns the technology and has licensed it to the company.
With the RoadPrintz system, an operator in a flatbed truck uses a computer near the dashboard to drag a symbol such as a turn arrow onto a virtual image of a roadway, and then a robotic arm extending from the back of the truck paints the image in the exact area selected. The system could be used on both roads and airport surfaces, where the precise location of painted symbols is critical.
"Our projections indicate that we could shave the labor costs by 40% while dramatically decreasing worker injury and fatality rates," said Newman, who recently became a professor emeritus but continues to advise graduate students while he works at RoadPrintz full time.