lens
Raising Her Voice
Alumna Shelly McNamara uses her story to help others in the LGBTQ+ community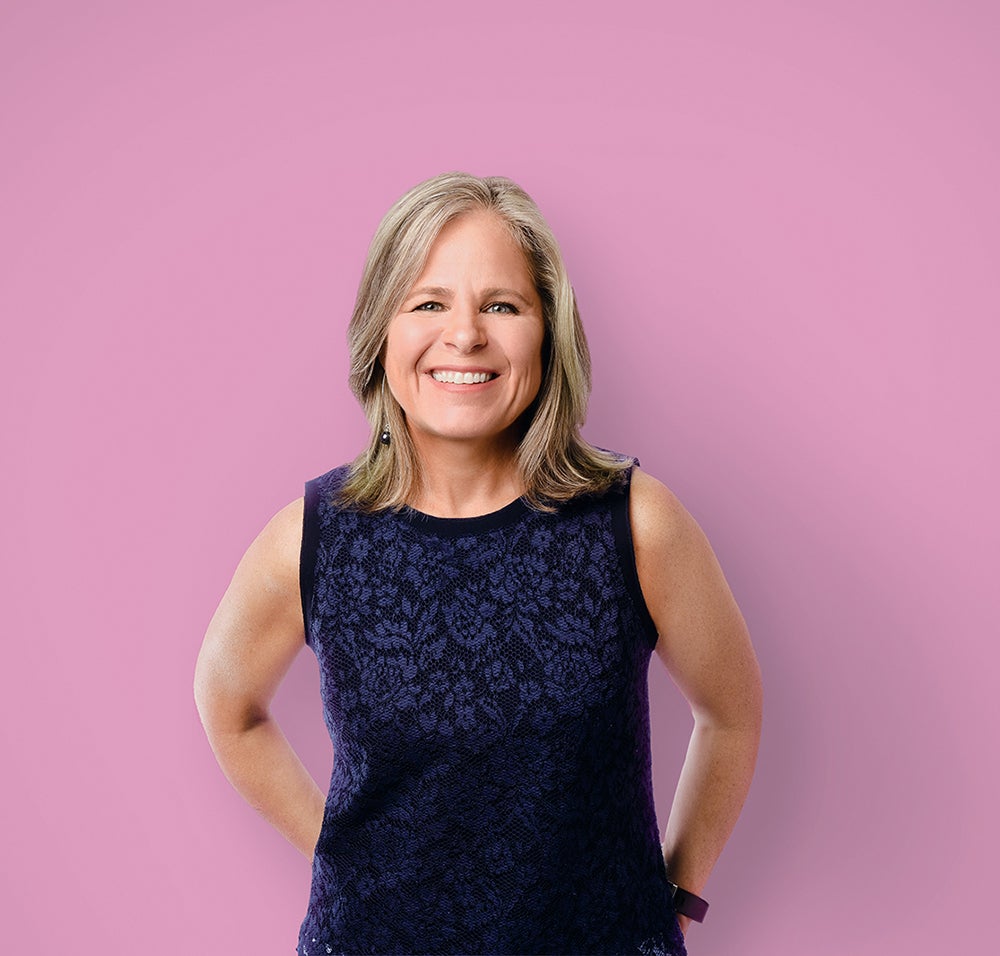 Photo: Charles Cronley
In March 2012, Shelly McNamara stood in front of her colleagues at Procter & Gamble's Cincinnati headquarters and told her personal story—an experience that changed the course of her career.
The company's employee LGBTQ+ group had asked McNamara, a high-ranking human resources executive who is a lesbian, to speak about her family life and journey. But she had never broadcast her experience—the pain of rejection and exclusion as well as the messages of love and the power of allies. Both McNamara and the crowd were moved to tears, and one colleague later told McNamara her speech—both honest and inspiring—saved a life.
McNamara (GRS '91, organizational development and analysis) had been at Procter & Gamble (P&G) for 22 years at that point. After the speech, she began carving out a niche as an informal LGBTQ+ ambassador, traveling to the company's offices and making sure senior leadership knew how to best support their employees.
She also focused on broader organizational change and diversity and inclusion programs.
In 2019, McNamara became chief equality and inclusion officer, a role focused, she said, on helping P&G become one of the most diverse, innovative and inclusive companies in the world. "We're a consumer goods company with 100,000 employees in about 80 countries," she said. "And we know that we can't serve those diverse consumers unless we are diverse."
The youngest of 15 children, McNamara grew up in the Cleveland suburb of Lakewood, and her interest in organizational design and behavior was shaped by her family life.
"I found there was just a range of ways to be in the world," said McNamara, who, in 2020, published a book about her personal journey, No Blanks, No Pauses: A Path to Loving Self and Others.
A revelatory undergraduate course in organizational psychology at the University of Michigan led McNamara to pursue a graduate degree at Case Western Reserve after working a few years at P&G.
"That experience at Case Western [Reserve] profoundly shaped me," said McNamara, noting it supplied her with a core set of values as well as human-resources skills she has carried throughout her career.
For the last six years, she has focused on transforming the systems that help P&G identify, recruit and advance employees. "We've been working to ensure that we build diverse representation of humanity at every level in the company—not only at junior levels, not only in certain functions, but across the corporation," she said.
McNamara is also a member of the World Economic Forum's Community of Chief Diversity & Inclusion Officers and the Cincinnati chamber's Minority Business Accelerator—roles that give her a wide perspective on the work that still needs to be done to enhance the company's approach to diversity in areas from employee development to product sourcing.
"I often hear people refer to diversity as a program or as an initiative," McNamara said. "One of the things we say is, 'We don't bolt it on, we build it in.' When we get to work with, connect with and learn from people who are different than us, we grow as individuals."