features
Holistic Care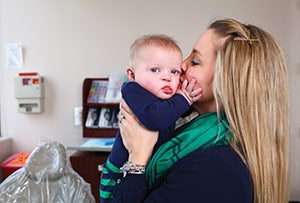 PHOTO: MICHAEL F. MCELROY
As Kristin Zatik lay on an ultrasound table last spring, pregnant with her second child, excitement gave way to fear. Instead of pointing out a foot or hand with enthusiasm, the technician was silent.

Zatik looked at her mom and said, "Something's wrong."

Then, they waited.

Eventually, a physician arrived and explained what the scans showed: Her unborn child had a cleft lip.

"It was very, very emotional," Zatik recalled. "As a mom, it's difficult to know you've grown this child, and your child is not what other people consider perfect."

Zatik, a middle-school teacher from Valley City, Ohio, thought about how others might react. She had taught more than 1,200 students over the years and knew all too well how some kids treated anyone they considered even slightly different. A cleft lip—where the upper lip does not fuse correctly, leaving an obvious gap—could provoke cruel taunts, even outright bullying.

Shaken, Zatik left the ultrasound with the name of a Cleveland Clinic physician. That doctor, in turn, referred Zatik to Case Western Reserve, home of a renowned interprofessional clinic dedicated to repairing face and skull structures— and restoring hope.

Closing the Gaps
Every year, nearly 7,100 babies in the United States—or one in 589—are born with a cleft lip, cleft palate (when the roof of the mouth has not fused together) or both, according to estimates from the U.S. Centers for Disease Control and Prevention. These clefts are the most common types of head and skull anomalies and can lead to difficulties with feeding, breathing, hearing, sleeping and speaking.

The Craniofacial Orthodontic Clinic at the university's School of Dental Medicine works on closing these gaps and providing ongoing care for years as patients' faces grow and change. But its reach is even broader.

It collaborates with specialists from University Hospitals (UH), Cleveland Clinic and The MetroHealth System to treat people from around the region and around the globe who have a range of anomalies and special needs. And it provides training for a new generation of specialists through a fellowship program, which is the first of its type nationally to be accredited, and is a joint endeavor of the university and UH Case Medical Center.

About 150 people are in active treatment at the Craniofacial Orthodontic Clinic, with conditions that include abnormal head development, lower jaw deformities, craniofacial tumors and traumatic injuries. The clinic also treats patients who need more than standard orthodontic care because of diagnoses for cerebral palsy, autism, sickle cell anemia and Down syndrome.

Patients include children of all ages who need periodic treatments, surgeries and strategies for strengthening their self-image; battered women and victims of auto accidents in need of facial reconstruction; and children with developmental disabilities who resist opening their mouths for exams until they feel a rapport with their doctor— a process that can take months.

"The big buzzwords all over campus and all over education right now are 'interprofessional education,'" said Manish Valiathan, MSD (DEN '99), director of the clinic and founding director of the fellowship program. "This patient base lends itself precisely to that opportunity. Whether it's social work, dentistry, medicine, surgery—they are all involved in the rehabilitation of these children."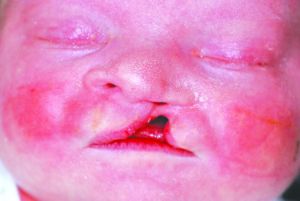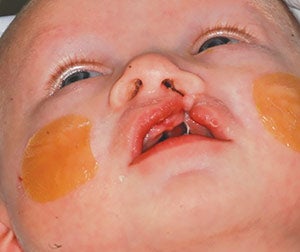 PHOTO: THE SCHOOL OF DENTAL MEDICINE'S CRANIOFACIAL ORTHODONTIC CLINIC
Early Intervention
Zatik was seven months pregnant when she, her husband, Alan, and her mom first met with Valiathan and the team. When the Zatiks' son, Greyson, was born last July, they learned he had a cleft palate in addition to the cleft lip, which also led to the collapse of his left nostril.

"The development of the face requires such precise timing that just a few hours can make all the difference in how a lip forms," said Mark Hans, MSD (DEN '81), professor and chair of the dental school's Department of Orthodontics. "It's not surprising that it goes wrong. What's surprising is that it goes right so often."

The cause of cleft lips or palates often is unknown. Typically it is unrelated to something the parents did, or the mother did while she was pregnant, Hans added.

The craniofacial team first saw Greyson when he was 2 weeks old. They made a mold of his palate to create what's called a Nasal Alveolar Molding device. "The molding gunk was in his mouth and I'm holding him saying, 'OK, it's OK, he's still breathing,'" Zatik said. "It was very difficult."

Team members inserted the device into his mouth two weeks later to help move malleable cartilage and surrounding tissue into proper formation. They also showed Zatik how to apply tape to Greyson's tiny face to help pull the lip tissue together. (Greyson's 2-year-old sister, Lucy, showed support by taping the lips of her baby dolls). Zatik, with help from Alan, her mother, father and grandmother, then brought Greyson back to the campus clinic every Friday for the next 16 weeks.

As the device did its work, clinic staff shaved it down as the segments of the palate grew closer together. At 5 months, Greyson, then weighing 11 pounds, had his lip repaired and his nose reformed at Cleveland Clinic.

Care and Compassion
Valiathan, who was born in Washington, D.C., while his parents were in advanced programs—his dad for cardiac surgery and his mom for orthodontics—moved to India when he was 4. He received his initial dental training at India's Manipal University and then, after arriving at Case Western Reserve in 1996, retrained in dentistry and orthodontics. He joined the dental school faculty in 2000 and is an associate professor in the departments of orthodontics, pediatric dentistry and plastic surgery.

His mother's work definitely influenced Valiathan's career choice. But why craniofacial repairs? It's the chance to fix anomalies that otherwise could scar a child for life; the chance to focus not only on the teeth or face but the wellbeing of both the child and family, he explained. That's why Valiathan urges parents to text him any time with questions or photos showing worrisome developments involving their child's face or mouthpiece. "They're going through quite a bit," he said, "and it's reassuring for them to know they can reach out."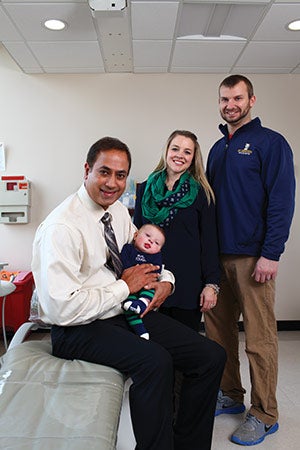 PHOTO: MICHAEL F. MCELROY
Valiathan has both a charming and commanding presence when he enters a room and an easy-going manner with colleagues and patients, many of whom affectionately shorthand his name.

"Dr. V. has the technical expertise, but it goes beyond that," said John Rasinski, who brings his developmentally disabled teenage son, John Paul, from their Akron home for monthly visits for a narrow palate. "He is very good with people, and that's what makes him so exceptional. It has been a true blessing to have him as my son's orthodontist."

During recent rounds, Valiathan reassured parents, some with anxiety written on their faces as they wrestle with squirming youngsters. One mother held her daughter upside down so he could get a clear look at her palate.

Knowing that the tidal wave of information about treatments can be daunting, he told another mother: "One thing I would recommend is don't go home and Google this stuff. It can be pretty overwhelming. Just come back and ask us."

"I Google a lot," said the mom, laughing. "I Googled you."

Making the Rounds
Two Wednesday afternoons a month, the craniofacial team, which can include as many as 25 people, assembles for rounds at The Irving and Jeanne Tapper Pediatric Dental Center at UH Rainbow Babies & Children's Hospital. Parents and their children wait in the examination rooms while specialists rotate in and out.

"We all take our piece of the puzzle, and then we meet up later to discuss each patient," said Todd Otteson, MD, chief of pediatric otolaryngology (ear, nose and throat surgery) at UH Rainbow and UH Case Medical Center and associate professor in the departments of pediatrics and otolaryngology at Case Western Reserve School of Medicine.

"I like this approach because it is less intimidating for the patient," he said. "We take turns. Otherwise, it can be overwhelming to suddenly have 25 doctors in white coats in the room."

One afternoon, the team making rounds included specialists in audiology, dentistry, ENT, orthodontics, genetics, oral-maxillofacial surgery, plastic surgery, social work, speech, developmental pediatrics, occupational therapy and psychology.

Irene Link (SAS '12), a pediatric social worker at UH Rainbow, counsels parents on the array of available services. "For parents of a newborn, I check in on their support system," she said. "Do they have extended family? Do they have community resources?"

Link also offers a monthly support group that gives parents an opportunity to vent and share ideas.

"The demands of the first year of craniofacial care can exacerbate anything that is already going on with the parents in terms of emotional issues," said Link, who also advises families on strategies for dealing with issues at school: teasing, bullying, self-esteem and depression.

Zatik said that kind of resource is great, and if her daughter, Lucy, encounters any bullying about Greyson, she'll know where to turn for advice. But while Zatik initially worried that Greyson might be bullied, she doesn't now—not since he was diagnosed with Down syndrome. "I think people are more forgiving and are less likely to bully or be unkind when they know there's a cognitive disability and not just a cosmetic disability," she said.

One morning in early January, Zatik was back at the clinic for a checkup for 6-month-old Greyson, whose lip and nose surgery a month earlier was a success.

"Dr. V. and his team have been amazing," said Zatik, who refers to them as her "miracle makers." "Every time I have needed to call or email, one of them responds to me within the hour. I called on a weekend when a piece of Greyson's device came off, and they were able to walk me through what to do." She knows that's standard practice for Valiathan and his team.

In addition to his facial issues and Down syndrome, Greyson was born with a heart defect and spent his first week of life in the neonatal intensive care unit.

"He's such a fighter," said his mom.

As Greyson smiles brightly through a newly minted lip, his mother's conviction is spelled out right on his T-shirt: "Built Tough."

---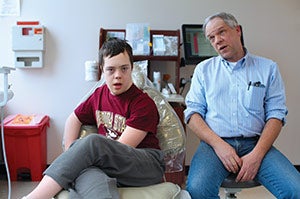 PHOTO: MICHAEL F. MCELROY
Craniofacial Clinic's Global Reach
What: The Craniofacial Orthodontic Clinic is in the School of Dental Medicine's Broadbent Institute for Craniofacial Care and Research.

The first: In 2011, it became the first dental-school-based program in the country to be accredited by the Commission on Dental Accreditation for its Craniofacial, Surgical and Special Care Fellowship Program in Orthodontics. The program is a joint venture of the university and University Hospitals (UH) Case Medical Center, and each year accepts two fellows who already have earned their dental and orthodontic degrees.

"We teach the fellows how to make devices worn inside the mouth that are adjusted weekly to reduce the size of the cleft and reshape tissues and the nasal cavity. The fellows are also trained to address the special needs of patients with a range of disabilities in a hospital setting," said Gerald Ferretti, DDS, professor and chair of pediatric dentistry at the dental school and chief of dentistry at UH Rainbow Babies & Children's Hospital.

Meet some fellows: Sorapan Smuthkochorn, MSD (DEN '15), wrapped up her fellowship last December and headed home to Thailand, where she hopes to teach and join a craniofacial team. "These children are so brave," she said. "That's what fueled me to love going to the clinic every day." Likewise, Suliman Shahin, who will finish his fellowship this summer, aims to launch a craniofacial team back home in Saudi Arabia. He said the incidence of children born with cleft lips and palates there is about twice as high as it is in developed countries.

Global impact: The clinic's reach was especially evident last fall when Mark Hans, MSD (DEN '81), professor and chair of the dental school's Department of Orthodontics and a Fulbright Specialist Award recipient, traveled to Greece to consult on a new cleft lip and palate center at the University of Athens. Hans worked with the faculty to finetune training, curriculum and a team approach to developing a diagnosis."