features
Signature Caricatures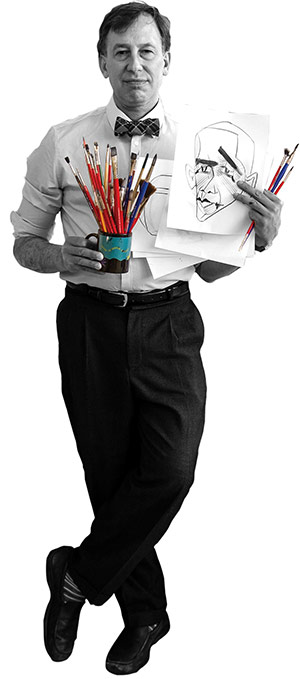 PHOTO: MICHAEL GOSS
The clock in the artist's studio in downtown Chicago ticks toward the weekly 4 p.m. Friday deadline. That's when, some 800 miles away in offices overlooking New York City's financial district, the latest issue of The New Yorker will be "put to bed," and another round of signature caricatures for the magazine's up-front pages will be set in ink, to be eyed by readers across the globe.

But now, hours earlier, in the 12th-floor studio strewn with pen-and-ink drawings, a who's who from headlines of the week—presidential candidates Hillary Clinton and Donald Trump, beaming from inside a pair of shooting stars; novelist John Irving, crouched in a wrestler's stance; prim-lipped Mrs. Hughes and Mr. Carson, of Downton Abbey fame—there is only silence.

And excruciating waiting. In the shadow of the deadline, each minute's void is cavernous, until finally, at 12:39 p.m., an email arrives. It's from an editor, telling the artist that he has pulled from his pen precisely the image—and the big idea for a handgun drawing—The New Yorker wanted. Moving from marker to brush and ink, he spends the next few hours adding the trademark details that infuse his work with equal parts whimsy and intelligence.

This is the every-week rhythm for Tom Bachtell (WRC '80), a self-taught caricaturist with a razor-sharp knack for distilling his subject's essence to a few fluid lines. On deadline. Under pressure that would wilt a lesser hand.

"I'm essentially sitting on a stoop pointing things out, looking at the world, giving my impressions of life as it's marching by," said the soft-spoken Bachtell.
PHOTO: MICHAEL GOSS
For the last 23 years, this artist, who terms his approach "gently ribbing," has been The New Yorker's front-of-the-book artist-in-non-residence. He brings his stylistic swift strokes and clear-eyed observations to a 91-year-old magazine beloved for its insight and humor, canny caricatures and cartoons, new fiction, au-courant cultural musings and in-depth journalism.

His is a zigzagging story, one propelled early on by disparate passions that hardly pointed toward the drawing table. After turning down Yale and Wesleyan universities for the broad palette of Case Western Reserve University and the Cleveland Institute of Music, Bachtell immersed himself in dance, piano, harpsichord and literature, graduating magna cum laude with a double major in music and English, and a minor in dance.

Two post-college epiphanies and an art director's unexpected insistence that he produce his first ready-for-publication caricature on deadline eventually led Bachtell to his perch at The New Yorker, where he creates two to three drawings a week for the magazine's "The Talk of the Town" section.


ILLUSTRATION: Tom Bachtell
Those early passions weren't lost on the road to the inkwell. They're at the heart of his approach to his craft. His disciplined artistry gained in piano practice rooms and dance studios, and a spot-on eye for sizing up whatever or whomever lays in his focus, have landed his caricatures in such publications as Entertainment Weekly, Newsweek, Forbes, Bon Appétit, Town & Country and Mother Jones, as well as The New York Times, The Wall Street Journal, New York magazine, The New York Observer, London's Evening Standard and Poetry magazine.

"I think he's one of the most deft and sharp caricaturists alive, if not the finest alive," said Chris Ware, an award-winning cartoonist, best-selling graphic novelist and Bachtell admirer from afar.
Keen-Eyed from the Get-Go
So how, precisely, does a kid from Hudson, Ohio—whose father, a systems engineer, up and quit his job at the Goodyear Aerospace Corp. in protest over a Vietnam War contract, and whose mother parlayed her years of League of Women Voters activism into a post as assistant director of admissions at Antioch College in Yellow Springs, Ohio—how does that kid wind up drawing for The New Yorker?

A starting point might be when Tom was 5 and his mother plopped her trio at the kitchen table for a regular family draw-athon. Young Tom picked up a pencil, set to work on a sketch and then lifted the page to show it all around. He smiled shyly as they all gasped at how he'd nailed an uncanny likeness of his mama.

"He always had such an intense interest in people," recalled his sister, Barbara Bachtell, a mixed-media artist who now runs Cleveland's Broadway School for Music and the Arts (and whose son, Ethan Tucker, is a Case Western Reserve junior and physics major). "Tom was such a strong observer of people—not just facial features, but their whole persona. He had a real knack for rendering that."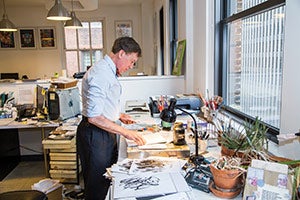 PHOTO: MICHAEL GOSS
During the 1960s, their parents' "cocktail party society" fascinated Tom. "One night, I remember the living room was packed, and I was walking underfoot, this curious kid, and no one seemed to notice me," he recalled. "I ogled all these characters, then ran upstairs and drew the whole scene on a big green chalkboard. My family loved it. No one ever wanted to erase it. I realized I had created a thing apart, and special."

At Case Western Reserve, Bachtell threw himself into Shakespeare and creative writing courses; took both Eurhythmics classes (which teach rhythmic awareness through movement) and music lessons at Cleveland Institute of Music (under a joint program with CWRU); practiced classical piano by the hour; and regularly uncorked late-night harpsichord concerts in Harkness Chapel for his dorm mates—all budding artists.

Artist David Lee Csicsko—who studied at Cleveland Institute of Art and became one of Bachtell's first and best friends from college—recalled being rapt back in the fall of 1975 when Bachtell, as a first-year student, beat him out for a job assisting Cleveland Orchestra conductor Lorin Maazel. Then, not a week later, Csicsko caught sight of Bachtell in his tennis whites and thought: "La-di-da! Who is this character?"

That same fall, Bachtell took Modern Dance 103 and drew the eye of Kathryn Karipides (GRS '59, physical education), then chair of the dance department. She loved his deep curiosity and inner quietness. "When he came to my class, it was as if it was the most important thing in the world," said Karipides, the Samuel B. & Virginia C. Knight Professor Emerita of Humanities.

While Bachtell didn't consider cartooning "a legitimate academic pursuit" then, he did squeeze a few art classes into his schedule. Word was that he was the standout in those classes. Csicsko remembers being delighted, and decidedly impressed, the few times Bachtell dared to show his artwork to his coterie of art-student friends.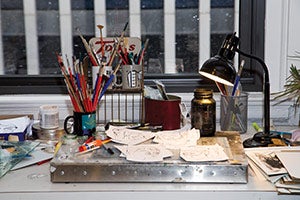 PHOTO: MICHAEL GOSS
Cartoon Epiphany
Despite his love for dance and music (he teaches swing dance in Chicago and plays piano in a classical ensemble every Sunday), Bachtell long had harbored dreams of being an artist, specifically a cartoonist. He'd actually been obsessed through childhood with The New Yorker and its iconic cartoonist James Thurber.

"I had this epiphany," said Bachtell of the first of two post-college reckonings that re-scripted his life's narrative. By that time, he was working as an account executive for a Cleveland public relations firm. "I was walking back from the grocery store, and I was weighing my future, music versus English, when suddenly I thought, 'You know, what you really want to be is a cartoonist.' And you have this something, this instinct, telling you, 'You could do it.' I just listened to it."

Let's just say his aha moment and subsequent declaration of cartooning dreams weren't met with ringing paternal endorsement.

"When I told my dad, he looked at me and said: 'Son, are you sure? [Long pause.] You're not particularly funny.'"

More emboldened than ever, he moved in 1983 to Chicago, where his old friend Csicsko already was succeeding in the art world. Bachtell took a day job copywriting for the catalog retailer Montgomery Ward & Co. By night, stationed at his kitchen table, Bachtell drew. When he mustered courage, he sent drawings to local art directors. Csicsko had made a few introductions. But Bachtell's hopes were sputtering.

And then his mother—his lifelong inspiration and No. 1 believer—died of ovarian cancer. Bachtell was only 26. In the wake of his grief came his second epiphany.

"When my mom was suddenly gone, I realized if I didn't do it, it wasn't going to happen," he said.

Bachtell upped production from his nightly drawing station.

In 1985, Mare Earley, then an art director at the Chicago Tribune, found a stash of Bachtell's work on her drafting table. "'You have to come see me, you're amazing!'" she recalled shouting into the phone within minutes of eyeing his pen-and-ink sketches. Bachtell soon was drawing for the back page of the Tribune's weekly style section.

Earley then moved to the Tribune's Sunday magazine. On a Friday soon after, she dialed up Bachtell, by then her go-to guy. "We're doing a cover story on [a notable figure, although neither art director nor artist remembers who that unforgettable person was]. I need a caricature."

Replied Bachtell: "I don't really do caricatures."

"You do now!" Earley insisted, giving him a Tuesday deadline.

Bachtell all but chained himself to his kitchen table for the weekend. Monday morning, first thing, Earley walked into the office and there was Bachtell, bearing some 200 attempts at the elusive caricature.

"After going through the stack of sketches, I pulled one out, and said, 'Here it is! You nailed it!'" said Earley, now an art director and graphic designer in New York. "When you reduce someone's personality to strokes, it's the hardest thing in the world to do. There are maybe six or seven people in the country who can do it. Some people draw, but they can't get a likeness. It's innate. I don't think you can teach it."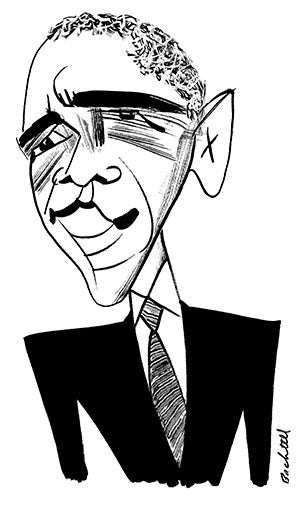 Rhythmic Lines
Caricature is a centuries-old tradition of social commentary, whose practitioners trace back to Leonardo DaVinci.

"A good caricature says something that can't always be reduced to, or translated into, words," Bachtell said. "It can be a tricky thing because people often associate caricature with exaggeration, which it's not. There has to be a living quality to the drawing. Ultimately, it reflects my capacity as an observer."

Christine Curry, The New Yorker's illustration editor who hired Bachtell, tracked him down at his Chicago kitchen table in 1988 after she'd spotted a Tom Wolfe caricature he did for the cover of another magazine, Advertising Age. She was captivated, she recalled, by his "loose line," and his gift for "capturing likenesses," a quixotic yet non-negotiable element of the art of caricature. "He's a master at disguising hours of disciplined concentration to give his work a 'dashed-off quality,'" she said. "His great talent is a gift to us all."

To this day, Bachtell remembers the moment The New Yorker came calling as "an out-of-body experience." This was, after all, the magazine whose cartoons had transfixed him since childhood.

And all these years later, it's Bachtell—coming through in the clutch for 47 issues each and every year—who captivates The New Yorkers.

"It's quite amazing to see how he develops a subject each week," Katie Long, his immediate art director at The New Yorker, wrote in an email. "I receive many sketches, all with just slight variations. (We call this the Bachtell game. Spot the differences!) But these slight variations capture the subject every time. You reach that one and it just clicks: 'He got it! That's the one!' It's a great moment that I'm sure he feels all the way in Chicago."

Bachtell taught himself the art of caricature through endless hours of drawing and hoping, as he put it, for "the lines to fall into place." Now, before he puts pen to paper, Bachtell pores over photographs and, ever the student of movement, watches video clips to better capture the "lightning vitality" that great caricature demands.

The lessons he extracted from dance and music never fade.

Karipides—who still sees Bachtell for an annual dinner—loves seeing in his work "that rhythm of line" practiced so assiduously in her dance studio. Csicsko—now a much-acclaimed artist and designer who shares a downtown art studio in Chicago with Bachtell—sees physicality and musicality. "If you put on the right music," he said, "those figures would come to life easily."

It's those deeply embedded lessons—evident even when one's college study isn't explicitly the course of one's life—that Bachtell described to Cyrus Taylor, PhD, who reached out after becoming dean of the university's College of Arts and Sciences in 2006. "Tom opened my eyes to the fact that [dance] speaks powerfully to people and plays a role in the soulfulness of their lives," said Taylor, also the Albert A. Michelson Professor in Physics. During nearly a decade of conversation, Taylor has come to treasure the depth of Bachtell's "humanity and wisdom."

Whether Bachtell learned a life's worth of lessons in dance studios or practice rooms, or, years later, under the lamplight in his Chicago kitchen, the point is he gleaned what he needed to find his way—eventually—to the drawing table that is his perch, where he keeps watch on life's passing parade. And that, in the end, is the place where his compass always has been pointed.

It's The New Yorker front stoop—where, week after week, the kid from Ohio captures the global gestalt in a few fine lines—that "has connected me to the world, even though I spend a lot of time at the drawing table in solitude," Bachtell said. "When the magic in a drawing happens, it's a very still moment. It's probably as close to a moment of ecstasy as anything in my life."