FEATURE Business and Policy
Serial Entrepreneur
Peter Tippett Has Spent His Life at the Nexus of Science and Technology. Now He's Turned His Attention to a Project He Hopes Will Improve America's Health-Care System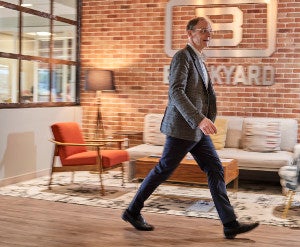 PHOTO: Cameron Davidson
From the cockpit of his twin-prop Beechcraft Duke airplane, Peter Tippett, PhD, MD (GRS '81, biochemistry; MED '83), can see for miles on a bright, pleasant day. But Tippett, a doctor, scientist, entrepreneur, pilot and self-described "tinkerer," doesn't have to be at 15,000 feet to have a clear vision of where he—and the industries in which he's involved—are heading.
Throughout a varied and highly successful career, he's had an almost Forrest Gump-like knack for being at the genesis of breakthrough in a number of fields. From developing software that would become the ubiquitous Norton AntiVirus to building part of the first-of-its kind disease-fighting protein, Tippett always seems to be ahead of the curve. In the process, he gained the eye of the George W. Bush Administration, which named him to a presidential advisory committee on information technology.
These days, the energetic and innovative Tippett is tackling perhaps his biggest challenge yet: turning the bloated, costly and cumbersome world of electronic medical records on its head. Instead of relying on institution-controlled health information exchanges to share records, Tippett wants to empower doctors and patients. The name of his company— HealthCelerate—hints at the urgency with which he wants to transform the system, and a lifetime of cutting-edge achievement suggests he may be just the guy for the challenge.
"You'd think in 15 years of trying to put medical record products in every hospital that we'd have solved this problem," he said. "But even today, if you want to send something from some big organization to some little place out in the country, it still comes on paper. And if you want to go get your mom's medical record, good luck with that. It's the law—they must give it to your mom if she wants it—but they often give it to her on paper, or on a CD or DVD. If you take the DVD to the next doctor, it will be unusable and incompatible with the electronic medical record systems of the vast majority of doctors. This is today!"
Sitting in a conference room one morning in the office space he shares with other startups in a nondescript strip mall in Virginia, about 35 miles northwest of Washington, D.C., Tippett raised his voice in excitement as he talked about his latest venture. A transplanted Michigander with a fable Midwestern ease, he tends to see most problems as opportunities, not roadblocks.
Tippett has just come from the airport after visiting his family in Cleveland. For this trip, he has hopped on a commercial carrier (he has flown more than 1 million miles on multiple airlines), but to get to meetings the next day in New Jersey and New York, he'll fly himself. Aviation is more of time-saver than a thrill or a passion for the workaholic Tippett, who said he needs only about five hours of sleep a night.
"Peter's done a lot of significant things in his life," said Darryl Shaw, a former colleague at Verizon and now an adviser to HealthCelerate. "Among them, he has been a research assistant to a Nobel Prize laureate, created and sold successful companies and served on a presidential advisory committee. Despite this, he is also a very real, down-to-earth person. He easily can have a highly detailed conversation with a programmer about some esoteric technical topic, and yet also have a wide-ranging discussion with a CEO explaining the state of the company's industry. And, in each case, he'll do so in a genuine and unpretentious manner."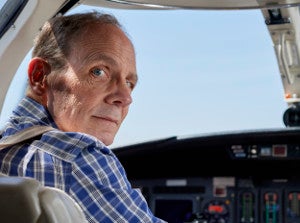 PHOTO: Cameron Davidson
SEEING WHAT OTHERS DIDN'T
Tippett grew up in Dearborn, Michigan, where his father, James, worked in insurance sales, while his mother, Phyllis, tended to the home. From an early age, he was fascinated by how things were built. At 13, he became a ham radio operator and loved using Morse code. The Henry Ford Museum near his home featured an exhibit on radios, and he ascended to the presidency of its radio club, spending many a night at the museum broadcasting into the wee hours.
While most kids his age were learning to parallel park, Tippett was taking flying lessons. A blizzard delayed his first solo flight until three days after his 16th birthday.
At Kalamazoo College, he majored in biology and worked as an intern at a cholesterol research lab in Cincinnati.
"I was the third human being to eat what was then called sucrose octa-ester, which is now called Olestra," he recalled. "It was originally thought to be able to lower cholesterol. I ate a diet with X-number of calories where they took the fat out and put this stuff in instead."
Participation in the study required him to live in a hospital for three months, in part so his diet could be strictly controlled. Bored in his temporary digs, he wandered down to the emergency room, where he worked evenings sewing up people and wrote a program to compile the results of the cholesterol study. He found he enjoyed medicine and the newfangled world of computers.
After graduating in 1975, he landed a position as research assistant to Robert Bruce Merrifield (who won the Nobel Prize for chemistry in 1984) at Rockefeller University in New York City. There, he wrote a program to simplify the process of creating proteins and, for his own project, synthesized the segment of the disease-fighting protein, formally known as the first biologically active immunoglobulin segment.
Tippett was interested in medical school, but didn't particularly care for the overly competitive nature of pre-med students. Still, he was drawn to Case Western Reserve's MD-PhD program.
"The neat thing about the Case [Western Reserve] medical school was that it was kind of an experiential model," he said. "It was less about classes and grades and more about digging in. You immediately got hooked up with patients. I liked the intellectual challenge of it, and I liked the patient interaction parts of it."
While working 120 hours a week during his residency and internship at what is now MetroHealth Medical Center, he started a software company out of his home in the Coventry neighborhood of Cleveland Heights. In 1987, he heard about a computer virus that affected Lehigh University in Pennsylvania.
"That got me intrigued, and I found that there had been another virus, and I theorized how that had to work," he said. "People say, 'You're a doctor and that's why you got into viruses, and you applied biochemistry to virus.' I never thought that was true. How the math of replication works was intuitively obvious to me. If you put a single bacterium on a petri dish, it turns into two bacteria. Those two each have another one and it becomes four, and then each other divides and it becomes eight. Whether any given [computer virus] becomes a real problem or not, who knows, but to the extent that they grow exponentially due to their nature, it's guaranteed that everybody's going to need some protection from them."
So Tippett and his programming team, most of whom were Case Western Reserve students, wrote an anti-virus program eventually called Certus. As the company grew, so did the competition. In 1992, Tippett sold it to Symantec (which changed the product name to Norton AntiVirus) for a sum that would have allowed him to retire.
"Back in the early days of anti-virus, people scoffed at Peter," said Bob Bales, a longtime business associate and friend. "He would draw graphs and show exponential growth of computer viruses. People would say, 'That's the Tippett Curve, some marketing thing.' But he tends to see stuff that other people don't and, as a result, sometimes people kind of laugh and say, 'That's just Peter.' But he's right more often than he's wrong."
After working for two contractually mandated years at Symantec, he went on to co-found a company that eventually became Cybertrust, a computer network protection company sold to Verizon in 2007. Tippett, who seems to create companies at the same rate most people replace their cars, founded HealthCelerate in 2015 after leaving the telecom behemoth.
"I didn't start out thinking I was good at starting companies, but I've come to realize that I seem to get something about what's going to be true about a market in two or three or four years," he said.
PUTTING RECORDS IN PATIENTS' HANDS
Tippett's long believed that improvements in health-related information technology (IT) will lead to healthier people, longer life expectancies and billions of dollars in health-care savings. However, his view is that the prevailing approach today toward health information exchanges run by large providers is deeply flawed. This isn't the first time he's been a naysayer. He also played that role in the mid-2000s when he served on the President's Information Technology Advisory Committee under George W. Bush.
"I didn't think keeping all the medical records in one place and having people go get them was the right way to go," Tippett said. "That was then, and still is now, the predominant theory. For a bunch of reasons, I thought that wouldn't work, and it's turned out to not work."
Tippett said several factors play into that, the biggest being that there's no universal or standard way to send a medical record from one clinician to another—and fetching a record from a different hospital is basically impossible. A related issue is the incompatibility of different electronic medical record systems. And then there's the issue of competition between hospitals, Tippett said, which can thwart cooperation.
The approach should be inverted, Tippett argues. Instead of relying on hospitals to share, he wants to allow doctors or patients easy access and share the patients' records.
HealthCelerate has built a system that was launched in late February. It is disruptive to the machine-to-machine, big-system-to-big-system model because it's controlled by individuals. A cloud-based service allows patients or doctors to send medical records to other doctors regardless of the original format, and allows doctors to access the records regardless of the platform they use. The company's website says it provides tools that make this easy for "the busiest doctor to the most technology-phobic individual in the general population." Tippett offered an example of how the system could work: A doctor in an emergency room reviews an X-ray with a patient whose bone is broken and then forwards the image to an orthopedist (who could be across the country), thus eliminating the need for a costly and wasteful second X-ray.
"All I'm doing is making it easier for you or your doctor to have your complete record in a way that's usable by machines and people so we can get the benefit of digitization on a personal level," Tippett said. If he succeeds, Tippett may alter a major component of American health care. It's a tall task, certainly, but at heart, he remains a tinkerer, determined to disrupt the system until he gets it just right.
"I still have that desire to actually fix things," he said. "This notion of doing something big enough to actually change the course of security, or health care, or whatever—if that's within your grasp, why wouldn't you do it?"