LENS Narrate
But Why?
Explaining Some of Daily Life's Curiosities Through Research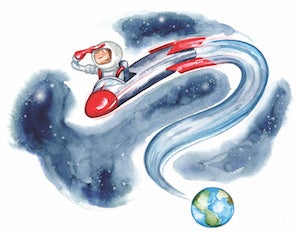 All exploration begins with some kind of question: Why? What if? How? Human curiosity is what drives space travel, life-preserving medical breakthroughs, ingenious consumer-technology developments—and everything in between.
While Case Western Reserve University researchers tackle big, compelling questions, they also examine smaller, quirky ones: Why don't we retain memories from our toddler years? Why does cutting onions make me cry? Why does rubbing a balloon on my hair make it stick?
We asked some faculty members to explain the science behind these phenomena as well as some of life's other peculiarities.
Illustrations by Tim Bower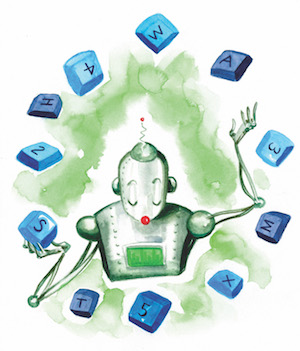 WHY CAN I ACCURATELY TYPE WITHOUT LOOKING AT THE KEYBOARD, BUT CAN'T CALL OUT THE ORDER OF THE KEYS?
There is a certain point where some motions—think eating with silverware—become "automatic." They move to a higher center of the brain and are almost out of your conscious control. So, if you have been typing for quite some time, your fingers can navigate the keyboard all by themselves.
In addition, "the design of the keyboard itself has a rich history: Keys were grouped based on rules of phonics and spelling so that the most likely letter combinations are easy keystrokes. That in itself represents an amazing feat of engineering."
—Kathleen Horvath, PhD, an associate professor and director of orchestras in the Department of Music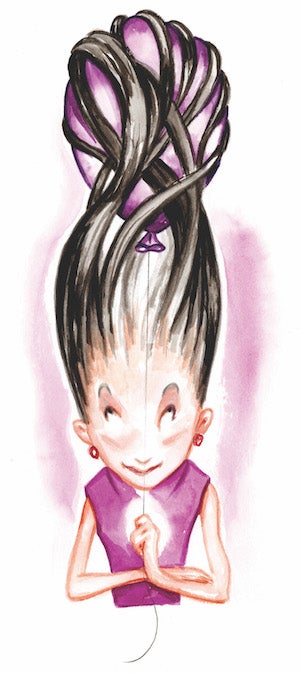 WHY DOES RUBBING A BALLOON ON YOUR HAIR MAKE IT STICK?
It's the same reason packing peanuts stick to your arm. You've experienced "triboelectricity"—that is, an electrostatic charge that happens when surfaces rub against each other. Because the two surfaces charge oppositely (one negative and one positive), they will be attracted to each other and stick. But why do balloons and packing peanuts, in particular, become so highly charged? "Our research shows that it may be because the materials are getting deformed—the balloon is strained when inflated and the packing peanuts are strained from the foaming process that produces them."
—Daniel Lacks, PhD, the C. Benson Branch Professor and chair of the Department of Chemical and Biomolecular Engineering, who has conducted triboelectrity research with Mohan Sankaran, PhD, the Leonard Case Professor of Engineering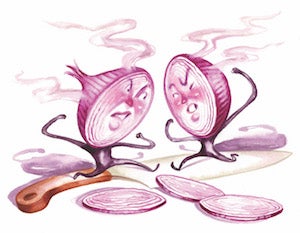 WHY DOES CUTTING ONIONS MAKE US CRY?
Onions contain different molecules that give them their unique flavor. When the onion is completely whole, those molecules are stored in specialized compartments inside the onion's cells. When we start chopping, smashing or cutting, those compartments are broken apart, allowing normally separated molecules to meet and rapidly react. One of these chemical reactions creates a substance called the "lachrymatory factor," which is highly volatile and immediately turns into a gas. The gas molecules then travel to the eyes and hit sensory nerves, causing a burning sensation. "Our tears are produced as a defense mechanism to flush out the lachrymatory factor and stop eye irritation."
—Marcin Golczak, PhD, assistant professor in the Department of Pharmacology, who worked on an onion project with research assistant Josie Silvaroli, a undergraduate chemistry major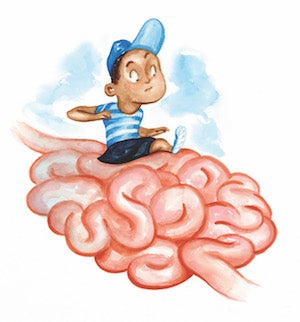 WHY DON'T WE RETAIN MEMORIES BEFORE, SAY, AGE 3?
Research suggests it might even be later than 3 years. Children have what has been called "infantile amnesia," which continues well beyond infancy and means that while preschoolers do store the same information that everybody else does, they haven't yet developed the ability to locate and retrieve that information. "Their neural pathways are a bit jumbled and, as such, memories are difficult to access. Imagine how difficult it would be to retrieve a name in the phone book if the alphabetical structure was not imposed. As we get older, we develop strategies for building coherent memories and networks. Being able to code information in a meaningful way enables us to automatically, efficiently and rapidly remember information on command."
—Elizabeth Short, PhD, professor in the Department of Psychological Sciences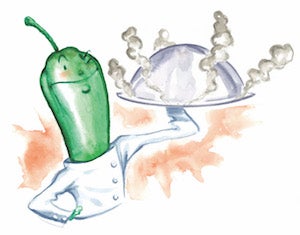 WHY DO SOME PEOPLE LOVE HOT, SPICY FOODS, WHILE OTHERS MELT AT THE SLIGHTEST DROP OF HEAT?
Most research does not point to a strong genetic predisposition. When you eat, spices in your food interact with the same receptors in the tongue and mouth that sense the change in physical temperatures and signal the sensation of heat. So most people describe the flavor of spiciness of a food as "hot." "People from the Indian subcontinent, where I am from, eat spices from childhood. So it's an acquired taste through years, and these receptors become more tolerant to spices. As I grow older, I crave even spicier food."
—Rekha Srinivasan, PhD, the James Stephen Swinehart, PhD Professorial Teaching Fellow in Chemistry and a senior instructor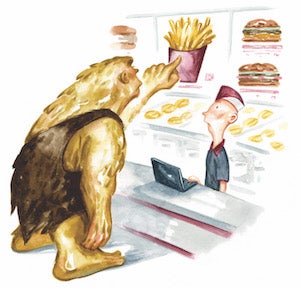 WHY DO WE CRAVE CERTAIN TASTES, SUCH AS SALTY FRENCH FRIES OR A WEDGE OF DECADENT CHOCOLATE CAKE?
Humans have naturally had a preference for sweet and salty foods since, well, forever. Sweet foods generally have high caloric content—which was important for anyone thousands of years ago who needed to bulk up to prepare for a possible food shortage. Salty foods contain sodium and chloride, which are vital for our body's functioning. "Thus, the drive to eat sweet or salty foods, as opposed to sour and bitter ones, makes evolutionary sense."
—Heath Demaree, PhD, professor and chair of the Department of Psychological Sciences