LENS Engineering, Science and Technology
Moved to Innovate
Family Illnesses Spur Undergraduates to Brainstorm Devices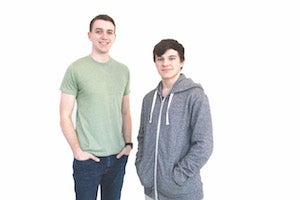 PHOTO: Michael F. McElroy
Entrepreneurs can find inspiration for a promising idea just about anywhere. For some Case Western Reserve University undergraduates, watching family members struggle with serious health problems was all the motivation they needed. The result: concepts for biomedical devices that may one day improve the lives of others.
Maternal Inspiration
Turner Montgomery was in middle school when he learned his mother had been diagnosed, soon after he was born, with an autoimmune condition. Her illness inspired him to come to Case Western Reserve University, pursue a degree in biomedical engineering and gain the know-how to research her condition.
By last summer, he had two theories: First, that his mother likely had been misdiagnosed more than 20 years ago, and second, that she could get better.
After Montgomery did further research and found apparent inconsistencies in his mother's medical records, she began seeing a new doctor. Montgomery said that doctor has said his mother likely has a type of muscular dystrophy.
Montgomery, who plans to graduate after this year's fall semester, felt compelled to prove to his mother that her weakened muscles could get stronger.
At the university's Larry Sears and Sally Zlotnick Sears think[box] innovation hub, he developed a diagnostic device that attaches to her arm and monitors the voltage output of her muscles. It showed that, after nearly three months of therapy, her muscle strength and endurance improved. Next, he plans to add a system to measure her strength through a range of motions.
"My mom and I have always had a strong relationship," he said. "If that's the least I can do to make her happy, then that's great."
Though Montgomery designed the device just for his mother, he hopes to further develop it for use in physical therapy and weight training.
In May 2017, the Sears think[box] Student Project Fund gave him $350 to continue his work. He aims to further develop the device with the help of the hub's staff and equipment.
Restoring Independence
Josef Scheidt had two grandparents who, before their deaths in recent years, suffered from severe health problems that limited their independence and required constant monitoring.
Motivated by their experience, Scheidt, a first-year biomedical engineering student, came up with an idea for a health monitoring device that he believes could have been "life changing" for his grandparents and parents, who helped care for them.
He teamed up with four other undergraduate students to further develop the concept, which already has won some striking local recognition.
Their CrasBand (pronounced crossband) would be worn on the wrist and monitor a person's cardiac health in real time using a system of biosensors. The data would be transmitted to an app or computer where the individual, family members or healthcare providers could compare them with the person's "normal" levels. The device also could send noncritical warnings to family members and high-risk warnings to medical professionals.
The other team members are: Rohan Sinha, a first-year studying electrical engineering and economics; Nsisong Udosen, a second-year computer science and business management student; Francesca McDonald, a first-year biomedical engineering student; and Rishi Maheshwari, a second-year computer science major.
The students also tapped into university resources. And Scheidt said Bob Sopko, director of the CWRU LaunchNet entrepreneurship program, has been instrumental in their success.
In October, the team took its idea to the Cleveland Medical Hackathon, competing against health professionals with working prototypes.
"We were so sure we weren't going to win," Scheidt said. "We were like, 'Guys, you just want to go home?' "
But they stayed. And won. First place was $7,000 and an opportunity to present their idea the next day to professionals at Cleveland Clinic's prestigious Medical Innovation Summit.
They are using their prize money to cover costs for professional consultants and pursue the development of a prototype.