features
Blazing a New Trail to the Ballpark
CWRU provided a springboard for alumna Bianca Smith's pioneering move to coaching professional baseball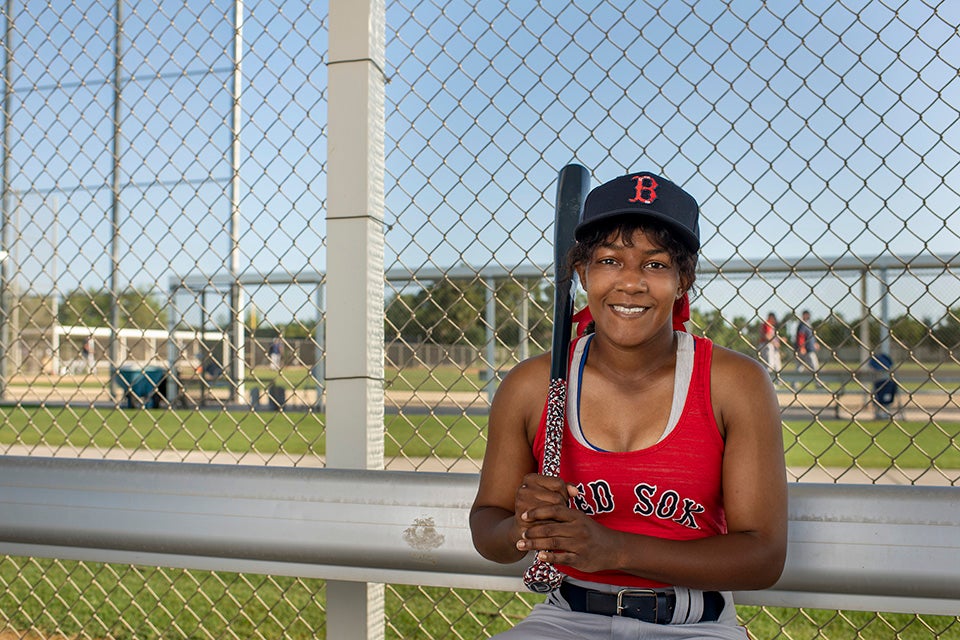 IMAGE: Billie Weiss
After the Spartans baseball team swept all four games in back-to-back doubleheaders one chilly April weekend in 2013, Bianca Smith knew Case Western Reserve University was where she'd launch her career.
It wasn't just the wins that convinced Smith, who aspired to be a Major League general manager. It was the elation the players brought to the game—the same sense of joy that washed over Smith each time she stepped on the field.
"When I see players having fun, it tells me that they like and trust their coaches," Smith recently said. "It also tells me that the coaches aren't only focused on winning, but on making sure their players enjoy the game and develop as players and people."
Smith had come to Cleveland that weekend as a prospective graduate student—and to talk jobs with Head Coach Matt Englander, the university's all-time winningest baseball coach.
In retrospect, Smith's fortitude that weekend was remarkable. Her mother, who nurtured Smith's love of baseball, was too ill to travel and would die days later from cancer. So Smith's father flew from Texas at the last minute to accompany her to the university. Despite her pain, Smith saw the players' joy; she remained focused on the journey's purpose.
Smith dazzled Englander with her knowledge of the game, experience and education, including a bachelor's degree from Dartmouth College. "She was so impressive—down to earth, inquisitive, smart," said Englander, who, 15 minutes into their conversation, offered Smith a position he created for her on the spot as the team's first director of baseball operations.
She didn't hesitate. "I made my grad school decision based on baseball—and lucked out that CWRU also had a great law school and MBA program," she said with a chuckle.
In January, Smith, JD (MGT '17, LAW '17), became a "first" yet again when the Boston Red Sox hired her as a minor league coach—the only Black woman in the history of Major League Baseball (MLB) to hold an on-field coaching position. At the time, Smith was an assistant athletic director and assistant baseball coach/hitting coordinator at Carroll University in Wisconsin.
Less than four years after receiving her CWRU diplomas, Smith seemed to be in media outlets everywhere as news of her hire went viral. She was featured in The New York Times and interviewed on ESPN and CBS News, frequently crediting Englander and the team for the coaching education and springboard for her pioneering career.
If Smith's story seemed unexpected, perhaps improbable, it wasn't to those who know her.
For Englander, faculty and Spartan players who had watched as she studied and worked, seizing every opportunity and adroitly handling her team duties while inching into the coaching ranks, the reaction was the same: "I'm not surprised," they each said, that she'd be the one to make history. They knew Smith had baseball in her DNA; that she stayed up until 3 a.m. watching old games or baseball movies; that she was talented, tenacious and tireless.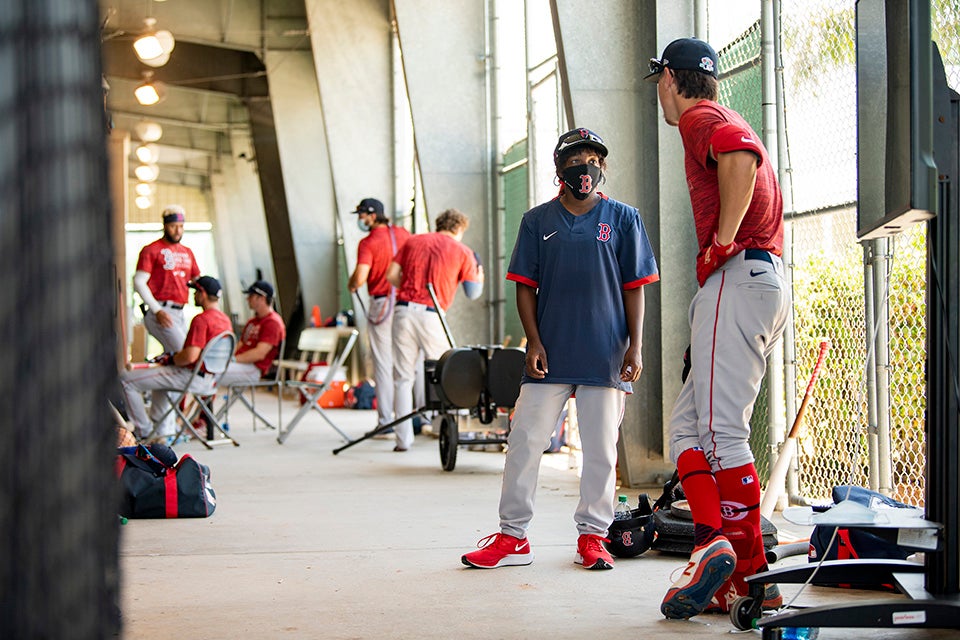 IMAGE: Billie Weiss
"Baseball is better because of Bianca Smith," said Peter Carfagna, JD, who taught Smith in his role as co-director of the Great Lakes Sports and Entertainment Law Academy, which he started with Professor Craig Nard, JD, at the Case Western Reserve University School of Law.
"Nobody takes a deeper dive into the sport than she does," added Carfagna, who also is chairman and CEO of Magis LLC, which co-owns the Lake County Captains, the High-A minor-league affiliate of the Cleveland Indians. "I'm happy for her—and I'm happy for the game."
Learning the Game
Smith was 3 years old when her mother, Dawn Patterson, introduced her to baseball. Even as other kids her age struggled to get through an episode of Barney & Friends, Smith maintained laser-like focus for nine innings, her excitement building when the New York Yankees' Derek Jeter, Patterson's favorite player on her favorite team, was at bat.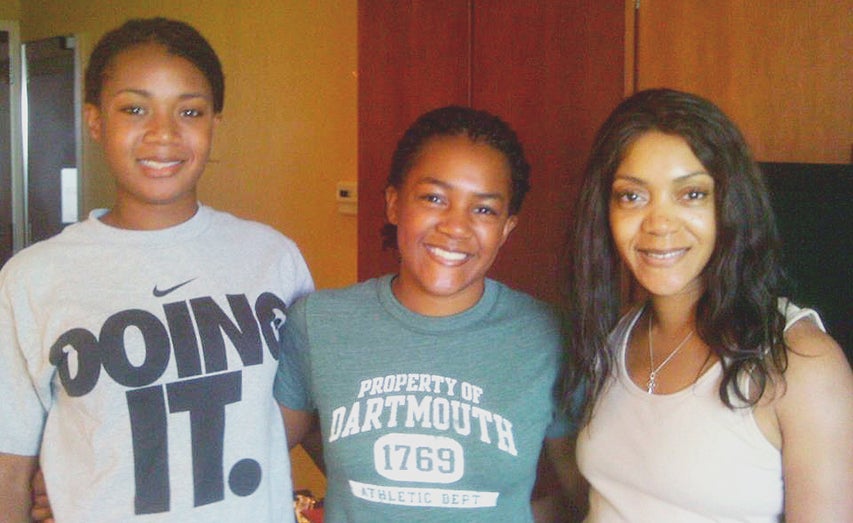 IMAGE: Courtesy of Bianca Smith
Bianca Smith, center, with her younger sister, Rachel Smith, left, and their mother, Dawn Patterson, who was a devoted Yankees fan. "My mom would've been incredibly proud," Smith said. "At the same time, I can't imagine her wearing anything Red Sox. She might've gotten the jersey and framed it, but she would never put it on. And I would've been fine with that."
Patterson, who pursued a law degree in her 30s and ran marathons just to push the limits of her endurance, instilled a competitive spirit in her oldest daughter. At 12, Smith picked up softball, demonstrating a talent for baserunning and a knack for the mental side of the game.
With the allowance she earned from washing dishes and bathing the family dog, Smith bought a jersey with Jeter's name on it and a headband bearing the No. 42 of her other idol, Jackie Robinson, who broke the league's "color barrier" in 1947. By her senior year at Colleyville High School in Grapevine, Texas, Smith was co-captain of the varsity softball squad—and knew how to make her mark.
"With baseball, I firmly believe that you find that one thing you're really good at and you take advantage of it," she said, noting that, at just 5 feet tall, her strength was as a bunter or contact hitter, not a power hitter. "I never struck out in high school," she added.
In 2008, Smith arrived at Dartmouth—the alma mater of both her mother and her father, Victor Smith, who played college football. The sociology major suited up as an outfielder on the softball team during her junior and senior years and was the only woman on the university's club baseball squad. During that time, Smith began contemplating a career as a baseball general manager and decided to seek an MBA.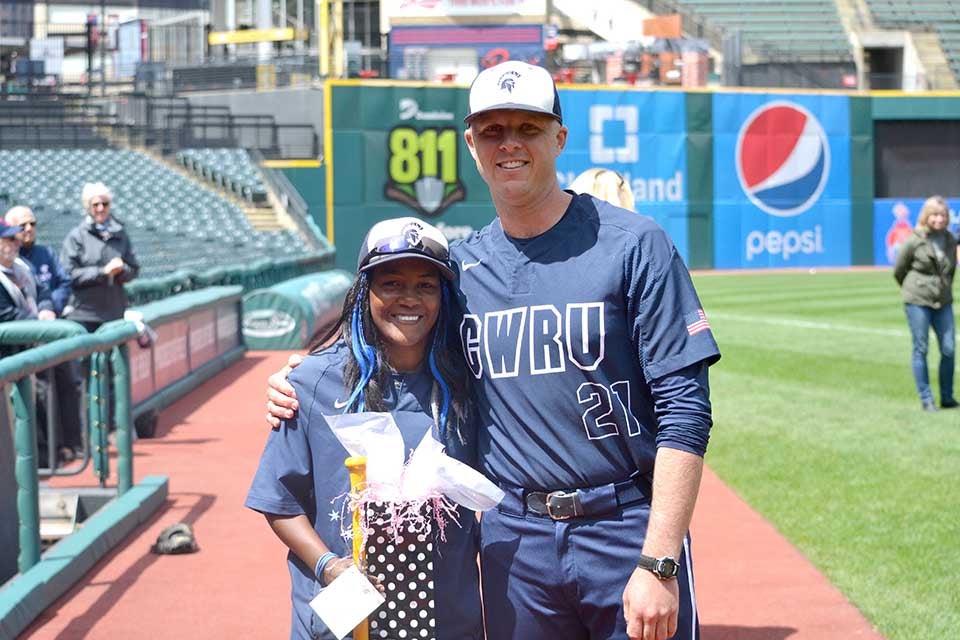 Image: Case Western Reserve University Sports Information
Her goal of working in baseball grew more urgent three days after the weekend at CWRU in 2013, when Patterson died at age 44—just nine months after being diagnosed with rhabdomyosarcoma, a rare cancer that forms in the soft tissue. For Smith, who was exactly half her mother's age, it was a wake-up call. Time was precious—and she couldn't wait one minute more to pursue her dream.
With the commitment from Englander, Smith packed up her belongings—including three of Patterson's childhood stuffed animals—and headed to Cleveland.
Making the Position Her Own
Smith cringed when she recalled her initial meeting with the team captains in fall 2013.
"It was awkward," she said. "I was a business school student. I was in a new job, so I tried to dress to impress. I walked onto the field in a business dress, which, of course, immediately got dirty."
She grew especially close with first-year undergraduates, including then-outfielder Antonio Damiano (CWR '17, MGT '18). "I think there was a lot of solidarity there because we were all so green," he said. "I spent a lot of time in the dugout with Bianca."
Smith made the operations position her own. She had a hand in everything: scheduling travel and meals, creating the team's social media accounts, launching an alumni newsletter, and organizing fundraisers. Eager to get on the field, she began scooping ground balls, pitching batting practice and providing players real-time feedback as she tracked their stats.
"Bianca was with us every step of the way, always with a smile," said former CWRU pitcher Jake Shields (CWR '17; GRS '17, bioethics). "She quietly crushed every task in front of her, then asked for more."
Eventually, Smith said, Englander gave her a uniform and told her, "You're pretty much on the coaching staff."
While Smith said she'd "never seen a baseball coach that looked like me," her aspirations changed working with the Spartans. "When I started getting more time on the field at Case Western Reserve is when I started thinking about a potential career on the field as a [team] manager," she said.
A Coaching Philosophy
For Bianca Smith, coaching doesn't involve only fielding, throwing or batting instruction. She wants to learn who players are and where they come from. "We have to know what kind of person they are mentally
—
not just what kind of player they are on the field
—
to know what they need during a game," she said. It's also important to know who they are as people because my job as a coach doesn't start and end on the field. It's helping them develop as people off the field as well."
Smith applied to the School of Law after her first semester as an MBA student to extend her time with the team and broaden her academic credentials.
She also worked for three years as a teaching assistant for Gary Pillar, an assistant athletic director for development who teaches an undergraduate class on sports management. "When she sets her sights on something, she has tunnel vision," he said. But accomplished as she is, Smith "always puts in the hard work to improve."
"She's a very quiet person," Pillar continued. "There were times that I needed her to give presentations and she didn't feel comfortable speaking in front of people. That had to change—and it did."
Smith grew as a student too. At Weatherhead School of Management, Smith threw herself into a data-heavy research project, even though she admitted that academic statistical analysis wasn't her strength. She said the report, The Age Peak: The Correlation Between the Average Age of a Team and Its Performance, helped her land an internship with the Texas Rangers in 2017.
"They loved it," she recalled. "They had me print out a copy at my interview."
Pursuing Her Dream
Smith continued her presentation skills, and after graduating, sent cold-emails to coaches, executives and recruiters. It wasn't a comfortable exercise for an introvert—but it helped her get in the door.
Smith participated in the MLB's inaugural Take the Field program, aimed at placing women in coaching and scouting opportunities, and racked up prestigious internships with the commissioner's office, the Texas Rangers and the Cincinnati Reds.
Like her idol, Robinson, Smith knew what she was up against—in her case, as a woman of color in a field dominated by white men. At CWRU, she said, opposing teams often mistook her for an equipment manager or player's girlfriend.
Smith also faced plenty of rejection—and pieced together eight part-time jobs just to pay her rent while she sought a coaching gig.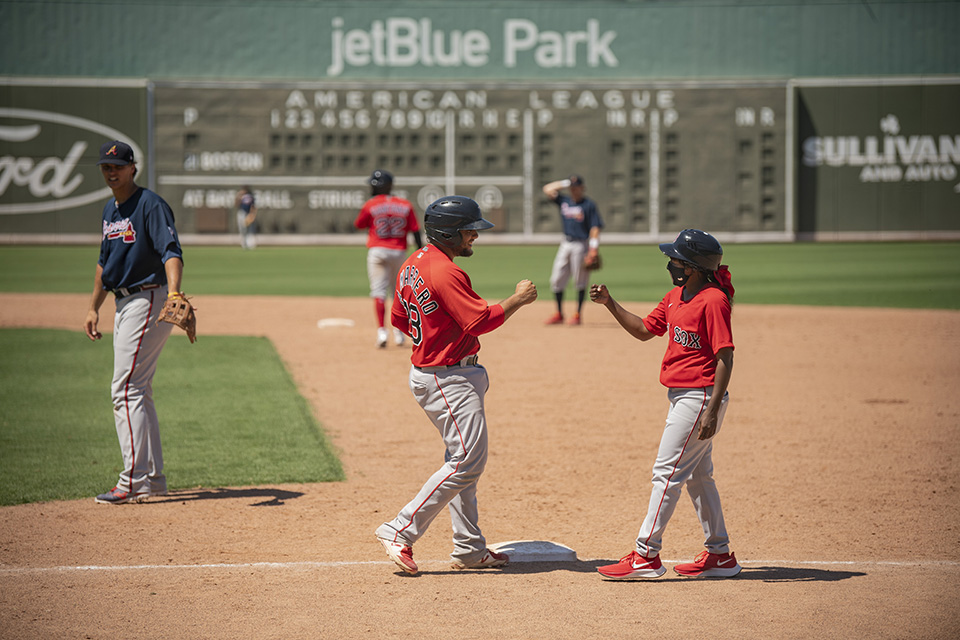 Image: Billie Weiss
Before landing at Carroll University in 2019, Smith reached out to 100 Division I coaches. She heard back from just 26. The lone offer didn't pay enough to warrant a move.
"I've had people say I'd never be hired as a coach because I was a woman," she told students in Pillar's class during a Zoom discussion in March before starting her new job.
"Baseball is a game of failure," she continued. "You fail seven out of 10 times [at bat] and you're considered one of the greats, an all-star. You have to be able to bounce back ... and not let your career be defined by how many times you failed. ... I've gotten plenty of no's; it's about how I do better next time."
In late March, she arrived in Fort Myers, Florida&mdash:home to the Red Sox's rookie-level affiliate, the Gulf Coast League Red Sox.
While her hiring created international buzz, Smith said she "can't really see the history." Maybe it's because she knows the stats. Smith said she's the first Black woman to be named as a professional baseball coach but the seventh woman. "If this is a big story for other people and it inspires them, that's great," she said.
Smith spoke with Think from Florida soon after arriving and amid a mandatory weeklong quarantine before starting her new job of coaching position players on defensive and offensive skills, while also working with pitchers and catchers. She wasn't focused on history or the arc of her career. Accustomed to pitching five or six days a week, she was concerned about her arm missing the regular workout.
"I'm just ready to coach," she said.