lens
Powering Change
With U.S. manufacturers scrambling for the optimal electric battery, Chris Yuan is already on the case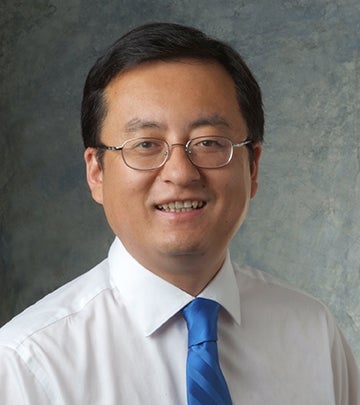 In January, General Motors (GM) made headlines with its vow to go electric and eliminate production of gas vehicles by 2035. Other automakers also are pressing ahead with electrification efforts.
But to match internal-combustion engine performance, researchers, manufacturers and others are racing to find the "holy grail" of electric-car batteries.
That's good, said Chris Yuan, PhD, the Leonard Case Jr. Professor of Engineering at Case Western Reserve. "We need as many players as possible."
A professor of mechanical and aerospace engineering and specialist in lithium batteries, Yuan already has spent a dozen years on the mission. Since 2009, he and teams of researchers have conducted battery studies—all with the aim of helping to make electric-car batteries cheaper, less degradable and more environmentally sustainable.
In Yuan's lab, potential holy grails are studied and tested. He and his undergraduate, graduate and postdoctoral students examine various component materials and manufacturing techniques for next-generation batteries. Although the batteries in his lab aren't the giant size of those in current electric cars, Yuan can test the performance of what might be possible on a much smaller and affordable scale. "The working principle is the same," he said.
Yuan said that for electric cars to be widely available by 2035, manufacturers will need batteries with improved electrochemistry to address trade-offs among capacity, size and cost. If he can discover the ideal properties, then he may be able to one day present a suitable prototype to an automaker.
As for Yuan's own car choices? With purchase prices significantly higher for electric cars than gas-powered vehicles, he's not able to make the switch now.
"I still drive my Honda Accord," he said, laughing. "Hey, electric cars are expensive."