lens
A Closer Look
Oral-cancer research spans two continents to predict patient outcomes, advise better treatments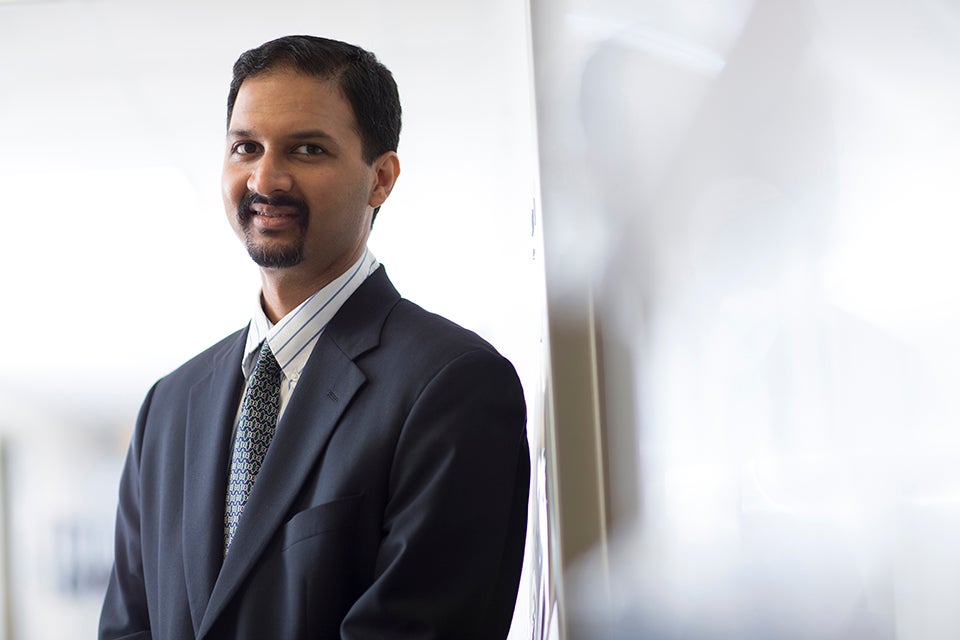 Researcher Anant Madabhushi, PhD, calls two cities home: Mumbai, India, where he was born, and Cleveland, where he lives and works.
He calls it "kismet"—divine destiny—that a recent $3.3 million, five— year grant from the National Cancer Institute (NCI) is bringing the two cities together to improve cancer outcomes for people in both countries.
The NCI grant will allow Madabhushi's team to develop and test the ability of artificial intelligence (AI) to help clinicians provide customized treatments for patients with oral squamous cell carcinomas.
The goal is to predict patient outcomes and identify which patients will have better results from nonstandard treatments.
Madabhushi, the Donnell Institute Professor of Biomedical Engineering at Case Western Reserve, leads the Center for Computational Imaging and Personalized Diagnostics, which in 2020 alone received almost $16 million in new grants for just this purpose: coupling imaging and other advanced tools for customized diagnosis, prognosis and treatment options for people with various forms of cancer.
Madabhushi and James Lewis Jr., MD, a professor at Vanderbilt University Medical Center, are collaborating with Cleveland Clinic and University Hospitals in Cleveland, the San Francisco VA Health System and Tata Memorial Centre in Mumbai on the work involving oral squamous cell carcinomas.

Images: Courtesy of CWRU's Center FOR Computational Imaging
"There really is a huge unmet need for better biomarkers to help realize the promise of personalized medical treatment," said Madabhushi, who also holds faculty positions at the university's School of Medicine and is a research health scientist at the Louis Stokes Cleveland VA Medical Center.
By partnering with Tata Memorial, Madabhushi is moving forward on one of his key goals: bringing the benefits of his digital imaging-based technologies to low-to middle-income countries.
It also is an opportunity to understand how biological differences could indicate the need for varying treatment options based on patient diversity.
Previous studies by Madabhushi's center have found differences between Black and white men with prostate cancer, and between North American and South Asian women with breast cancer.
The partnerships will provide Madabhushi with access to data on thousands of oral cancer patients in two countries.
Shlomo Koyfman, MD, director of head and neck and skin cancer radiation at Cleveland Clinic and an associate professor at Cleveland Clinic Lerner College of Medicine, a track within Case Western Reserve University School of Medicine, is hopeful the research will identify biomarkers he can use to better treat his patients.
"It's frustrating as a clinician to treat them all the same, because they're not all the same," said Koyfman, a member of the oral cancer research team that received the NCI grant.
"What is exciting about working with clinicians like Shlomo," Madabhushi said, "is the opportunity to use bioengineering to develop biomarkers that provide information that can guide them on which patients need more aggressive treatment and which can benefit from less intensive therapy."
Recent Center for Computational Imaging and Personalized Diagnostics Grants and Agreements With Collaborating Instituations
The almost $16 million in funding secured in 2020 includes:
$5 million National Institutes of Health/ National Cancer Institute (NIH/NCI) grant to develop artificial intelligence technologies for screening patients with HIV for lung cancer in Uganda and Tanzania.
$3.2 million from the NIH National Heart, Lung and Blood Institute to predict rejection in heart transplant patients.
The center also forged agreements with pharmaceutical companies Boehringer Ingelheim, AstraZeneca and Bristol Myers Squibb Co. to fund research and provide access to clinical trial data sets to help validate the artificial intelligence.
Just before Think went to press, NCI awarded the center and its collaborators a $3 million grant to predict which lung cancer patients will respond to immunotherapy.